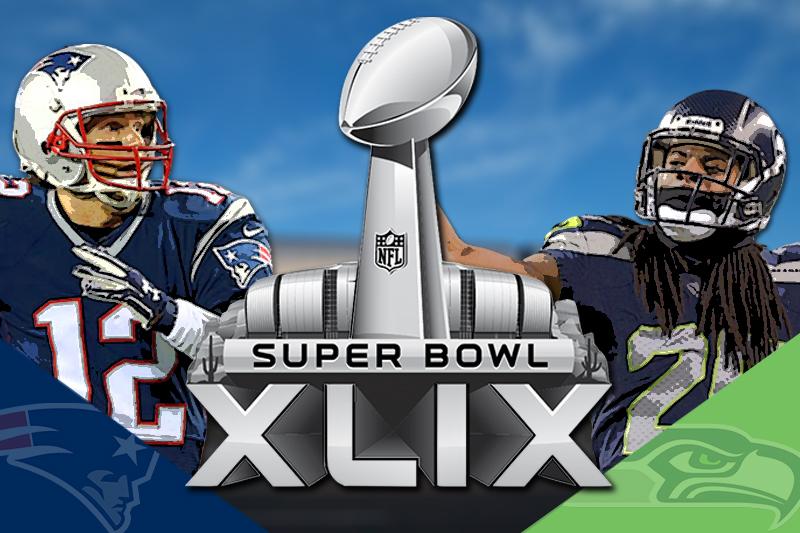 Matt Merlino
February 1, 2015: Super Bowl XLIX, New England Patriots vs. Seattle Seahawks.
As I stated in my recap of last year's treacherous NFL Championship Game, Super Bowl Sunday is one of my favorite (unfortunately unofficial) holidays. Though, this year the holiday had a bit of a different feel; it was the first time I haven't wanted either team to win.
When I say I hate the Patriots, I mean I hate the Patriots; but I don't want to see a team repeat unless it's the Steelers, so how could I root for Seattle? The perfect outcome of the game would have been a recreation of the scene from The Dark Knight Rises where Bane blows up the entire stadium and no one wins the game (I know that's a terrible thing to say, but honestly, I couldn't force myself to root for either team).
It's kind of funny actually, I was torn when making a prediction for who would win the game. So I went with the facts; New England hasn't won a Super Bowl championship since the "spygate" scandal was brought into public eye.
Being that "deflategate" was in full swing this year, my prediction for New England's fourth Championship was easily set.
All I wanted to see was a good football game. When the National Anthem began playing, I knew it was going to be a good game. As soon as sign-language lady began doing her motions, I was hooked. She would have gotten my vote for Super Bowl MVP, but apparently I didn't hear the memo that only players could receive MVP honors…
The game began, and Super Bowl XLIX was in full swing. Though, for the second consecutive year, the commercials were lacking the flare and hilarity that we've all come to expect from Super Bowl ads. With more and more ads becoming available online before the game, it ruins the surprise for a lot of people.
Much like last year, there are only a select few that are even worth mentioning. Even that's being generous. Budweiser's annual horse/dog friendship was on point, as always; Doritos, however, fell flat with both of their ads.
Up until the fourth quarter, the most exciting part of the game was easily Katy Perry's half time performance. In my opinion, this was the best halftime show since Bruce Springsteen performed exactly five years ago at Super Bowl XLIII. The special effects and LED lighting on the stage were breathtakingly awesome. The dancing sharks and beach balls were weird, but hysterical to watch.
My prediction prevailed, as the Pats came back from a thrilling 10-point fourth quarter deficit to defeat Seattle 28-24 in the final minutes with a game-clinching interception from undrafted rookie Malcolm Butler.
With 328 yards and four touchdown passes, Tom Brady solidified his greatness (if there were ever any doubters) with his fourth Super Bowl win, and third MVP award. He joins Joe Montana and Terry Bradshaw as the only quarterbacks to win four Super Bowls.
As much as I may not like either team, great games are fun to watch, and Super Bowl XLIX was just that.