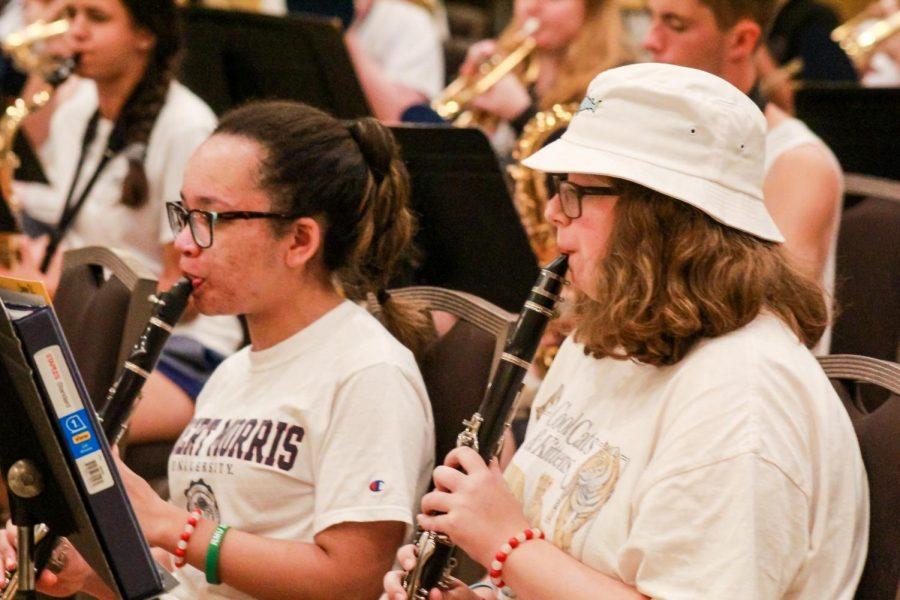 MOON TOWNSHIP– Music is about to return to Robert Morris University!
Campus life is gradually coming back to normal. Several sports, Bobbymania and fully in-person classes have already made an appearance in the Fall 2021 semester. The Colonial football team is not the only organization to return to Joe Walton Stadium in 2021. The RMU Band is preparing to perform for live audiences again.
"I couldn't be more pleased to have all of our students come back together and be together and be able to make music," said Elisabeth Charles, director of the RMU Bands.
This year, the band seems to be celebrating the return of a warmer and more positive lifestyle.
"Our theme is 'soak up the sunset.' So we're going to be playing five songs: 'Any Way You Want It,' 'Everybody's Everything,' 'Soak Up the Sun,' 'Reelin' in the Years,' and 'Shake a Tail Feather,'" said the RMU Band president, Kristen Davis. "This is our biggest auxiliary, our biggest drumline that we have had in a long time."
Not only does the theme match the bright emotions of a culture transitioning out of a pandemic, but it also mirrors an unofficial tradition started by band members and Charles.
"Every time we practice at Joe Walton, there are the most gorgeous sunsets, and we take a minute to say, 'Hey, guys, check out the sunset,'" said Charles. "While our pieces soak up the sun, and that would have been our theme, we turned it to 'soak up the sunset,' because we do. We take a minute to turn around and say, 'that's beautiful.'"
Before the start of classes, the band was holding three practices per day during their band camp. During that time, they were preparing to play at the various sporting events that will take place. For 2021, however, the band will be losing the ability to perform at RMU hockey games due to the sudden removal of the main hockey programs.
"We are very sad that we lost that venue because that was a venue where we had more freedom to support the teams. We played every third buzzer," said Charles. "Hockey parents would bring us food, I mean, we had a real nice synergy and relationship with them."

Despite losing the opportunity to perform at the hockey games, the RMU Pep Band can be heard spreading musical spirit at various other Robert Morris based sporting events.
"The kids want to play, said Charles. "Volleyball [games] might be an option for some. We have always gone up to rugby [for] a couple of their games. We have done some lacrosse and field hockey [games]. We can go do some soccer [games] or at least, if nothing, play "The Star-Spangled Banner," [at] the beginning of games."
The musicians will not just perform on campus, though. The college band will head to several local high schools to share their love of music in higher education.
"It's really popular in Allegheny County [high schools] to often host their own band festivals," said Davis. "For us, as a college band, it is a really great recruitment effort. Students can see you can still play your instrument in college and especially at a school like Robert Morris where we don't have a music major. It is nice that you can pursue a career that's not music and still do something that you love."
The band will be working with Montour, Mount Lebanon, South Bay, Trinity and Chartiers Valley high schools.
Currently, the band sits with 72 members, raising 12 members, even after coming out of a pandemic. Charles believes those 72 members will produce a well-rounded sound until the band can bring in more players.
"One of the things that I'm excited about is, from a musical standpoint, the band has everything it needs. It has the tuba and it has baritones. It has a drumline, said Charles. "We are not like 47 flutes and one tuba. We are small, but we are mighty," said Charles.
The band plans on proving its might with a mix of unique events that will complement their usual performances.
"One of the things that we're going to try to plan in February is an evening of elegance with the RMU Jazz Ensemble. We want it to be a lovely dinner with cocktails and maybe even a representative of the 40s and 50s," said Charles.
The most important thing to both Charles and Davis is to include all interested musicians. In addition, both encourage students who may want to continue their musical journeys or resume them to reach out.
"To any students who think, 'I used to play in high school, and I never got back into it.' There's never a bad time to join," said Davis.
Anyone interested in joining the band can reach out to [email protected]