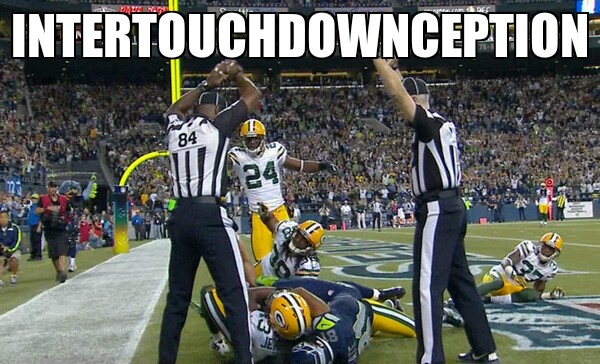 By Chris Mueller, Staff Writer
What a week to start off the Sentry Sunday Scoreboard. Thank you to the NFL replacement refs for giving me a lot to talk about on this Tuesday morning. If you have turned on ESPN in the last 24 hours or have a twitter account, then you most likely already know what game we're going to start with.
GEMS
SEAHAWKS 14 PACKERS 12
Wow, wow, wow, wow, wow, wow….WOW? If now isn't a good time to end the lockout then I don't know what is. Not to get away from a solid defensive performance from Seattle, but the Packers deserved to win this game and had it taken from them by the guys in pinstripes. As Russell Wilson heaved a last-play-of-the-game 50 yard bomb to the end zone, Seattle receiver Golden Tate pushed one packer defender out of the way before wrestling the ball out of another's arms to come down with a game-winning TD catch as time expired. After officials reviewed the play for over ten minutes, the call that was made was that both players had "Simultaneous possession" of the ball and therefore tie goes to the receiver………REALLY? If you watch the replay it is clear as crystals that Green Bay came down with that ball. (It has been reported that over 150 million dollars were waged on the MNF game.) Ouch
RAVENS 31 PATRIOTS 30
Another steal by the guys in pinstripes as Bill Belichick came near close to decking a replacement ref in the post-game frenzy. As Baltimore bounced back from a Week 2 loss at the hands of the real "Birdgang" (Eagles), they too were helped out by the replacement refs as their game-winning field goal that wasn't actually a field goal propelled them past Tom Brady and the Patriots. The game-winning play was not eligible for review. New England was winning 13-0 after the first quarter, but could not maintain their lead playing against an inspired Baltimore Ravens team. A big shout out goes to Baltimore WR Torrey Smith, who had a remarkable performance (6 catches, 127 yds 2TDS) just one day after his younger brother died in a motorcycle accident. Definitely one of the early feel-good stories for this season.
Best of the Rest
BEARS 23 RAMS 6
As Jay Cutler struggled once again (surprise, surprise) a solid defensive effort by Chicago enabled them to improve to 2-1 on the year.
BILLS 24 BROWNS 14
The woes continue for Cleveland as their Browns cannot catch a break, losing to Buffalo even when the Bills were forced to play most of the game with their leading rusher, CJ Spiller, who was injured in the first quarter and did not return.
 COWBOYS 16 BUCCANEERS 10
Dallas' D shines as the Cowgirls, I mean Cowboys, outlast the Buccaneers even to the very last kneel down.
TITANS 44 LIONS 41
An OT thriller in Nashville stopped the Titans from going 0-3 on the year and helped them gain their first win as kicker Rob Bironas nailed a 26-yarder to seal it.
JAGS 22 COLTS 17
A good showing by Andrew Luck was not enough for Indy as the Jaguars were again reminded why they should pay Maurice Jones-Drew (28 car 177 yds 1 TD). Blaine Gabbert also showed promise in the victory.
JETS 23 DOLPHINS 20
Rex Ryan's team squeaked one out in OT as the Dolphin's attempt to ice NY kicker Nick Folk ended miserably. A battle to the end, the Dolphins had thought they blocked a potential game-winning field goal before realizing their coach, Joe Philibin, called a timeout second before the play to try and ice the opposing kicker. They retried the kick, and the second time it was good. Jets won but their injury report was not so lucky. Derrelle Revis tore his ACL and is out for the year which takes away the NFL's most dominating corner. Also hurting his knee in the game was Dolphins RB Reggie Bush, who was finally starting to look like he did in college.
VIIKING 24 49ERS 13
A big surprise as 2nd year QB Christian Ponder lead the purple and gold against a feisty San Fran defense. Coming up big in the clutch, Ponder showed a lot of potential throwing for 2 TDs and running for one more.
CHIEFS 27 SAINTS 24
Who would of thought, a year ago, that the Saints would fall to 0-3 to start the 2012 season? The void of not having head coach Sean Payton or interim coach Joe Vitt is showing in New Orleans' record. Not even the QB of all QBs Drew Brees can seem to turn this ship around.  Solid performance from KC running back Jamal Charles (33 car, 233 yds, 1 TD) who is bouncing back from an ACL tear last season. Shoutout to the Chief's head coach, Romeo Crennel, who quoted last week after going 0-2, that the season is "A marathon, not a sprint."
 BENGALS 38 REDSKINS 31
Andy Dalton stole RG3's show as the Bengals outlasted Washington in the rookie quarterback's home debut. Despite a good performance from Griffin III, it was not enough as a much-improved Cincinatti team made plays all over the field. Reciever AJ Green racked up 9 catches for 183 yards and a touchdown. Keep an eye out for this 2-1 team that could easily be a sleeper throughout the season.
CARDINALS 27 EAGLES 6
I DON'T WANT TO GET TALKING ABOUT THIS GAME BECAUSE I MIGHT BASH A HOLE THROUGH THE COMPUTER SCREEN. HORRIBLE PLAY CALLING BY THE EAGLES AND A LACK OF USING ALL-PRO RB LESEAN MCCOY (13 CARRIES)  HELPED ARIZONA QB KEVIN KOLB (FORMER EAGLE) BEAT HIS OLD TEAM, BADLY. Ugly performance by my birds.
FALCONS 27 CHARGERS 3
The Falcons are scary-good. Everything seems to be coming together for this 3-0 team as Matt Ryan caps off another solid outing (30/40 275 yds 3 TD). Michael Turner also seemed to back into the swing of things after his late-night DUI in celebration of Atlanta's 27-21 victory last week over Denver.
TEXANS 31 BRONCOS 25
The Texans have gotten off to a good start and beating Peyton Manning and the Broncos only added to their success. 4 TDS from Matt Schaub and a 100-yard rushing performance by Arian Foster helped Houston hang on for their 3rd victory of the season.  
RAIDERS 34 STEELERS 31
The Raiders beat the Steelers? What is the world coming to? As angry as I am for a week 3 Eagles loss, at least we didn't lose to the…… Raiders………..
GIANTS 36 PANTHERS 7
Backup running back Andre Brown rushed for 113 yards and 2 TDs as the Giants thrashed Cam Newton and the Panthers on Thursday night. Funny thing about it is that Brown was previously cut by the Panthers in 2009. Check out a quote by him after the game,
"I was walking into the stadium and I have to go by the spot where I parked my car," Brown said. "I felt a little fire, no doubt. I'm so happy to come out here. It really humbled me. It really shows that everything is not guaranteed. You know, I'm just going to ride this wave. Hopefully, it's a long wave." –ESPN.com
Awesome for him. The Giants look next to a Sunday night meeting in Philly. I don't think Manning or Brown will be so lucky.
Also check out Cam Newton's post-game press conference on youtube if you want a good laugh. The dude is a freak athlete but is as mature as a 6th grader.
So that sums it up for my week 3 recap. Check back on Thursday for Dan's picks and fantasy stats. Go Eagles.
-Chris