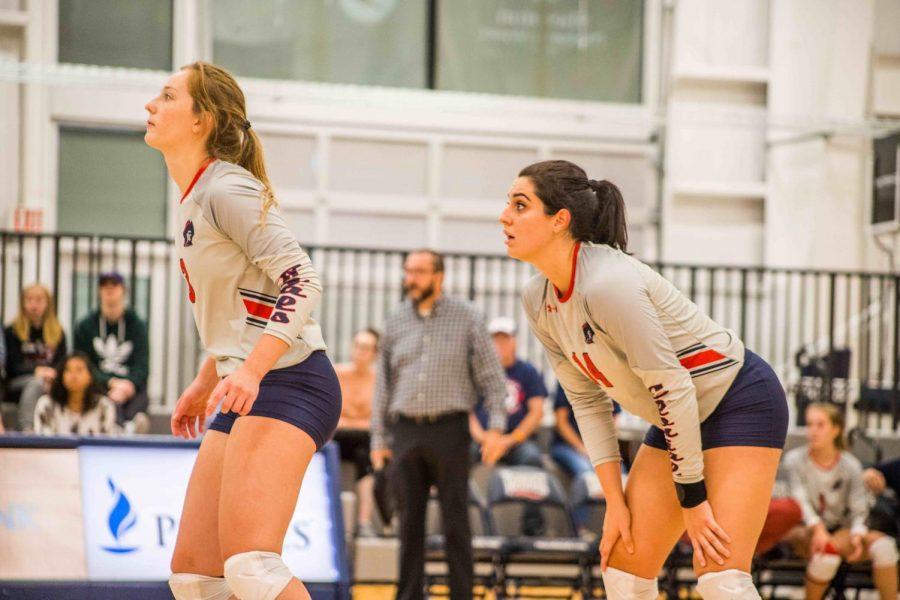 David Auth
Kent, Oh.– The Robert Morris women's volleyball team is currently 3-0 after starting their season just a little under a week ago. The Colonials are looking to keep their record perfect this weekend at the Golden Flashes Classic. They will be taking on Idaho State, Valparaiso, then finishing off the tournament with Kent State.
Recapping RMU
RMU has begun their season on a high note. The Colonials are currently 3-0 after sweeping Elon, Manhattan College and McNeese State at the RMU Sheraton Invitational. Due to the fact that there are no seniors on the team, leadership from juniors such as Whitney Brown and Maria Alfano will be crucial to this team's success. Whitney Brown, a junior setter, averaged 6.50 assists and 2.08 digs per set and didn't commit a single ball handling error at the tournament. Maria Alfano, a junior middle blocker, averaged 2.08 blocks per set, tallying five solo and 20 assisted. If the team continues to play like this, the Golden Flashes Classic should also end on a high note for the Colonials.
A look at Idaho State
Idaho State comes into this tournament with a 3-1 overall record. Last weekend, they started their season at the University of Nebraska-Omaha Tournament, where they beat the University at Albany 3-1, but suffered a 3-0 loss to Omaha-Nebraska. They closed out the tournament with a 3-1 win against Abilene Christian. Idaho State then defeated Utah Valley 3-1 in their home opener on September 3 in Reed Gym. Idaho's biggest problem coming into the tournament will be keeping their momentum up while they're winning and not allowing teams to win at least one or two sets each game.
A look at Valparaiso
Valparaiso currently has a 2-1 overall record. They opened their season with a 3-1 victory over defending OVC champion Murray State on Friday evening in Indianapolis. They also beat IUPUI 3-1 but fell 3-1 against South Dakota. South Dakota dominated the game for nearly the entire time, but Valparaiso was able to put out a last-minute effort in the fourth set, using a 7-1 spurt to get the game within three points, but South Dakota scored three of the set's final four points to take the opener. Valparaiso definitely capitalizes off of errors from the opposition, so other teams will want to watch out for that during the tournament.
A look at Kent State
Kent State will be coming into the tournament with a 2-1 overall record. Kent State was able to sweep Eastern Kentucky 3-0 at the Charlotte Invitational last weekend. After a two-point victory in the opening set, Kent State went on to sweep Eastern Kentucky by a more comfortable margin of victory in each of the following sets. Charlotte was able to give Kent their first lost of the tournament with a 3-1 victory over the flashes. Kent State then closed the tournament with a 3-0 victory over Gardner-Webb. The Golden Flashes held Gardner-Webb to a .021 hitting percentage and allowed just 22 kills. Kent State's strong offense and their home court advantage will be something teams should be concerned about at the upcoming tournament.
Players to Watch
Whitney Brown, Setter, RMU
Brown was named Tournament MVP at the RMU Sheraton Invitational last weekend. She had a pair of double-doubles, with 31 assists and 12 digs in the five-set win over Elon. She also had 28 assists and 10 digs in the four-set finale against McNeese. She also contributed defensively against the Cowgirls, with 6 block assists.
Maria Alfano, Middle Blocker, RMU
Alfano opened the tournament with eight blocks (two solo, six assists) in RMU's win over Manhattan. She then had 11 rejections (two solo, nine assist) against McNeese. This effort is tied for fourth-most in a single game at Robert Morris.
Haylie Keck, Libero/Defensive Specialist, Idaho State
Keck competed in all 33 games last season as Idaho's libero. She led the team in total digs with 683 and digs per set with 5.46. In Idaho's home opener win against Utah Valley, she recorded 13 kills and 1 block.
Brooke Pehrson, Middle Blocker, Idaho State
Last season, Pehrson played in all 33 games as Middle Blocker. She led the team in total blocks with 145, block assists with 130, blocks per set with 1.17, and aces with 33. In their home opener win, she recorded 9 kills, 2 blocks and 2 aces.
Peyton McCarthy, Middle Hitter, Valparaiso
Last season, McCarthy hit .200 with 230 kills and a team-high 130 blocks, Murray led the team to a 3-1 victory over Murray State. She had 11 kills and .400 hitting. She also led all players with four blocks and had a career-high 5 digs as well.
Bella Ravotto, Outside Hitter, Valparaiso
Freshman Ravotto recorded 11 hits and 15 digs, as well as finishing with a double-double. She tallied the most kills by a Valparaiso freshman in her debut since 2006. Her impressive start to her collegiate career helped Valparaiso to a 3-1 victory over Murray State.
Savannah Matthews, Outside Hitter, Kent State
In Kent's sweep of Gardner-Webb, Freshman Matthews led Kent State with 36 kills (3.60 per set) and was second with 33 digs (3.30 per set). She was named to the Charlotte Invitational all-tournament team.
Danie Tyson, Middle Blocker, Kent State
Last year, Tyson started 30 games. She led the team in kills with 243 and hitting percentage with .272. She also led the teams in blocks with 71 and had .63 blocks per set. In Kent's sweep of Gardner-Webb, Tyson had 22 kills (2.20 per set) and had a team-best .400 hitting percentage. She was also named to the Charlotte Invitational all-tournament team.