OPINION: If you build it, they still won't come
If RMU struggles so much to pack 'The Chuck,' how can it ever expect to fill a 4,500 seat arena?
April 22, 2015
Dear Robert Morris,
For some strange reason, no matter where I go on this 230 acre campus, I keep hearing that this school needs a new on-campus arena to be considered a premier institution.
I constantly hear how great this will be for the university, how much revenue it can generate and how it's a vital part of RMU's strategic plan.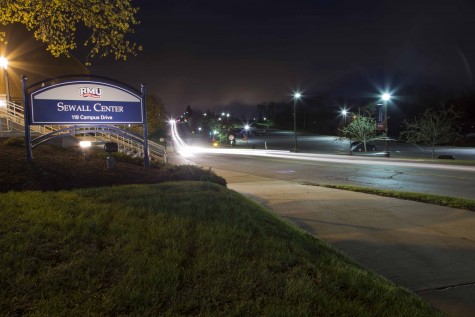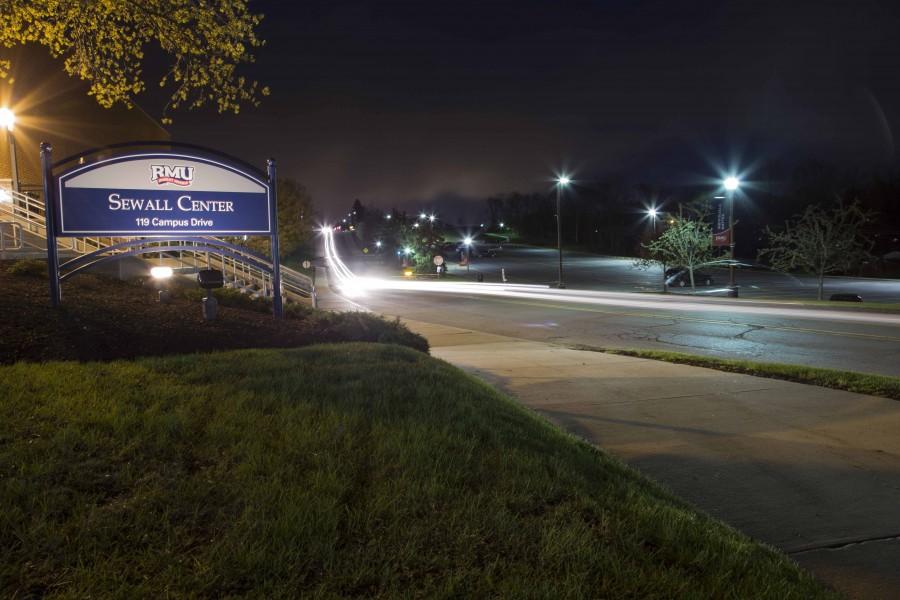 That seems great and all. Really, it does. But I just have one simple question.
Judging by the fact that you can't fill the 3,000 seat venue you have now, how do you ever expect to fill one that has a 4,500 seat capacity, like the proposed $50 million arena recently passed by the RMU Board of Trustees?
If you think it will be a breeze and can be done with regularity then go ahead, by all means, feel free to construct a multipurpose facility. If not, keep the Charles L. Sewall Center as the main home for RMU basketball and volleyball.
But before you begin building anything, you may want to take a few things into consideration.
Sure, 'The Chuck' – as it is affectionately known as – has its fair share of flaws, such as the stiff, wooden pullout bleachers. And let's not forget about the building's poor ventilation when filled to near capacity crowds, causing it to get extremely hot inside.
Though, you really don't have to worry about that last one because it RARELY occurs.
For a men's basketball program that has been so successful over the past five seasons, owning a .770 winning percentage (57-17) at home during that span, why has attendance has been so pitiful?
Consider the fact that during the 2012-13 season, the average attendance per game was 1,196, meaning that the Sewall Center was typically 39.9 percent filled to capacity.
But, if you remember correctly, that was the season that RMU played the University of Kentucky at home in the opening round of the National Invitation Tournament.
So one would think there would be a dramatic spike in attendance the following year due to the novelty effect of hosting the all-time winningest college basketball program, right?
However, on average, only 290 additional people were in the stands the following year, and if you compare that number to the average attendance this past year, you'd find that it dropped to 1,105 for an NCAA Tournament bound team.
Besides, a 4,500 seat arena would be the largest in the Northeast Conference by nearly 1,000 seats, and judging by the fact that the league was dead last in attendance in the NCAA in 2014, there's no way the NEC is ready for a facility that size.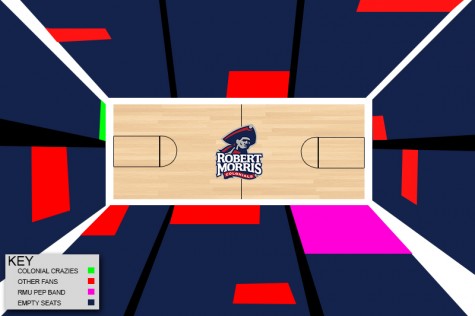 Neither is Robert Morris.
Although, maybe this new events center is all part of your master plan to eventually have the Colonials jump to a larger conference, especially since the projected capacity would be similar to that of the Horizon League or Atlantic 10.
And something like that really wouldn't be out of the realm of possibility. Remember when Quinnipiac and Monmouth were in the NEC?
Both schools opened similar multipurpose arenas in 2007 and 2009, respectively, and had found a new home in the Metro Atlantic Athletic Conference a few years later.
RMU might be able to be competitive in a bigger league, but it would probably be wise to prove it can sustain a substantial fan base first.
Case in point.
Out of the 351 Division I basketball programs in the NCAA, only 95 other teams had lower attendance numbers in 2014 than RMU. That means the Colonials fell in the bottom 28 percent in terms of attendance.
To make matters worse, 25 Division II and three Division III teams had higher average attendances during that same year.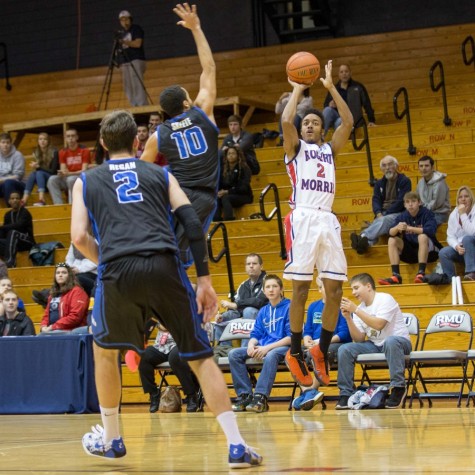 Let that sink in for a minute.
That mean's three women's hockey and two women's basketball home games had more fans in attendance than the crowd of 433 vs. Buffalo, who let's not forget, made the NCAA Tournament.
Not surprisingly, the highest attended game, with a crowd of 2,349, was on Jan. 16 against St. Francis Brooklyn.
Yet, that number was probably the result of offering $1 tickets, passing out free long sleeve athletic t-shirts and having the game broadcast on ESPNU.
Ask yourself this, Robert Morris. What's something you have that no one else in the region has?
College football? Nope, there's plenty of that in Western Pennsylvania.
College basketball? Negative. There's two other Division I programs in the area. And sorry, hate to break it to you, but in terms of notoriety, the pecking order will always be Pitt, Duquesne and then RMU, no matter how successful the Colonials are.
That's just the way it was, is and always will be.
Don't believe me? Just look at the numbers.
However if your answer was college hockey, you'd be correct.
So, you should be promoting more of what you have that no one else does, and the only way to do this is to bring hockey to campus.
If there's one team that's outgrown its facility, it's men's hockey, a program that had two capacity crowds this season packed inside the 84 Lumber Arena
Putting them in a larger venue will inevitably build the team's brand in a traditionally strong hockey market and can help draw large opponents to play RMU.
To me, including hockey is the only rational way to go about this.
Now don't get me wrong, a new arena would be great for hosting convocation, concerts and tradeshows, as well as enticing prospective students to make Moon Twp. their home for four years.
And I don't want to see the university break the fire code during the undergraduate commencement ceremony as much as the next guy; though, who knows if commencement would even be held in the new arena.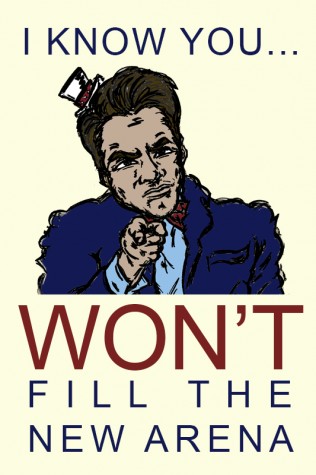 In a phone interview with RMU Sentry Media, Jonathan Potts, RMU's Senior Director of Public Relations, said that it would "likely be the new home of commencement."
The key word there, folks, is likely. As of now, graduation will likely be held in this events center, which is scheduled to open in 2018, but not definitely.
So if there's a chance future commencements may not be held there, why even build it?
As we all know, it will definitely be the home of Robert Morris basketball, even though, based on attendance numbers, the team hasn't come close to outgrowing what it currently has.
With that being said, why not fundraise money to construct new dormitories or improve parking? If you can get alumni to donate to a new arena, certainly you can get them to donate towards upgraded housing or new educational buildings.
Last time I checked, academics are the reason why EVERYONE is here in the first place.
Oh, one more thing, shouldn't a left turning lane on University Blvd. when coming onto campus from Coraopolis be more of a priority? I hear Moon Twp. doesn't want to pay for that and neither does Robert Morris. But it might be a good idea to do something about that before accidents occur. Anyway, back to the new arena.
How 'bout this.
Simply prove to me that you can consistently pack 'The Chuck' 75 percent full (an average crowd of 2,250 per game) during the 2015-16 season and that this soon-to-be built arena trumps housing, parking and academics in terms of overall importance to the institution.
Heck, if you can do that, maybe I'll consider becoming a donor myself.
With hope,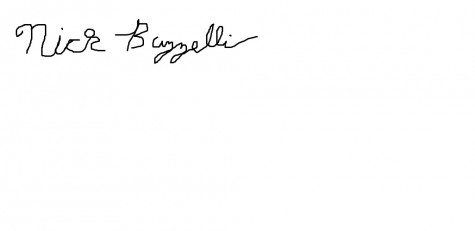 Think RMU will be able to fill this proposed new arena? Let us know why or why not in the comments section.
Editor's note: Title courtesy of Jon Fisher.