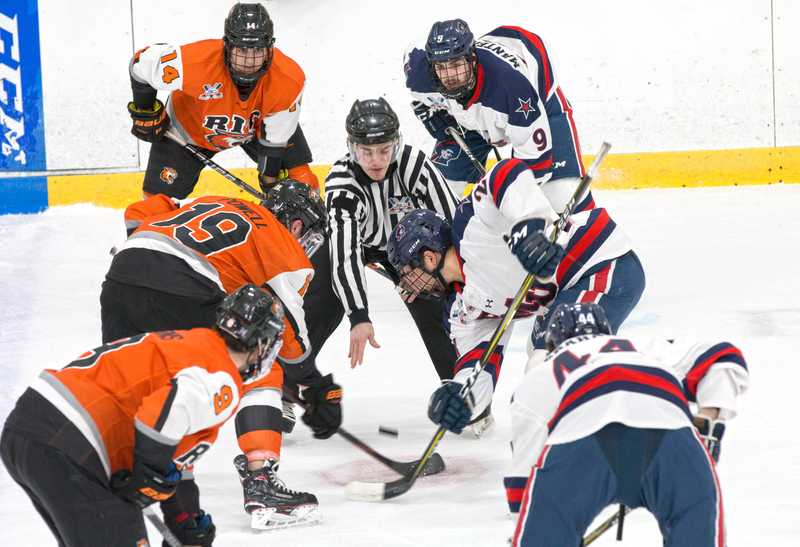 Why you shouldn't sleep on RMU men's ice hockey
February 16, 2018
The Robert Morris University men's hockey team this season has had ups and downs to say the least. With their current record being 13-15-2 overall and a conference record of 12-10-2, the Colonials are looking at making a deep run into the postseason.
Let's start with why. This team is hungry. After losing out on a conference championship and a NCAA tournament berth by one goal last season, it seems as if everyone on this year's squad has bought into the program. On the ice, you can tell they want a postseason appearance by the way they play.
Another strength the Colonials have shown this season is depth. In the 4-1 win over Sacred Heart, ten different RMU players registered a point. If you look at the scoring reports, Brady Ferguson leads the team in points this year. It's no surprise considering has 13 goals so far this year, which is down if you take into account that at the end of last season he recorded 24 goals, Luke Lynch has 12 goals and 12 assists, up from his last year's numbers by 4 points, and he ranks fourth in points already. Ahead of Lynch in the second spot, Alex Tonge has an incredible 22 assists on the season, and adds 12 goals to that for 34 points.
The big names are getting consistent points, but so are the guys that you wouldn't necessarily expect to be. For instance, Michael Louria, a transfer junior from UMass Lowell, seems to be finding the back of net an awful lot this season with 11 goals and 25 points so far.
Some of those goals are helped by Rob Powers, a senior who has a career high 11 points this year, a huge increase from 3 point junior campaign. Powers seems to move the puck very well on the point of the Colonials' second powerplay unit. Defenseman Eric Israel has had 6 points in the past 5 games for the Colonials, with 3 assists coming against RIT on game two of the weekend split.
Another big reason the Colonials are 12-10-2 in conference play right now is their goaltending situation. Francis Marotte has been giving the Colonials everything he can to say the least between the pipes for RMU this season, but it's proving to be a lot to ask. Marotte registers a .910 save percentage, with an average goals against average (GAA) of 2.66, ranking him in at 29th overall in Division I goaltending, out of 70 total slots. Those numbers are painfully average for a goalie in NCAA Division I ice hockey, but they become much more tolerable when you factor into account Marotte is only a sophomore. Still, he proves to be the current RMU go to, starting in 29 games his freshman year. He still has two more years to grow and get better as a goalie. By his senior year, it appears he'll be a veteran starting goalie, and he'll still be the heart of the Colonials roster.
Robert Morris' team is far from out. They're currently 4th in the Atlantic Hockey Conference, and they look to make a deep run into the playoffs. When you're looking above RMU in the standings, you see Holy Cross, Mercyhurst, and Canisius. RMU split their games with Canisius early on in the year, winning 4-3 and losing 4-1. The team split a weekend with Holy Cross as well, with one game ending in an RMU victory and one ending in a 5-5 tie. They won both games against Mercyhurst right before the Three Rivers Classic.
If the AHC postseason was to start today, Robert Morris would be playing RIT game in the quarterfinals. This would prove to be a challenge for the Colonials, as the last two games they've played, have been losses to RIT. The winner of that tournament automatically gets the division's ticket into the NCAA Frozen Four. Canisius has 30 points on the season, Holy Cross and Mercyhurst have 28, and RMU has 26. Since the AHC playoffs don's start today though, you also have to remember that RIT is closing in fast on the Colonials, just one point behind them, with 25.
The Colonials are going to need everyone to buckle down over the next two weekends and make sure that they win the important games so that they can keep their place in the standings. To do this, big leadership roles need filled on the team.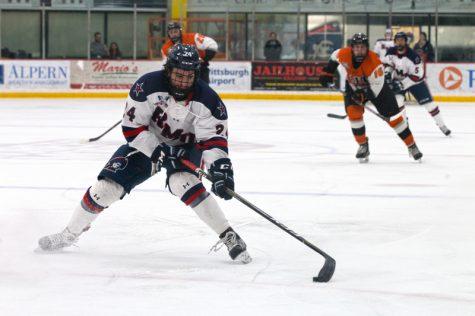 For instance, Brady Ferguson, an NHL prospect with the Pittsburgh Penguins and Hobey Baker nominee, is going to need to step up and finish the season strong. He's down on his stats from last season by almost half. He finished last year with 24 goals and 34 assists, totaling 58 points. This year, he has only 12 goals and 37 points. It's enough to be leading the team, but for an NHL hopeful, it's not where it should be. He showed us what he can do last year, and it's not arguable that he's not playing good hockey right now, he just has to step up as a player and take his personal game to the next level, which is to play great hockey.
Defensively, senior/junior combo Elias Ghantous and Eric Israel are guys to watch out for. They not only do a good job at playing aggressive, lock down defense, but they also have proven to be a two-way duo who is capable of burying the passes that find their tape. Ghantous has been defensively sound, as in the 2017-2018 season so far, he's a +10, beaten only on the Colonials roster by Luke Lynch, meaning he's been out of the ice for 10 more Colonials goals than opponent's goals and he registers an impressive 44 blocked shots this year.
His defensive partner Israel has 19 points, 15 of them being assists, of which 6 are in his last 5 games played, and he registers 60 blocks so far this season.
Since the Three Rivers Classic on December 28th and 29th, the team has been 5-3-1. When looking at the remainder of the RMU schedule, the Colonials have game one at home next weekend against Mercyhurst, before heading to Erie, PA to finish a home and home weekend, and they close out the regular season against Air Force with two games at home, at Colonials Arena.
These next four games could put Robert Morris in a very good position to make a historic postseason charge. This team was on a bit of a hot streak until the past weekend. However, if they plan on getting their momentum going before the AHC playoffs, they're going to have to be able to rebound against a tough set of back-to-back losses to RIT for the second time this season This makes the fact that RIT sits just one point behind the Colonials even bigger, as only the top five seeds get a bye week. The scores were 4-3 and 6-2. where the Colonials took 11 penalties.
The biggest problem this past weekend was penalties. The Colonials are statistically the second-to-worst team in the AHC when on the penalty kill. They also average ten minutes in penalties per game, the second most in the conference, which makes for an extremely hazardous combination.
With all eleven teams making the playoffs, and the top 5 seeds getting a bye week, even if RMU drops the remaining 4 games, they aren't necessarily out of the race. While it may be hard to do, if you look at the teams in the standings, if the Colonials win three of the next four, and have one tie, they would have the same record as last season when heading to playoffs. Last season's postseason was a disappointment to say the least, after missing out on a Frozen four appearance by one goal. As the fate of the season lies solely in the players hands, and you never truly know what's going to happen on the ice, you can't rule out the chance we see a surge into the playoffs and a historic postseason for the Colonials. Don't sleep on RMU men's hockey