Love Blossoms "Behind the Curtain" at Delta Zeta Event
Love was in the air Wednesday night at Massey Theater for Delta Zeta's "Behind the Curtain" event.
The blind dating event consisted of five rounds, where one contestant was on one side of the curtain with three mystery contestants on the other side. The event benefitted the sorority's philanthropies, the Starkey Hearing Foundation and Variety, the Children's Charity. There were also raffle baskets and a bake sale at the door.
At the end of each round, the contestant would choose a date based off of the contestants' answers to questions randomly chosen and from the audience. There was plenty of laughter on and off stage with plenty of humorous responses, and it was all hosted by two DZ sisters.
The first round featured Miranda and three men contestants. The winner was Tyler Vanish, who won Miranda over with his Shaggy impersonation and that he wanted to be a racecar driver when he was younger. After he was picked, Miranda met him as well as the two she passed up and the two received flowers.
Kat and the winner, Sarah, won over the crowd in round two. The audience joked that the other two contestants could not compete and was an easy choice for Kat. Sarah said her go-to pick up line was, "Good thing I have a library card because I want to check you out", and if the two went to Paris, she would rob the Kardashians for their jewelry to give Kat as gifts.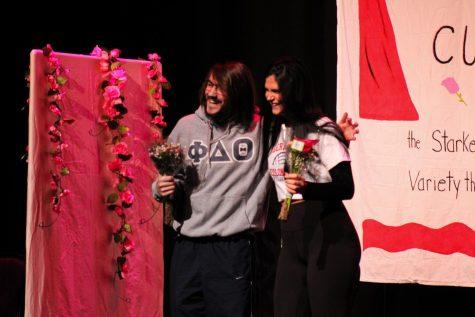 Division three club hockey player Andrew Komorowski got to choose between three girls in round three. After a tough decision, he ended on contestant number three Megan, whose favorite music artist was Harry Styles and that she wants a guy to get to know her first before telling her he loves her. The night wrapped up with Anthony having some bold answers for the three women contestants and ended up choosing a club volleyball player.
Keeping the theme of roses and love, Delta Zeta will be hosting their Rose Ball tonight from 7:00 p.m. to 11:00 p.m. in the Wheatley Atrium, also benefitting the Starkey Hearing Foundation and Variety, the Children's Charity.