On November 10, Violins of Hope visited Robert Morris University. Students and community members came together in the Wheatley Atrium to learn about the Holocaust in a new way.
Violins of Hope is a program that educates people on the Holocaust with the use of instruments that have survived concentration camps, pogroms, and long journeys across the world. It started 25 years ago by Amnon and Avshalom Weinstein, who restored the historic instruments. The instruments travel the world to be shown at exhibits, used in orchestras, and to teach people everywhere about the sad history of the Holocaust. The programs teach people about a rare fact that we rarely learn in school: if you were a musician in a concentration camp, you were treated a little better than the rest.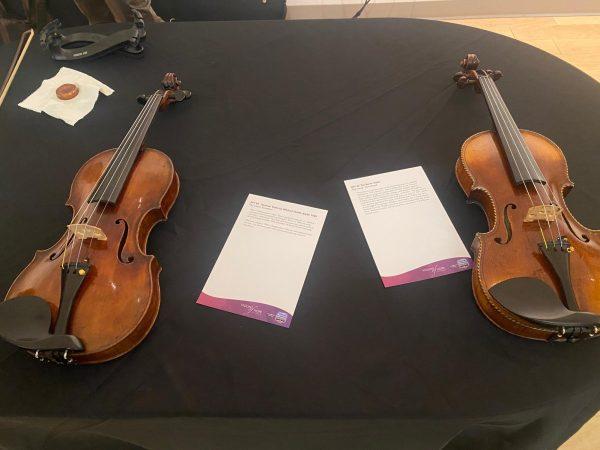 The project manager, Lynn Zelenski, explained that musicians didn't have to work as hard as the rest, and they also got "an extra crumb of bread" because they were useful in the eyes of the Nazis.
Story continues below advertisement
The main thing that makes this program different from other holocaust education programs is the music. Zelenski spoke on this, saying, "The music is the resilience. The people who owned the instruments, who played them all those years ago are no longer here, but the instruments themselves can still provide lovely music and hope and opportunity to people to just listen and enjoy the sound."
While Zelenski shared the history of the instruments and the time period they came from, Dr. Heather Pinson, Department Head of Arts and Humanities at Robert Morris University, played the instruments and put into words how the instruments themselves were so important to musicians and listeners alike.
"It's in a different way and it's better having experiencing things in life, to see it or to hold it or to have it played for you," she said, regarding the experience. "It's totally different than just reading it in a book. The history lives right through [us] instead of just passing by."
If you weren't able to experience the incredible stories of these instruments, you can still visit them at Carnegie Mellon University's Posner Center until November 21st.