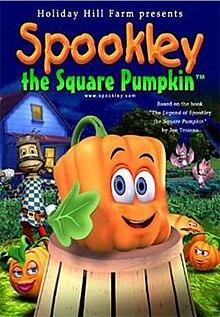 Have you ever heard of "Spookley the Square Pumpkin," the 45-minute movie released by Holiday Hill Farm? I watched it as a kid many times with my family. The musical came out in 2004 and a fun message for kids about being themself and not judging a book by its cover. I wanted to look back and see if it still holds up 19 years later.
First, I wanted to say what didn't work for me, and it's a short list I promise. The CGI looks abysmal, which I imagine is due to a lower budget. But that same year, "The Incredibles," "Shrek 2," and even "The Polar Express" came out looking a million times better. Heck, going back to my "VeggieTales" list, their first episode in 1999, "Where's God when I'm Scared," looks like "Citizen Kane" compared to this animation. I understand the movie came out 19 years ago, but the characters are still quite painful to look at. When they aren't talking, they are just frozen, making for an offputting experience.
The only other major issue I had was that the story was quite strange. We start with a bat trying to eat a bug, and his sister tells him to stop, which then constitutes a five-minute song about why the bat likes eating bugs. They have the Jack-O-lympics in the middle of the story, in which we see Spookley come in last place three times. Then a storm hits, and Spookley saves the day and now everyone suddenly likes him. There isn't much substance to the story, with a lot of things just happening for no reason.
But that's enough negativity. Now,let's talk about what worked for me.
Story continues below advertisement
I thought Sonja Bell was great in her role as the titular pumpkin. When Spookley was sad, you felt it, and the one singing role they gave Bell was great. Craig Farris as Jack the Scarecrow is also great at playing more of a father figure. They work well together, and I couldn't help but smile throughout. I also felt Edgar, Allen, and Poe, the spiders who play a smaller role in the story, were actually good comic relief, which can be hard to find in kids' movies. The story may be generic, but it does have a lot of heart. The ending where everyone likes him has a sweet song. When people do finally care for Spookley again, it is very sweet. When he saves the day as well, it's great. The writing was awkward at time, but overall, the dialogue worked.
I also liked the music. "Look at Spookley," which was supposed to be mean-spirited, is so catchy that I didn't care that it was disparaging my favorite character. Plus, the lesson in the story is something people need now more than ever. The idea of treating people with kindness, and not judging a book by its cover, seems to be gone. So, it was nice to watch something that wanted to show that. I felt that it's something that is worth teaching and I am always here for when shows or movies tackle this issue that still somehow plagues us in 2023.
I would say this movie is okay. Would I watch it again right now? Likely not. However, I would definitely turn it on again in about a year? If you have kids, want to have some nostalgia, need some sweet stuff in your life, or just want to hear a important message, then definitely check out this movie. It may be a little odd, but with a lot of heart, "Spookely the Square Pumpkin" is a good time.