Holiday Inn, campus expansion focus of Town Hall Meeting
Nearly 50 students filled the Salem Hall conference room Thursday evening to hear from Robert Morris University's President Gregory Dell'Omo. While Dell'Omo mainly focused upon the university's expansion, students also brought up other topics, such as recycling on campus, parking, dining options and transportation off campus to the Island Sports Center and downtown Pittsburgh.
A breakdown of each of main topic is below.
Holiday Inn
"A lot of people are asking a lot of questions about the Holiday Inn," stated Dell'Omo in his opening remarks.
Since Dell'Omo first came to campus in 2005, he said the number of students living on campus has increased from 37 percent to 50 percent.
Salem Hall's completion this fall added an additional 190 beds to campus. However, the university's residential population is on the rise, and the president estimated that at least another 500 beds are needed.
From an economic standpoint, he described the purchase of the Holiday Inn for $10.1 million as a "great deal." Dell'Omo estimated that the difference in the cost of building a new building to the cost of purchasing the hotel in a sheriff sale was $26 million.
Over the next two to three years, the university plans to transform the hotel into a full residence hall, but at this time, they are still awaiting the deed and are faced with a "transition period."
Dean of Students John Michalenko also announced at the meeting that on Tuesday, Dec. 13 at the Almost Midnight Breakfast, students will be voting on the name for the residential hall portion of the Holiday Inn.
Wayne Center's Conversion
Dello'Omo announced that conversion of the Wayne Center, which currently serves as facilities' offices, into the new home of the School of Communications and Information Systems has officially begun.
Since RMU sold its downtown building to Duquesne University, plans for this transformation have been in the works to relocate the entire Media Arts department on campus. Included in this new design is classrooms, faculty offices and a food area along with a three story atrium and art gallery for students to display their work.
The president explained that this building will be completed in two phases. Phase one, which includes the completion of the classrooms, is scheduled for next fall since the media arts students will need somewhere to go next year. Phase two, which includes the faculty offices, will move forward once almost all of the funding is secured.
Dell'Omo stressed that all of the funding for this building and others, such as the new School of Business building, comes from external sources. He ensured that students' tuition will not increase due to this construction and added that the revenue that will come from renting out the nearly 12,000 square feet of conference space at the Holiday Inn will also help keep students' tuition down rather than increasing it.
Expanding RMU's Schools
With the School of Communications and Information Systems out of Patrick Henry, Dell'Omo stated that a dominio effect will begin. The School of Education and Social Sciences would kickoff this effect by moving into the Patrick Henry Center although the TV studio will remain where it is now.
Along with the expansion of the School of Education and Social Sciences will come an expansion of the School of Nursing and Health Sciences with the Simulation Center serving as its new focal point. The School of  Nursing and Health Sciences' expansion will open up John Jay, so the School of Engineering, Mathematics and Science can also grow.
In the end, each school will essentially have its own building.
Students' Questions
Questions asked by students ranged from healthier dining options to transportation off campus. Dell'Omo and Michelenko addressed each question and took into consideration all suggestions, paying special attention to the transportation options to downtown Pittsburgh and the Island Sports Center.
According to Colonial Ambassador Anthony Berardi, he is most often asked whether or not the university provides transportation to Pittsburgh for RMU students by prospective students while giving tours. Dell'Omo and Michalenko said the university will be looking into the possibility of arranging such transportation for future semesters.
Although this type of meeting normally only takes place between Dell'Omo and his staff, this year he wanted to make it more of a town hall style gathering and give the equivalent of a "State of the Union" address in order to interact directly with the student body.
Being the last of two Town Hall meetings on campus, Dell'Omo and Michalenko encouraged students to contact them with any other concerns, complaints or suggestions at any point throughout the year.
About the Writer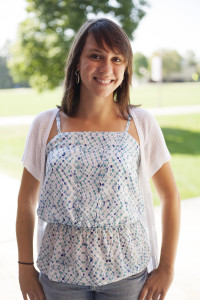 Andrea Zanaglio, Staff Writer
A senior journalism major at Robert Morris University, Andrea serves as a staff member this semester, writing and producing packages for all aspects of...