360-degree tour, announcement from Student Recreation, Fitness Center
September 25, 2017
The new Student Recreation and Fitness Center is tentatively set to open on Sept. 27 with two floors of rooms with fitness features for all students.
While the inside of the building has fitness opportunities for all students, the outside will as well. Campus Recreation is announcing the outdoor court concept. This outdoor court will include a deck hockey area, basketball court, tennis court, three racquet sports courts and a seating/storage area.
"The outdoor courts. People keep asking me about the outdoor courts, it's all I hear about, even though the rec center is a big thing, but outdoor courts are also a big thing," said Armand Buzzelli, director of Campus Recreation. "So, that whole space … that's being redone. So, we are going to be putting down a new layer of surface there … and it's going to have multi-courts."
The lobby area will allow for students to hang out as well as check in for classes and other activities. There will be four student workers, two part-time faculty workers and two full-time faculty workers. Extra equipment will be behind the desk while vending machines with healthier snack options will be available.
"This is where all the rec equipment will be checked out, and basically if there's any questions about rec sports or (other questions)," said Buzzelli.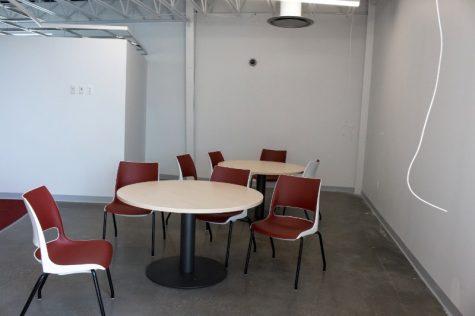 Katey Ladika
The cardio room is a large room with multiple exercise machines like ellipticals, treadmills and strength equipment. A lot of the equipment has come with new technology, such as viewing screens for streaming TV shows and movies.
"We've got extensive equipment. You can see the front desk looks out into this area so we can keep an eye on the floor better. We've got a lot of … cardio. We've got a bunch of new treadmills," said Buzzelli. "All but only a couple of our pieces have personal viewing screens, so you can watch TV."
Here's the lifting area and the cardio section of the NEW rec center! – Spherical Image – RICOH THETA
Athletes can visit the training room, which will soon include an ice bath and other features. This will be in the Student Recreation and Fitness Center so athletes do not have to travel to the old training center near the soccer fields.
"So all the athletes who have been up there have had to go up to Sewall for training stuff … actually, they had a little shack that was by the soccer field. So, we've got a nice space up here … that'll be great," said Buzzelli.
Check out the training room in the NEW rec center! – Spherical Image – RICOH THETA
There are multiple locker rooms in the new Student Recreation and Fitness Center. Long-term teams, like softball and soccer, will have their own locker rooms. Short-term teams, like basketball, will share the space until the UPMC Event Center is built. Officials will also have their own locker rooms separate from the student-athletes.
"This complex will support softball, men's and women's soccer in the long term. In the short term, while we're building the event center, it's going to be men's and women's basketball, volleyball, and those teams I just mentioned. So, they're all going to be up here in some way, shape or form," said Buzzelli.
LOCKER ROOM: check out the men's locker room! – Spherical Image – RICOH THETA
The film screening room will be used as a place for athletes to watch their plays and practices. It will also act as a conference room until the UPMC Event Center is built.
"For example, on Sunday our staff is going to have a staff (meeting) about like how to manage the weight room and all these other spaces, and we're going to be here, so it would be the conference room for lack of a better description … until the event center is built," said Buzzelli.
Check out where teams can watch game footage in the rec center! – Spherical Image – RICOH THETA
The basketball court is open to the RMU community. The court has large garage doors with a patio outside for students to eat and watch sporting events. The court has two full courts, one game court and four short courts.
"You've got these garage doors on the right side … and they're really nice," said Buzzelli. "They've served a lot of purposes already getting things in and out of the building."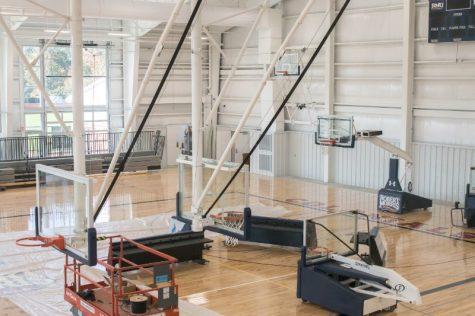 Katey Ladika
The second floor has three rooms used for fitness and a conference room known as the David Jamison Conference Room. Coaches have been moved from Sewall into these rooms until the UPMC Event Center is finished.
Look at some of the offices and the news basketball court in the Rec center! – Spherical Image – RICOH THETA
The restrooms are standard, but now have areas sectioned off for privacy. There are private showers as well as a single user changing and shower area. Lockers are set to be installed in the upcoming weeks.
"We tried to … make things more private in here," said Buzzelli. "So you'll see this space there (are) private changing rooms, so if you don't want to change out in the middle of a group of people, you can go in there and get changed."
The functional fitness room is for a class of 18 people to enjoy different kinds of exercise. There will be a class called "Move It," which will be held after employee training in the first week of October. This room will be monitored to avoid injury. Students will not be allowed in the functional fitness room without someone trained to assist in the workouts.
"We're gonna offer some classes with this," said Buzzelli. "The flooring is going to get updated and we're going to have like a grid of 12 boxes where you're going to stand underneath and each box you do a different kind of exercise."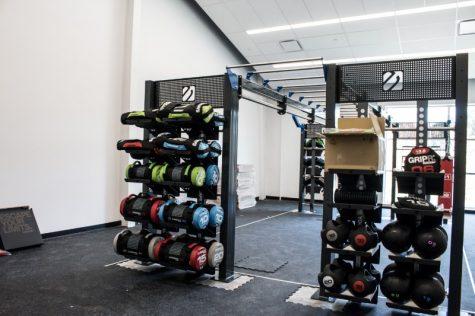 Katey Ladika
The second-floor studio is the largest, open space of the three fitness rooms on the second floor. It will resemble a dance studio with wooden floors and mirrors after it is finished. There will also be a TV added with a kiosk to take a class or exercise when an instructor is not present.
"We'll have our yoga classes, our dance classes, our hip-hops, our Size classes, all that kind of stuff up here. And right now we're staging a lot of equipment as storage because we're trying to get things into rooms," said Buzzelli. "A lot of technology in this building so … we're going to have a big, somewhere between 70-80 inch TV, and there is going to be a little kiosk where you can come up and … it's a fitness-on-demand concept."
Yoga, dancing, kettle bell and more in this room! The floor is coming soon. – Spherical Image – RICOH THETA
The spin bike studio will have spin bikes, which are set to come in the upcoming weeks. Karate classes will happen immediately after opening, as well as classes like kettlebell, cardio exercises and Tobada. Ten students will be certified as instructors for the spin classes.
"Just looking at this space, this is the smallest of our three rooms but it also is way bigger than anything we had before, so it's going to work well for us," said Buzzelli. "We're going to have a projector … and we're going to do this thing called SEVE, which is a spinning virtual experience where your bike is hooked up to a little emoji-character type rider, and you'll race the people in your class and they'll track your mileage, and it's really cool."
New spinning studio with special features coming soon! – Spherical Image – RICOH THETA
Until the opening of the entire Student Recreation and Fitness Center, the basketball courts will still be open from 6:30 p.m. to 12 a.m. The rest of the building will run on standard operating hours after the opening on Sept. 27.