An armed man was arrested at a campaign event for Democratic Party presidential candidate, Robert F. Kennedy Jr. The suspect was posing as a United States Marshal and had two shoulder holsters containing two loaded handguns.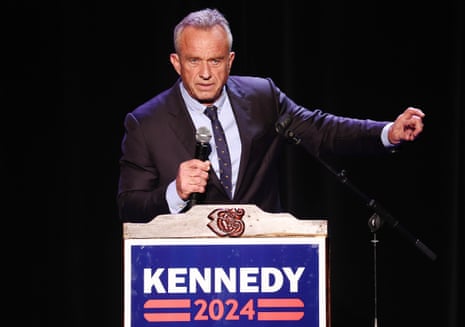 The suspect has been identified as Adrian Paul Aispuro, 44. Kennedy Jr.'s security squad surrounded the suspect when he demanded to speak directly with the candidate. He was arrested and booked on a felony gun charge. Aispuro is being held in a Los Angeles jail on a $35,000 bond. RFK Jr. was scheduled to give a speech at a Hispanic Heritage event in Los Angeles.
RFK Jr. stated that his May and August applications for Secret Service protection were rejected but he plans to apply again after this latest incident. "I am the first presidential candidate in history to whom the White House has denied a request for protection," Kennedy Jr. tweeted.
Story continues below advertisement
Secret Service protection is only reserved for "major" presidential candidates. The Secretary of the Department of Homeland Security is the person who determines who fits the qualifications for protection and when it is provided.
"Based on the facts and the recommendations of the advisory committee, I have determined that Secret Service protection for Robert F. Kennedy Jr. is not warranted at this time," the Office of Homeland Security Secretary Alejandro Mayorkas stated regarding the refusals.
Kennedy Jr. is the son of famous American political figure Robert F. Kennedy, who was assassinated in Los Angeles during his campaign for the Democratic Party's presidential nomination in 1968. He is also the nephew of the 35th President of the United States, John F. Kennedy, who was assassinated in 1963. The Kennedy assassinations still stir controversy to this day.
RFK Jr. is running on an anti-establishment platform opposing the Democratic incumbent President Joe Biden.