Sit down with RMU Detective Scott Page
January 9, 2016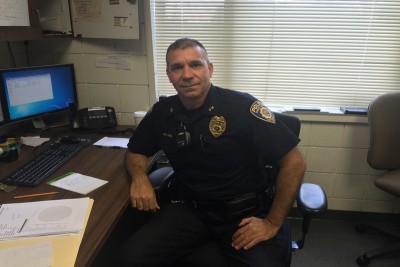 The one question everyone is asked when they are a little kid is 'what do you want to be when you grow up?' For Robert Morris detective, Scott Page, a police officer was always the answer.
"That was something that started when I was real young. I just always wanted to be one, always wanted to be around them…" said Page. "I wanted to be a cop, so I actually went and did it."
Page became part of the RMU Public Safety Department back in 2000. Before his time at RMU, he served as a police officer for Crescent Township which is less than 5 miles from Moon Township. He has served with Crescent for 18 years and continues to today a few days a month. He heard about the RMU job through a former Crescent colleague.
"I worked for the sergeant who was up (at Robert Morris) at the time in 2000. (He) worked in Crescent too, part time. There was an opening and he told me to apply. I applied and here I am 16 years later (at RMU)."
Page now serves as one of two detectives in the department. Although he mainly deals with investigations, he also works with the 700 cameras on campus, handles events on campus, along with parking for those events, and all orientations for freshmen and new hires.
"(It) keeps me constant, especially when you get a couple cases going on, then trying to do everything else," says Page. Over a year ago, another detective was added to his shift which he says helped lighten the load.
Originally from York, Pa., Page moved here when he was around 6-years-old and has lived in Pittsburgh ever since. He attended the Community College of Beaver County for the police academy.
Page believes that the scariest events in his job are always the most memorable. While putting himself in those situations, he wants to be able to help people. He says it's part of what police officers "choose to do."
"To be able to help people… it makes you appreciate what you do. Even if you can put a smile on someone's face, because we are always the bad people. 'The cops are coming, run…,'" says Page, "I'm the opposite, I'd rather sit down and talk."
"
To be able to help people… it makes you appreciate what you do."
— Scott Page
"I've diffused a lot of situations that could have been bad by just actually being myself and not being an officer."
Lieutenant Charles E. Spencer Jr. has worked with Page since the detective began back in 2000.
"He's a good guy," Spencer said through a chuckle. "I've worked with Scott many, many years since he started here. He's basically my partner. And good friend."