New Body Cam Footage Displays Problems with the Policing Institution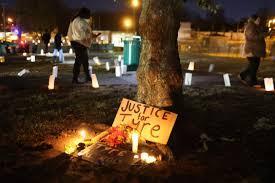 Tyre Nichols was a 29-year-old man from Memphis Tennessee who sustained a beating from police on January 7. He would die three days later while in the hospital.
He is just one of several cases since 2020 that has come into the spotlight regarding police brutality. Following those cases, there has been a wave of protests to display the deaths that followed the interactions with police officers are not acceptable.
In an effort to prevent these protests from being severe, Memphis police have strategically released the footage late into the evening. However, as people are watching the footage, people are gathering in the streets to demand justice.
Earlier this week, five police officers by the names of Tadarrius Bean, Demetrius Haley, Emmitt Martin III, Desmond Mills Jr. and Justin Smith were charged with Second-Degree Murder, Aggravated Assault, Aggravated Kidnapping, Official Misconduct and Official Oppression.
In twenty days, it appears that Tyre Nichols will be served justice. This is a large contrast to the case of George Floyd. Floyd was killed in Minneapolis Minnesota back on May 25, 2020. Former police officer Derek Chauvin was found guilty with two counts of murder and one count of manslaughter nearly a year later on April 20, 2021.
It was George Floyd's murder that brought not only the country, but the world, to protest. Looking at the footage of Tyre Nichols, it is no surprise that there will be massive protests. This is largely in part of Nichols appearing to cooperate with the officers who continued to escalate the situation.
According to an article from the Washington Post, they have been keeping up with the number of people that have been killed by police officers. The numbers have been high and display that there is an issue regarding the institution of policing. The latest footage only proves that officers have been using excessive force and escalating situations.
While the murder of George Floyd was done by a white police officer. The death of Nichols was done by five black police officers. Though the commonality was that two men faced excessive force performed by police officers that led to their deaths.
Their cases of excessive force that have led to death are not the only ones. In 2017, Justine Ruszczyk of Australia was killed by a black police officer in Minnesota after calling 911. Stephon Clark from Sacramento California was killed when he walked out of his grandmother's house, holding a cell phone.
The policing institution has a problem and it is the usage of excessive force. One of the main things that the death of Tyre Nichols highlights, like George Floyd, Justine Ruszczyk and Stephon Clark, is that there are police officers who are escalating situations and using excessive force.
Official footage regarding Trye Nichols's arrest can be found on the City of Memphis Vimeo.