OPINION: A new fall sport to watch is finally here
Why men's soccer is quietly becoming the fall powerhouse of Robert Morris
As winter approaches, the Northeast Conference fall sports are well into competitive conference play and coming to the end of their regular seasons. The Robert Morris Colonials have six fall teams in the NEC, but only one has a big fan base (if you can even call it that): football.
Alas, the initial hype of coming close to beating Dayton and #17 Youngstown State has faded away from the football team, and last Saturday's disappointing 16-7 loss to Duquesne was the icing on the cake for most Robert Morris fans. This leaves die hard alums and students on campus with pretty much nothing to root for in the fall.
Except, there just might be the emergence of a "new" team to get behind.
The hope was that, heading into the second season as the football team's head coach, John Banaszak would have vast improvements now that he's had a year to settle in. In many ways it has, especially with the defense, who is holding the opposition to 22 points per game so far this year, compared to last seasons lackluster 34.3 points per game.
However, offensive coordinator Darrin Hicks has failed yet again to put together a productive team on his side of the ball. Freshman quarterback Matt Barr getting injured a few weeks back certainly didn't help, but the return of Barr last Saturday was arguably as bad as how his backups preformed against Sacred Heart the previous week.
That means it is time to chalk up this season, and maybe next season as well, as a loss for the Robert Morris Colonials football team. It is time to let another fall sport shine, and it is a perfect time for the men's soccer team to take that place.
This Robert Morris team is flaunting a much better 9-6-1 record heading into the last weekend of conference play before the playoffs, and they are currently sitting in a tie for second place in a surprisingly very competitive and interesting NEC.
Luckily for Colonial fans, soccer is a sport where you can really pick up and start watching a team at any point in the season, and right now is the perfect time. The end of an era has almost arrived, with star forward Neco Brett approaching the end of his final season for RMU.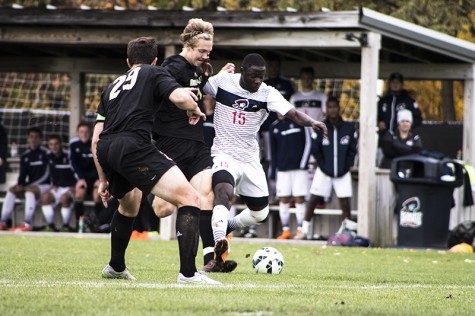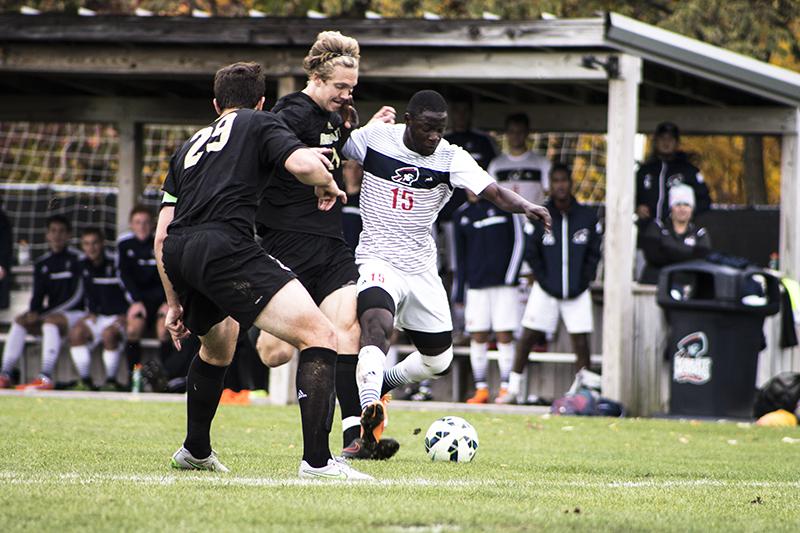 For those that don't know, Brett could possibly go down as the best athlete to ever come out of Robert Morris. A few months back he was listed as the #5 MLS draft prospect on MLSSoccer.com, and was also the top goal socrer in all of the NCAA his junior year.
Brett is going to give it all in these final games, as this season he's trailing in the goals scored race, currently sitting at seventh place nationally.
The good news is, Brett is not necessarily getting worse in that his scoring production has gone down. Because the rest of the team is getting better, he is now able to rely on other talent to carry more of the offensive load.
The team is only going to improve after this year too. They are already putting freshmen assets Lucas Puntillo and Zac Sherman to good use. Sherman gave the Colonials the winning goal last Friday against Fairleigh Dickinson, and Puntillo has tallied four NEC Rookie of the Week honors thus far.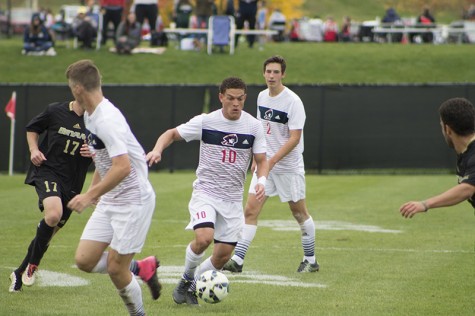 The team also has seen the emergence of Keane McIvor, a sophomore from Trinidad & Tobago and a member of their youth national team.
McIvor is arguably the fastest player in the NEC right now, and with more experience and a talented young team beside him, he will be able to carry on the tradition the Jamaicans have started right here in Moon Township.
The NCAA is starting to become a training ground for players all over the world to come and develop their skills to become professional soccer players, and fully expect McIvor to continue to show that Robert Morris is a great place for these athletes to go.
Rafael Bruzal, a Venezuelan native, is also doing quite well this year, despite not playing as many minutes as he deserves this season. Bruzal is possibly the most underrated player on the team, rocking an impressive .667 shots-on-goal percentage (only out of 6 shots) and scoring on half of his shots on target.
Signs are starting to show that more people are taking notice of the team too. Although attendance is still small, it has increased by 20 percent per game compared to last year. As the team continues to get better, the fans will come also. It will take time, but someday men's soccer could become one of the most important sports at Robert Morris, on the same tier as men's ice hockey and men's basketball. With football still not being able to produce a winning season since 2010, maybe it's time for soccer to take its place.
This Friday's conference match-up for the men's soccer team is free to stream live on NEC Front Row and begins on at 1 p.m. as the team takes on Central Connecticut State, who always gives a good fight. Maybe students will start to realize which team is actually competitive and worth watching around the Moon Area.
About the Contributor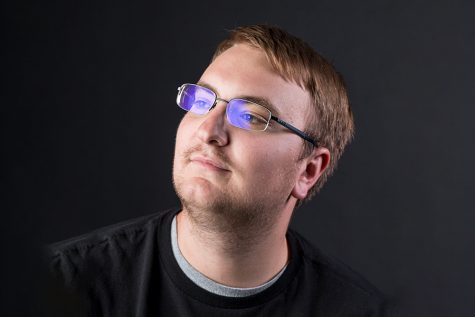 Nick Milliron, Videographer
Nick Milliron is a senior TV/Video major, with a minor in Documentary Studies. He is the general manager for RMU-TV and currently works for AT&T Sports...