OPINION: Women's soccer "to-do" list
In the first six games of the 2016 season, the Robert Morris women's soccer team had not won a game yet.
Part of this could be blamed on multiple aspects of the game. The biggest one that sticks out is that the Colonials have only scored four goals in their first six games. Meanwhile, their opponents have jumped on the opportunity RMU has given them.
In total, Robert Morris has allowed 18 goals already in this early season. Being nearly one third of the way through the season, things need to change if they still want a chance at playoff contingency.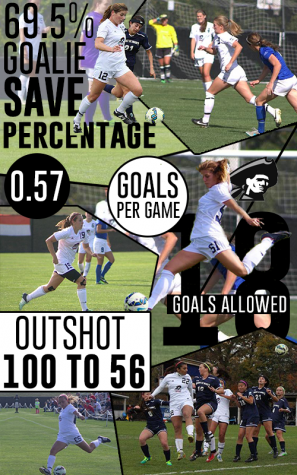 The first thing that needs to be changed is the production of goals. With none of these games being non-conference, things can still be fixed in order to come out on top of the Northeast Conference. But the Colonials need to score more than an average of 0.57 goals per game.
Their opponents have produced anywhere from one to five goals in order to triumph over the RMU women. If Robert Morris wants to achieve a successful post-season run then they need to be more productive on the offensive side of the field.
One player, in particular, that needs to score more goals is junior midfielder Erin Ritzer. She is a returning player that scored the second most goals last year with five on the season, adding three assists. She knows what works and needs to make it work again.
Secondly, on the defensive side of the field, keep the ball away from and out of the goal. The goalies, facing 100 shots on goal, have faced too many shots in the first third of the season. Possibly giving freshman Julia Schmid a shot in goal to mix things up, and see if other things work.
Being that the average save percentage for the team is 69.5 percent.
Things in net need to change, possibly having a change in formations for a tighter defensive play. With the win against the University of Ohio, momentum is being built.
Possible roster changes for women's soccer could maybe lead to a string of wins. Throwing new faces on the field may not be a good choice on a normal condition with at least one win, but the Colonials haven't done that this season. With a low goal count and a high number of goals scored against, changes need to be made.
What changes? Well, that is left up to head coach John Kowalski.