RMU Proclamation: Andy Toole destined for success outside of RMU
Geoffrey Chaucer once said, "All good things must come to an end."
That phrase has stood the test of time and emulates life as a whole. It is very true; everything must come to and end at some point. Vince Lombardi retired from the game he helped make famous. John Wooden left UCLA after his time there concluded. Wayne Gretzky had to leave the sport he loved most.
Even though fans don't like the outcome of a departure, the reason may be more beneficial to the protagonist than the community itself.
Andy Toole, head coach of the Robert Morris men's basketball team, has led the Colonials to large amounts of success in the past three and a half years. Some of the accolades include an appearance in the Collegeinsider.com Tournament, National Invitation Tournament, and a NEC Regular Season Championship.
Notable players endured the blood, sweat and tears of college basketball such as Karon Abraham, Velton Jones, Russell Johnson and currently Karvel Anderson. Robert Morris basketball, more specifically Toole, has continued the tradition for finding key recruits to bolster the program's reputation.
A harsh reality may come for Colonial fans within the next few seasons; Toole may not be around for the long-term. A day will come when that big school comes knocking on his door and wants him to lead their team to the promised land. Toole is that good.
After Mike Rice, former RMU head coach, left for Rutgers in 2010, coach Toole stepped up from the assistant role and became the leader of a new and invigorated basketball team. His first roster included players like Abraham, Anthony Myers-Pate, Jones, Russell Johnson, Gary Wallace and Coron Williams.
On a brisk November night in 2010, the Colonials defeated the St. Peter's Peacocks 55 to 30. Abraham led all scorers with 14 points. The genesis of Toole's leadership was finally underway and Robert Morris basketball was never the same. Few critics stood tall and claimed Toole couldn't be what Rice was. They were quickly proved wrong.
From that moment on, Toole set a precedent in the locker room and on the floor. His record shows that he will carry an 84-47 record all-time and 50-16 in the Northeast Conference. Just to put it into perspective, Rice won 73 games and lost 31 in three seasons, while going 46 and eight in conference. Rice left for a big-time Big East school at the time.
That similar story could happen to the University of Pennsylvania-graduate sooner rather than later.
A few schools that would fit the build of coach Toole could include these following schools:
Temple
New Mexico
Penn State
George Mason
Richmond
Any of those universities would greatly benefit from the age of Toole, 33, and the experience he brings to the table. He began his playing career at Elon University. After two seasons, he upgraded to Penn, a perennial favorite to win the Ivy League, as he finished his bachelor's degree there simultaneously.
During his two-year stint at Penn, he helped the Quakers reach two NCAA Tournament bids in 2002 and 2003. Toole also served as co-captain for the 2002-2003 Penn team that reached the Sweet 16. In four years at Elon and Penn, he averaged 12.3 points per game and three rebounds and assists per contest.
Following his graduation, Toole spent two years at Hoop Group, a major AAU basketball camp in Neptune City, New Jersey. After the AAU program, Lafayette signed Toole as an assistant 2006. It only took one season for the eventual head coach to become an assistant under Rice in 2007 at RMU.
From there on out, he observed Rice and on May 5, 2010, Toole became the new head coach of Robert Morris University. Like I said earlier, the program was never the same again.
His practices are an absolute joy to be at and observe how the mastermind performs his craft. Yelling and brutal honesty is a tactic that I've watched for the past three years. It seems to work after winning a regular season championship and pulling off the biggest upset in RMU basketball history.
When the games occur on a Saturday, shoot-around usually ends around noon. The players are sweating and jostling to meet in the center of the court where the RMU Colonials logo sits. Toole's words of motivation echo throughout the rafters in the Charles L. Sewall Center.
People talk about Lombardi and Pete Carroll, Seattle Seahawks head coach, being motivational speakers; they've never listened to the RMU head coach speak to his players.
This past Saturday before the Colonials competed against the Mountaineers of Mount St. Mary's, the 1981-82 men's team was being inducted into the RMU Hall of Fame. On the way back to the Colonial locker room, the roster walked towards the corner of the Sewall Center like always.
Toole without missing a beat goes, "Don't walk through their picture. They are a championship team."
Subtle messages like that to his squad speak volumes and leaders such as Lucky Jones, Myers-Pate and Anderson revel in his words in order to succeed on the court.
This season has been far different than any other. Four players were suspended from the roster, two key personnel decided to take time off and "figure out their future," according to the athletic department. The incident left Toole with only eight players on his roster.
With only eight players, RMU has accumulated eight wins and one loss. 8-1 with eight players is remarkable. Big time programs will look at that adversity and see how Toole overcame it with persistence and authority.
Coach Toole is on the fast track for success and stardom in Division-I basketball. A lot of coaches at the biggest level begin with small programs and move their way up. That's the way the industry works in some cases. Lute Olson, former Arizona head coach, was a Hall of Fame inductee in 2002. He began his coaching career at Long Beach City College and ended up as one of the best of all-time.
Four games remain in the regular season, including tonight's game against LIU Brooklyn. If the Colonials win out, that will make the Colonials repeat as NEC regular season champions and a number-one seed in the NEC Tournament.
Sometimes it takes a stepping-stone to reach greatness. Toole took down St. Peter's to begin his coaching career and then Kentucky to solidify his legacy.
So, what's next?
About the Writer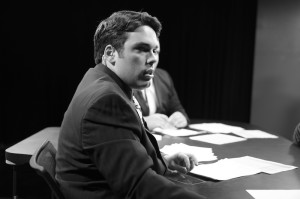 Jon Fisher, Social Media Editor
A senior communication major with a concentration in journalism.  Jon is a staff writer of the sports/opinons section and is the social media editor...