What's wrong with men's hockey?
Robert Morris men's hockey came into this season with high hopes for what this season would hold. After making it all the way to the Atlantic Hockey Championship last season, the team started their 2017-18 campaign projected to finish second in the conference.
Players like Francis Marotte, Luke Lynch, Daniel Mantenuto and many more freshmen were coming off of breakout first seasons and were only expected to get better.
Brady Ferguson began his senior season at RMU with many expecting him to lead to the nation in scoring and cement himself as one of the greatest in the history of Colonial hockey.
But instead, the season has gone off the rails from the very beginning.
Through 15 games, the team sits at a 5-9-1 record, sitting at seventh place in the conference.
The team is failing on both sides of the ice. Robert Morris currently ranks 33rd in team offense, averaging just 2.73 goals per games. While also ranking 46th in total defense allowing 3.27 goals per game.
So what is going on with a team that came into the season expecting to be in the mix for yet another regular season conference title?
It starts with Brady Ferguson.
The senior forward spent all of last year as a large part of one of the best scoring lines in all of college hockey. With Daniel Leavens leaving for graduation, it was expected that Ferguson and teammate Alex Tonge would pick up the points left behind by Leavens.
But in reality, Ferguson's performance this season has not been what many have expected.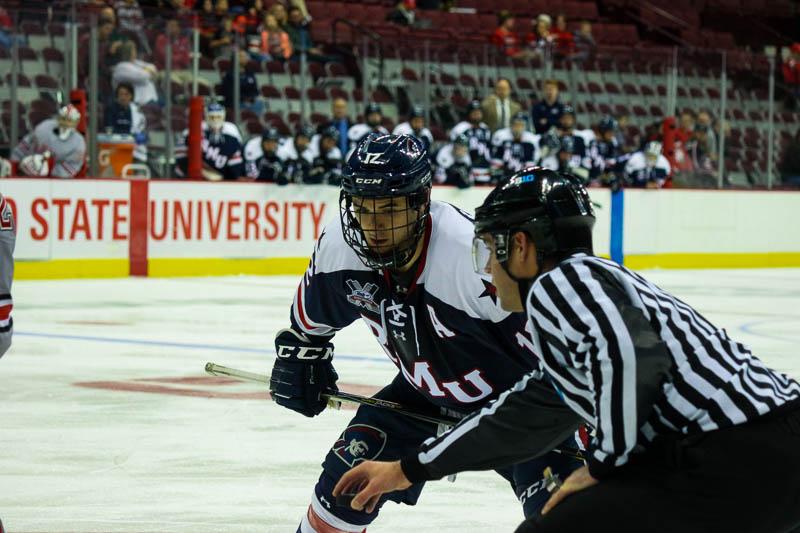 Greg Sutton
Ferguson currently sits at 44th in the nation in scoring with six goals and eight assists. The most mindblowing part of those numbers is that not a single goal of Ferguson's has come when each team is at even strength.
Ferguson is third in the nation with five power-play goals, clearly an integral part of the Robert Morris power play, but his only other goal was scored when the team was shorthanded.
While these numbers are impressive in terms of special teams, it is completely unbelievable that the player expected to take the load in terms of scoring has been unable to score when both teams are at full strength, making his scoring presence essentially non-existent for most the game.
If Ferguson is able to figure out his scoring woes and provide more depth to the Robert Morris offense, then the team has the talent to make them one of the top-scoring teams in the nation.
Sophomore Luke Lynch is in the midst of a career year in terms of scoring. Lynch places ninth in the nation with nine goals this season. Through 15 games, Lynch has already matched his goal total from last season and shows no signs of slowing down.
Scoring threats from a variety of lines will cause chaos for opponent defenses.
The fact that Lynch has been so successful on his own should only make it easier for Ferguson to create opportunities of his own. If he was the only legitimate scoring threat on this team, defenses would use their best at all times just to slow him down, but with players like Lynch and UMass Lowell transfer Michael Louria to worry about, the issues facing Ferguson should not be as profound.
But that is not the only issue.
Francis Marotte appears to be falling into a sophomore slump after his impressive freshman campaign, which saw the goaltender emerge as a frequent starter late into the season.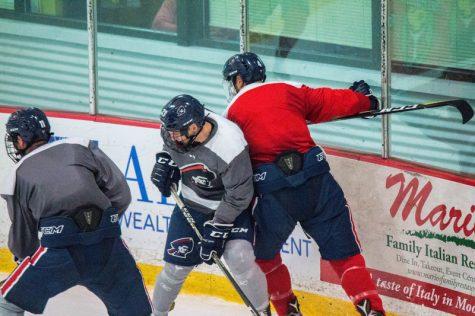 Samuel Anthony
Marotte is ranked 41st in the nation in terms of goals allowed, letting in an average of 2.76 goals per game. The sophomore currently sits in the bottom 20 percent of goaltenders in the nation. But he is not at complete fault in the change in the narrative.
With the loss of senior captain Rob Mann on the defensive side of the ice, Robert Morris has felt the weight of his absence. Where they have felt it the most is in front of the net.
It became apparent in the Ohio State matchup that the Colonials struggle defending in front of the net. This allows teams to crash and create better shots, creating the job more difficult for goaltenders like Marotte and Pikul.
But the problems with this team are all ones that are easily solvable.
Brady Ferguson is an elite player who will go down as one of the best in RMU history. Marotte is a legitimate Mike Richter award candidate and players like Eric Israel on the RMU defense are proven top-tier defenders.
It comes down to putting all the pieces together and solving each problem one at a time. This team is no stranger to second-half turnarounds, but this team needs to win on the road and they need to start winning key conference matchups or it is going to be a long road back to the AHC championship.