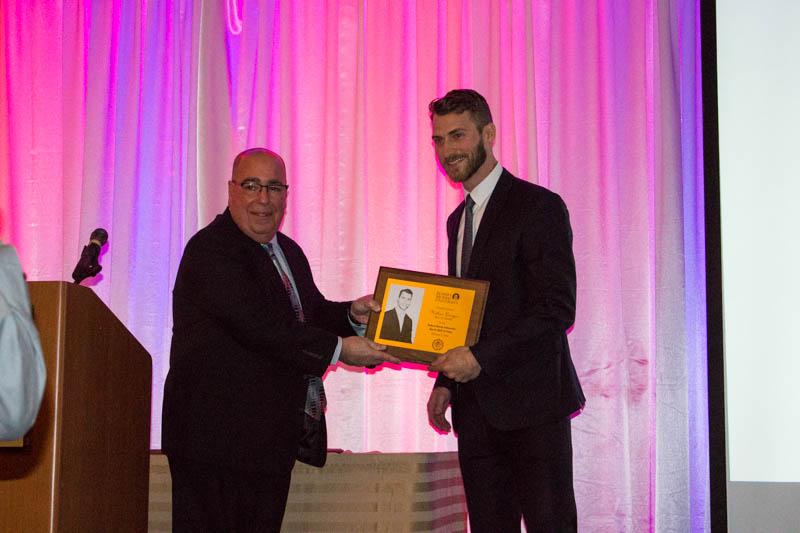 10 honored at RMU athletics Hall of Fame induction
The ballroom at the Sheraton Pittsburgh Airport Hotel played host to some of the greatest athletes to ever don the Colonials logo. 10 new members make up the 2017 RMU Athletics Hall of Fame class. This is the 27th such class in the history of the university. The 2017 class is the largest group individuals to be inducted at one time. Names like Dimichele, Nesbit, McCrommon and Puskar headline the 2017 class.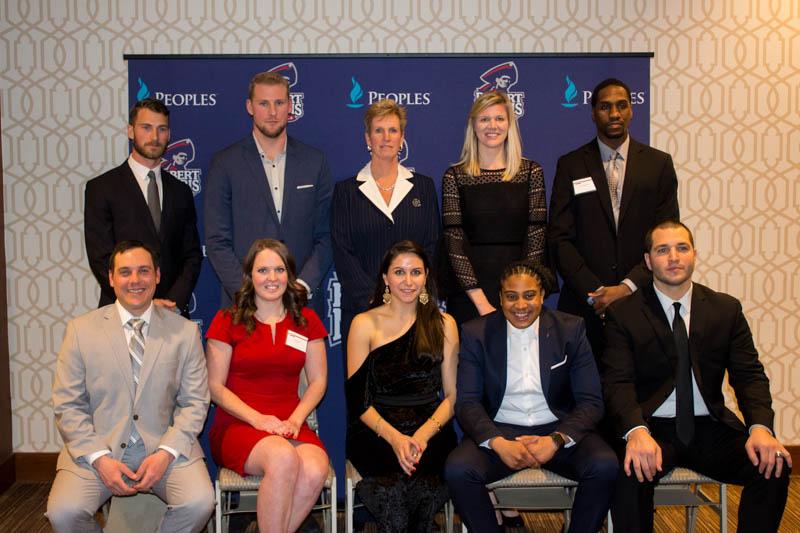 The new class feature names from track and field, men's soccer, men's and women's ice hockey, football, volleyball, men's and women's basketball, and for the first time ever, men's lacrosse.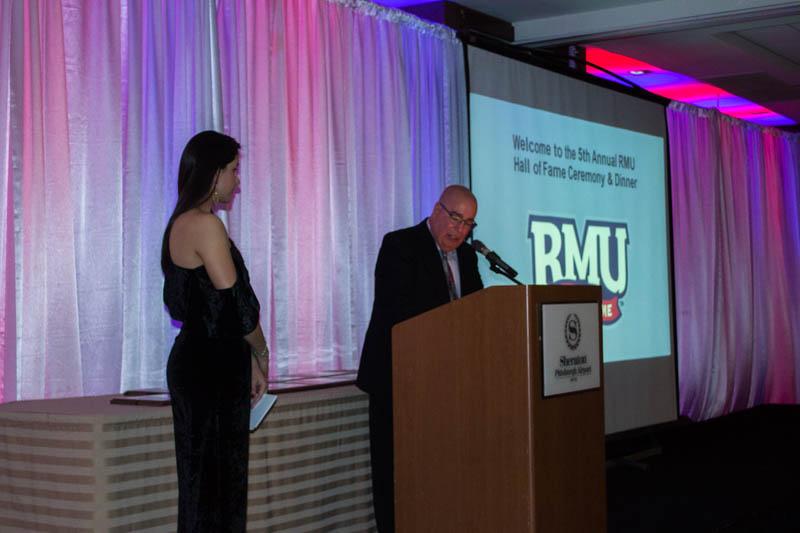 Melitta Brown, 2006-2010 track and field, is originally from York, Ontario, but she really shined in her time in Moon Township. Brown still holds the top three distances in the long jump. Her 48 career points record is tied for third all-time in school history for indoor track and field.
For anyone who followed RMU, then RMC, men's soccer in the late 1990s and early 2000s knows the name Jason DeFranco. DeFranco was a four year starter, but more importantly a three-year captain. DeFranco is in the RMU record books being ranked seventh in goals and eighth in points. DeFranco was also a three-time regional all-American.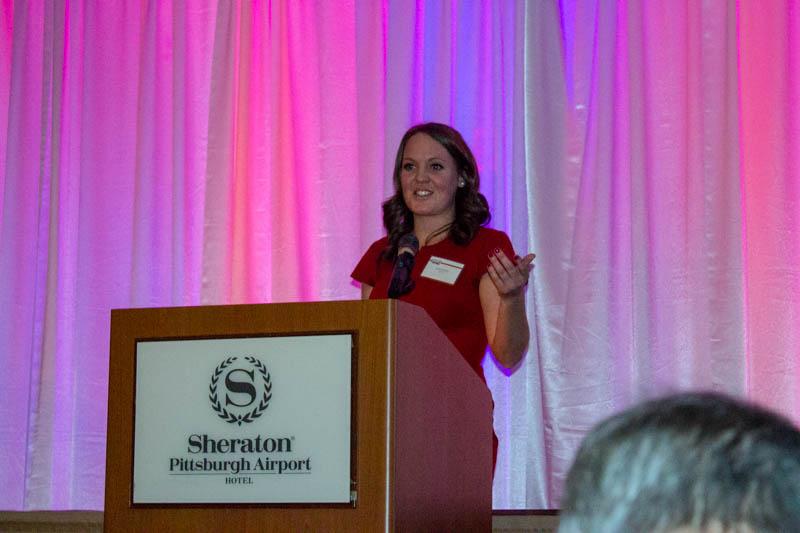 Brianna Delaney and Nathan Longpre were the two Colonials who played on ice who were inducted into the hall of fame. Delaney scored 121 career points in here time in a Colonial's uniform. She was the first player, male or female, to eclipse the 100-point mark. She currently ranks fourth all-time in scoring. Not to be out done, Longpore tallied 137 points in 136 appearance for the Colonials. He was the first player in program history to score four goals in a game. He accomplished that feat in a game against Quinnipiac, Halloween 2009. The Colonials won the game 8-5.
Kiel Matisz is the first lacrosse player to be inducted into the Hall of Fame. Matisz played in 61 games for Robert Morris. His play at midfield was good enough to earn Matisz four-year letter winner honors. He scored 166 points, 94 goals and 72 assists, in his time in the red, white and blue of RMU. Matisz ranks third all-time in career points and points per game average.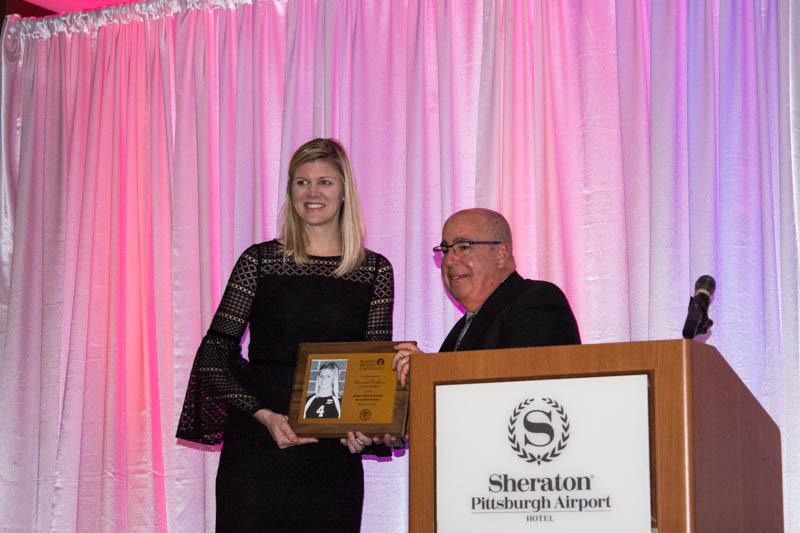 The third volleyball player has been inducted in the Hall of Fame. Amanda Graham joins Katie Noble and Megan Bell in the Hall of Fame. Graham is a three-time all-NEC first team selection in 2007, 2009 and 2010. She ranks seventh all-time at Robert Morris with 1,107 kills. Graham also ranks third all-time in attack percentage and total blocks with 438.
Woman's basketball is well represented in the 2017 Hall of Fame class. Chinata Nesbit and Betsy Puskar were both inducted this year.
Chinata Nesbit only spent two years at Robert Morris, 2006-08, but her presence was felt. Nesbit scored 1,083 points and added 620 rebounds in her time in Moon Township. The talented guard led the Colonials to back-to-back NEC titles and NCAA playoff berths in 2007 and 2008. Nesbit averaged 17.2 points per game in her short career . That is good enough for fourth all-time in program history.
Betsy Puskar is the 2017 veteran's choice for the RMU Athletics Hall of Fame. Puskar spent her 1986 senior year as a member of the famed "six pack." Puskar was a force on both ends of the floor. She scored 1,053 points. What's more impressive is that Puskar ranks top 10 at RMU in field goals (457), steals (206) and rebounds (632). Puskar averaged a double-double in her senior campaign. She averaged 17.8 points, 10.5 rebounds and 3.3 steals. That 3.3 steals is tied for second in the RMU single season record books.
Chaz McCrommon was inducted representing men's basketball. McCrommon is a two-time all-NEC first team (2004-2005) selection. In his time at RMU, McCrommon scored 1,623, fifth all-time in program history, and tallied 583 rebounds, 11th all-time. He is just one of 13 players to score at least 1,000 points and 500 rebounds.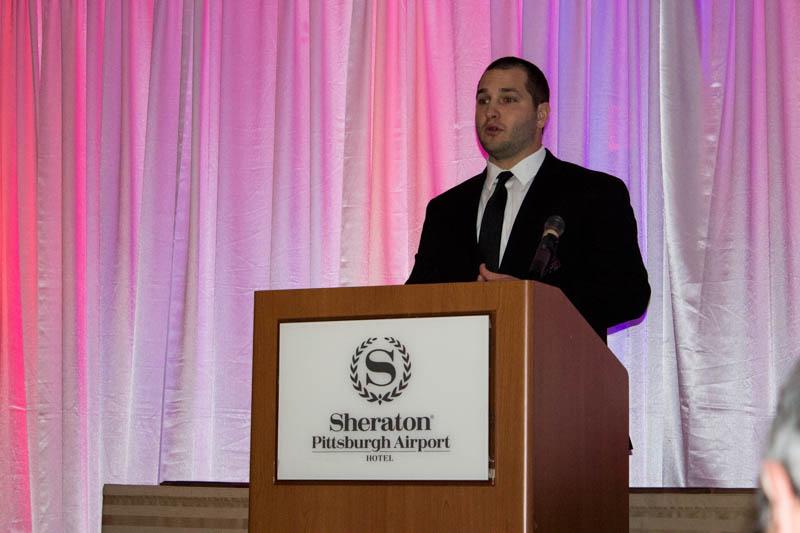 Former RMU linebacker and coach Alex Dimichele rounds out the RMU Athletics Hall of Fame class. Dimichele is the second leading tackler in program history with 330 career tackles. In 2008, Dimichele set the single season record in tackles with 116. Dimichele lead the Colonials to and NEC title in 2010. The conference title helped the Colonials became the first league team to earn a bid to the FCS playoffs. Dimichele was named the 2010 NEC defensive player of the year.
During Dimichele's speech, he looked at Chris Shovlin, the voice of RMU football and men's basketball as well as a 2012 RMU Athletics Hall of Fame Inductee, and said, "In ten years you'll be introducing me as the new head coach of Robert Morris football."
Skip to content