Weekend sports roundup
Men's Lacrosse
April 11
Bryant 10 (5-7, NEC 3-2), RMU 8 (2-10, NEC 1-3): Saturday afternoon in Smithfield, Rhode Island at Bryant Turf Complex, the Colonials lost a conference contest to the Bulldogs. Offensively for RMU, junior Eric Rankel had a big day as he scored a hat trick which he completed early in the fourth quarter. The Colonials took a 6-5 lead into the fourth quarter but Bryant then went on a four goal outburst and finished the last quarter of play with five total goals. RMU tried coming back on the Bulldogs with scoring opportunities but Bryant Goalie Gunnar Waldt would not let anything pass him in net. RMU's goalie Chase Rose received the loss but made 10 saves throughout the entire game.
Women's Lacrosse
April 12
Mount St. Mary's 13 (3-9, NEC 2-1), RMU 10 (8-4, NEC 1-2): The Colonials battled Mount St. Mary's Saturday afternoon in a NEC match up at Waldron Family Stadium in Emmitsburg, Maryland. The Colonials got ahead of Mount St. Mary's 4-1 early in the contest but then did not score another goal until the second half. The Colonials went into halftime down 10-4. RMU scored six goals in the second half and at one point were only down 12-10 but The Mount were able to hold on for the win. Seniors Kristin Yoviene and Brittany Byerly paced RMU's offense with each finishing with three goals each. Sophomore goalie Hallie Yancey started the game for the Colonials in net as she made one save. Freshman goalie Mackenzie Duffy later replaced Yancey in net and made four saves.
Softball
April 12
RMU 2 (17-15, NEC 5-0), Bryant 0 (11-25, NEC 3-4): The Colonials earned their fifth NEC victory Sunday afternoon as they defeated the Bryant Bulldogs 2-0 in game one of a conference double-header in Smithfield, Rhode Island. The Colonials only needed one run to earn the victory but they received two runs. The Colonials scored their first run in the second inning via Haileigh Stocks crossing the plate due to a throwing error. The Colonials earned an insurance run in their half of the seventh inning as Samantha Santilllo drove home Ashley Gerhart with a double. Nicole Sleith got the start for the Colonials in game one as she earned win number 14 on the season. Sleith did not give up a single run and struck out six Bryant hitters.
Softball
April 12
RMU 5, (18-15, NEC 6-0), Bryant 0 (11-26, NEC 3-5): The Colonials remained perfect in NEC play as they defeated Bryant in game two of a conference double-header in Smithfield, Rhode Island Sunday afternoon with a score of 5-0. For the second straight game Nicole Sleith got the start for the Colonials and for the second straight game, Sleith pitched a shutout improving her season record to 15-8. Offensively for the Colonials, junior Ashley Gerhart finished with two RBI's as she singled home Tess Apke in the second inning and doubled home Olivia Lorusso in the top of the fourth inning. Junior Kristin Gabelt and sophomore Stacey Capp both finished with one RBI each. Robert Morris out hit their opponent 9-2.
About the Writer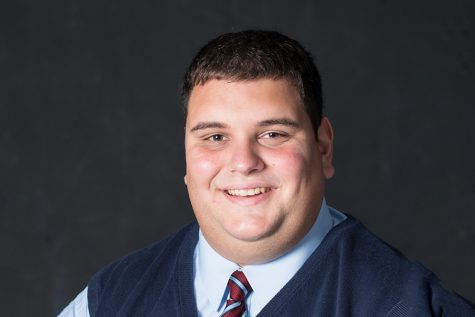 Ian Kist, Sports Assistant
Ian is a communication major with a focus in sport communication and a minor in sport management. He is the RMU Sentry Media Assistant Sports Manager....