RMU NCAA men's hockey vs. Mercyhurst preview
With just six games left in the regular season, the Robert Morris University NCAA men's hockey team knows that winning is going to be very important.  Add in the fact that these games are all against teams above them in the Atlantic Hockey Association (AHA) standings, and they become must win games.
The Colonials know that this home-and-home series against Mercyhurst will be huge in not only the standings, but also to help them gain momentum.
"It's huge with them being above us in the points and everything that is going on, but I think every game here on out is going to be huge," said senior forward, Brandon Blandina.  "It doesn't matter who it is, it's important for us to get points right now and get higher up in the standings to help us get the first round bye."
This will also be the Colonials final home-and-home series in the regular season.  Unlike their past two home-and-home series, the Colonials will be on the road at Mercyhurst for the first game before they come back and play at home at the Clearview Arena on Saturday night at 7:05pm.
"It will be nice to get the road game out of the way first and to come back here on Saturday," said senior defenseman, Josh Jones.  "We love playing at home, and we will have an extra jump in our step because we won't be as tired, so it will be a nice change up."
Senior captain, Trevor Lewis, also likes the fact that they will play the first game on the road.
"I would prefer it this way," explained Lewis.  "Being at Mercyhurst it's less than two hours away so it's not too taxing with travel or anything like that, so hopefully we can play well on the road Friday and try to come back here and get two points."
Although the Colonials have hit a bit of a rough patch as of late and have been what some consider inconsistent, the locker room is still a positive atmosphere.
"Honestly, we thought it would be a little bit more negative, but it's not we're all trying to stay positive and keep our heads up because we did play really well against Canisius," said junior forward, Zach Hervato.  "We can't get down on ourselves right now, so we're just trying to stay positive and we can't get too worried about it, we have a lot of seniors and a lot of veterans so we know how to handle these types of situations."
They also know that they can quickly turn things around and it all starts this weekend with Mercyhurst.
"We hold our own destiny with playing the top teams. We know if we win out we have a good chance of winning the league," said Lewis. "Starting off with mercyhurst we know we need to get off on the right foot and make sure we are consistent, have a good weekend, and a solid sixty minute effort both nights."
About the Writer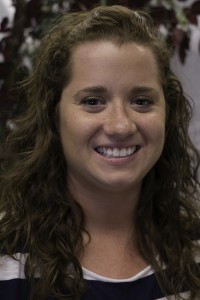 Brooke Smith, Editor-in-Chief
A senior journalism major at Robert Morris University, Brooke serves as the Editor-in-Chief and a staff writer for RMU's student-run newspaper, "The...