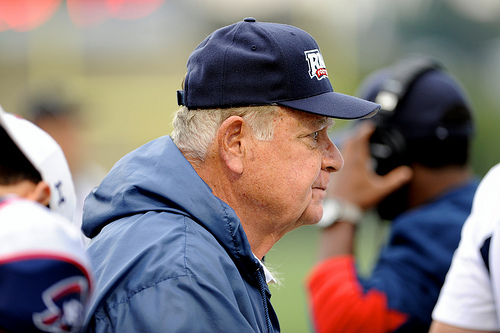 Behind the record books
If not for his college coach, Joe Walton might have made a living as a dentist
May 1, 2015
A life can follow many different paths.
Former Robert Morris University head football coach Joe Walton, 79, is an example of a man whose life could be very different from what it is right now.
Had he not made the choices that he did, RMU wouldn't be the same.
While attending the University of Pittsburgh, Walton was very close to exchanging his football cleats for a dentist's chair. At the end of his junior year, he passed the test to enter dental school and was going to try it out.
However he got a key piece of advice from his head coach, John Michelosen.
"He told me how difficult the first year was at dental school and he said 'Why don't you just finish up, get your degree, and play your last season?'" said Walton, with a big grin on his face.
As a result, Walton opted to wait an extra year before starting dental school. And the rest is history.
He finished his career at Pitt and was drafted by the Washington Redskins in 1957. His occupation as a dentist was over before it even began.
According to Pro Football Reference, after six seasons as an NFL player for the Redskins and New York Giants, Walton made a name for himself as a coach and mentor for hundreds of young men. He spent parts of 18 years coaching in the NFL, including as head coach of the New York Jets from 1981-1989.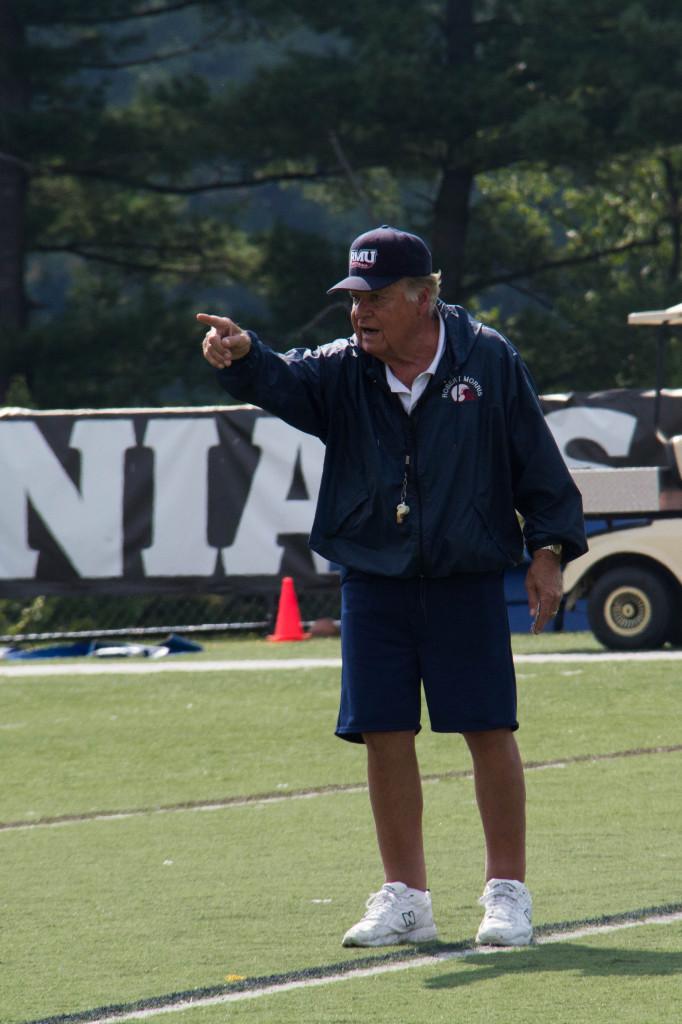 According to a story from the Pittsburgh Post-Gazette, there is a handwritten letter on the wall of Walton's office from current NFL commissioner Roger Goodell.
"I'll always be grateful for everything you did for me," Goodell wrote, referring to his time as an intern for the Jets while Walton was head coach.
However, it is right here at RMU where his legacy cannot be overstated. Always staying in the moment, Walton is continuing to support the football program as the special assistant to the athletic director.
He hasn't really thought much about what's next.
"I'm immersed in what I'm doing here for Robert Morris and I told them that I'll help in any way I can," Walton said. "Anything I can do to help the school."
His career at RMU almost didn't happen. After his last NFL job as offensive coordinator of the Pittsburgh Steelers from 1990-1991, Walton was working in the moving industry for United Van Lines.
When the opportunity for starting the football program first arrived, he was somewhat hesitant.
"It's quite different coaching college kids compared to coaching pro players," Walton said. "I never expected that we would have the success that we had and that I would enjoy it so much."
Who knows how much would be changed around this school if he had gone back to the NFL or stayed in the moving business. Walton was RMU's only head coach for the first 20 years of the program. In that time, the Colonials won the Northeast Conference title six times, including five in a row from 1996-00 and one more time in 2010.
His final season as head coach was 2013.
"It was 100 percent business right up to the triple zeros," former Colonial A.J. Dalton said in a story for the Pittsburgh Tribune-Review on Walton's final home game at RMU. "It was the same Joe Walton. Nothing changed."
A two-time cancer survivor, Walton has overcome many obstacles in his long journey through life and he has shown a willingness to help whoever he can along the way.
"He started my playing opportunity as a collegiate player and he started my coaching opportunity," said former Colonial Miles Russ, who is the current running backs coach for RMU. "I definitely owe so much to him as a player and as a coach. That's why he's been so much of a blessing to me."