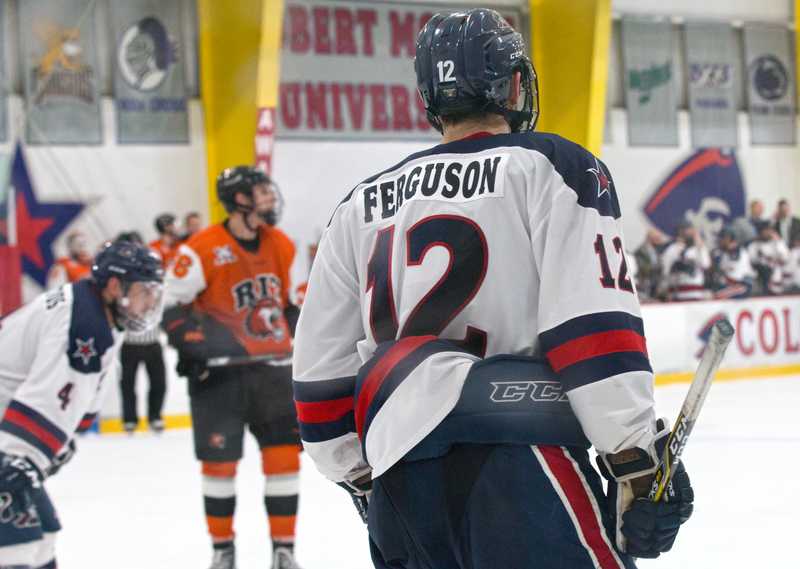 Brady Ferguson: A Texas-sized star
February 15, 2018
Brady Ferguson's hockey career started in the state where everything is bigger. He hails from a town called Carrollton that sits just outside of Dallas, Texas. Ferguson has lived in Carrollton since he was just about four years old and moved there from California.
His love of hockey has led him to an amazing college career here at Robert Morris. Yet he did not start off on the ice. He was first introduced to hockey on roller blades.
Ferguson, born in the state of California, where roller hockey was the sport everyone was playing and Ferguson was quick to get involved. Little did he know that it was the start of something special.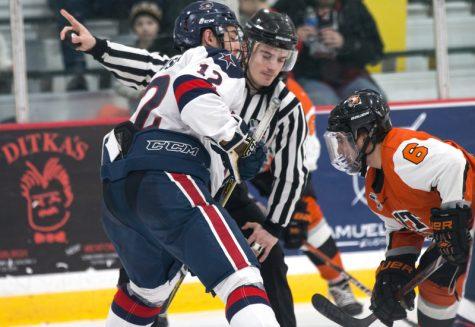 But after he moved to the Dallas area he started to make the transition from roller hockey to ice hockey.
In his middle school days, Ferguson was a multi-sport athlete playing hockey, football, basketball and soccer. When the time came to choose a single sport to play it wasn't a hard decision to make for him. Due to the length of time he had played hockey, he made the full-time commitment to the sport.
"I love playing hockey, its fun for me," said Ferguson.
Ferguson soon became a hockey star.
He made his first big move during his senior year of high school when he played his first season of juniors in Texas. Ferguson played for the Amarillo Bulls for two seasons. During his time in Amarillo, he played in a total of 114 games and had 79 points. They were totaled up as 29 goals and 50 assists while in a Amarillo Bulls jersey.
Ferguson was a force in the North American Hockey League. With Ferguson on the roster, the Amarillo Bulls won the NAHL Robertson Cup during the 2012-13 season. The next year he met his future roommate Timmy Moore while in Amarillo. With these two in the roster, the Bulls went to the NAHL Quarterfinals.
By the time he and Moore met, they were both already committed to Robert Morris.
During their time in Amarillo they were able to build the relationship that would make them a force together on the Colonials top line this season.
"It made it more comfortable for me and him," Ferguson said when talking about his and Timmy Moore's relationship. They also had a bit of help their freshman year on the team coming from Moore's older brother, Evan Moore, letting them know what they should expect while playing at RMU.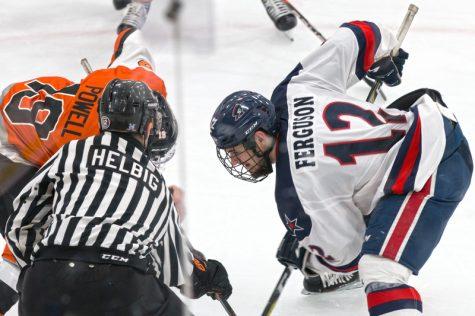 The one difference that Ferguson has noticed between hockey in Texas and the rest of the United States was the physical aspect of things. He discussed Texas' love the physical aspect of the game, whether that be the checking or the action of fighting.
Coming from Texas "It's more difficult to get to the next level," said Ferguson. Even thought they traveled to places where hockey was more popular such as Detroit to play.
When Ferguson came to Pittsburgh after his second season with the Amarillo Bulls and playing that tough Texas hockey, he found that college hockey is even more physical than it is in Texas but it also comes at a fast pace. He contributes his successes so far to the way that he has played since he was in Texas.
"I was never one of the better guys in Dallas. So, I think I've always had a chip on my shoulder," Ferguson said. He believes that the teams different styles of play have contributed to their accomplishments so far.
"Coming to Robert Morris, it's one of the best decisions I've ever made," said Ferguson.
There have also been other things that Ferguson has adjusted to. Coming to RMU has allowed him to have a college experience but also a good experience in hockey at the same time.
Ferguson said he is still adjusting to the weather in Pennsylvania, mainly the cold and winters here. As any student that has moved away from their home, there are also things that he misses about his home. One of these things being the food. He says that the Mexican food is better back home and also he misses the barbecue.
Before his senior year at RMU started, he had the honor of being invited to the Pittsburgh Penguins Development Camp and showcase his skills.
"The whole experience was amazing. You just get treated like no other there, it was just amazing," said Ferguson. He is also not to worried about the next level quite yet and said he would go to whoever wanted him.
Ferguson believes we have not seen the best out of the Colonials this season. Brady Ferguson is the all time points leader in Robert Morris University history, and gives the credit to all of his success to the amazing support of his teammates and coaches while at Robert Morris.
The Colonials have two series left in the regular season against both Mercyhurst and Air Force. Ferguson and the Colonials will be hoping to be able to sit high in the standings into the post season and bring home the Atlantic Hockey Conference Championship to Moon Township.