Chasing a dream: The Antwan Eddie story
Former Robert Morris defensive back Antwan Eddie is now pursuing an opportunity to play in the NFL. It's something he's dreamed about from a young age growing up in the rough and rugged Miami-Dade area
January 19, 2015
Antwan Eddie remembered it like it was yesterday.
Just over two years ago, the Robert Morris football program was coming off a 4-and-7 record from the 2012-13 season. The future looked bright, with a solid defensive unit returning the next year and a few new pieces to the offense added. However, there were some glaring areas of needed improvement for the Colonials to be successful.
One of those areas was special teams, most importantly the return game.
Eddie, fresh off a solid sophomore campaign as a starting cornerback, recalled a certain offseason meeting between he and associate head coach at the time John Banaszak.
"I walked into Coach Banaszak's office and closed the door to talk about business," said Eddie. "Me closing the door to  talk about business was playing punt return. I basically walked into his office one day and sat down. He asked, 'What's up?' I told him I wanted to play punt return, and he said, 'Can you?'
"I asked him if he had seen my high school tape. I had returned three punts for touchdowns my senior year. I guess he went back and reevaluated the tape and realized I could return."
That meeting was the birth of something special.
"There are a lot of kids that will come into my office and tell me they want to be returners. Or they want to be on special teams," Banaszak said with a laugh. "But when Antwan walked in and shut the door, that was unlike all the other kids. All of the other kids didn't do that. Antwan was dead serious about it."
Banaszak elected to try him out at the position the following spring. Eddie remembered fumbling his first kick return in the 2013 spring game.
"[Coach Banaszak] was like, 'I thought you can return?', and I told him I could. I went up to him again after and told him I wanted to win games. I can play this position and I'm serious. I let him know how serious I really was."
Heading into the upcoming season, Eddie was the primary punt returner.
He's now gone down as one of the best returners in program history, and holds multiple records at the position. He averaged 15 yards-per-return his junior season, improving the statistic from 5.4 yards the year prior. His 88-yard touchdown return against Virginia Military Institute still holds a school record, one in which Banaszak called, "without question, the best return day in my career."
The Colonials improved to 5-and-6 that year, but were one win away from a share of the Northeast Conference title with two games remaining. The record numbers earned Eddie a return specialist All-American honor from The Sports Network.

"By the end of his freshman year, we knew he was going to be a starter. We felt that he was going to be an All-Conference kid too because of his abilities and talents," said Banaszak. "He turned out to be an All-American."
Eddie began as a freshman at Robert Morris playing the nickelback spot. Three games into the 2011-12 season, he was competing with an upperclassman for the starting corner job. By week eight, Eddie was a starter.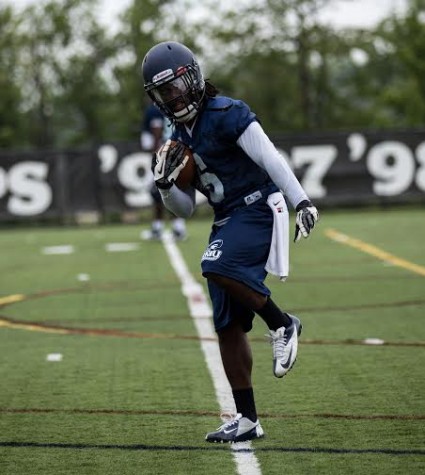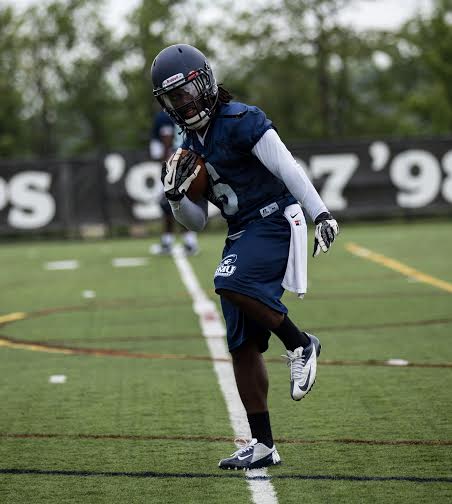 Kyle Gorcey
That's when he began to take advantage of every opportunity.
He finished as a two-time All-Northeast Conference selection at cornerback, notching seven career interceptions for the Colonials. He was labeled a shutdown corner, along as a veteran presence in a young secondary his final two seasons under defensive coordinator Scott Farison.
His most notable performance came in 2013, when he limited Bryant receiver Jordan Harris to two catches for 22 yards, nabbing two interceptions in the RMU win. Harris was a member of the St. Louis Rams this past season.
Football came naturally for Eddie. Growing up wasn't always easy, though.
He was raised in the rough streets of Miami-Dade County. The area has averaged 84 homicide offenses per year since 2009, according to the Miami-Dade police department's public records. It's an extremely low income, high gang-related area. Many kids growing up there don't ever make it out.
Eddie resisted temptations because he had more to live for. Sports were an avenue out.
"Growing up in Miami, I grew up in a really bad part," he said. "There wasn't too much positive going on. I was just looking for an opportunity to pursue my dream as a young kid of making it to the National Football League. Now I'm in a position to do that."
Eddie played football and wrestled all the way through middle school. Football was his love, but wrestling ran in his family. His dad, uncle and brother all excelled in the sport. Eddie won the county championship as an eighth grader, and competed in the Florida state championships as a freshman. Due to the dramatic weight shifts the sport requires, Eddie stopped wrestling his sophomore year to focus on football.
He attended Gulliver Prep his freshman and sophomore years before finishing up at South Dade senior high school. He was part of a Buccaneer team that went 11-and-2 his senior year, and MaxPreps rated him as the 43rd best cornerback in the state of the 2010-11 class.
"Obviously, when you get a kid out of Miami you've had to compete for him. There are very talented men down there," said Banaszak. "Antwan fit that mold as a speed kid. There's so many of those kids down there, and he fit right in with the top level kids. He was a little under recruited we thought."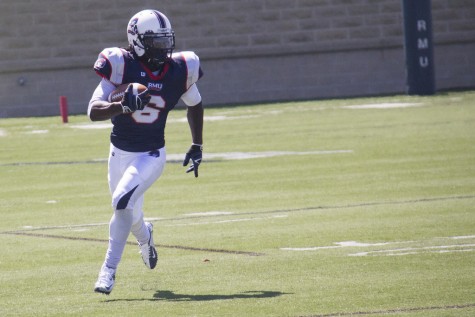 Kyle Gorcey
Eddie made an official visit to Moon Township and instantly signed his letter of intent. The transition was a little difficult for the South Florida native. Adjusting to the FCS football level wasn't the only hard part. He completely changed climates.
"I went from shivering in the cold my freshman year to wearing short sleeves my senior year," he said.
With his Robert Morris career now concluded, Eddie is finally pursuing his dream of playing in the NFL. He recently hired Omar Bradford as his agent, and is currently training at Fast Twitch Performance Training for combines and a pro day. He'll be completing his degree while in Florida through online classes.
He will remain down in Florida leading up to the NFL draft in April. There's a slight chance Eddie could go as a late-round selection if he plays his cards right and improves in some areas. Otherwise, he'll most likely land a training camp invite as an undrafted rookie, similar to what Robert Morris offensive lineman A.J. Dalton did a year ago.
Technique will be vital for Eddie. He's a bit undersized for a NFL corner, standing at around 5-foot-10, however makes up for it with his speed. He ran an unofficial 4.4 in the 40-yard dash.
If not corner, he definitely has a chance at being a valuable member of a special teams unit.
Eddie wants to follow in the footsteps of other RMU greats such as Tim Hall, Rob Butler and Hank Fraley to not only earn a roster spot or practice squad opportunity, but maintain somewhat of a career in the league. He's improved immensely as a defensive back since his career began in Moon Township four years ago.
"We always, as coaches, raise the expectation bar on kids once they reach a level," Banaszak said. "We continued to raise the bar for him. He continued to reach a new level. That's what has put him in pretty good position to get a shot.
"He's going to be going up against a different level player than he's seen on a weekly basis at our level. He's seen and covered some pretty good receivers. He's got to do that on a daily basis now."
Credit his steady improvement to former legendary head coach Joe Walton and now Banaszak. Both have NFL ties, and have played a large part of the process in Eddie's development.
"Coach Walton and Banaszak saw something in me that I didn't always see in myself," he said. "The ability to see how good I can actually be."