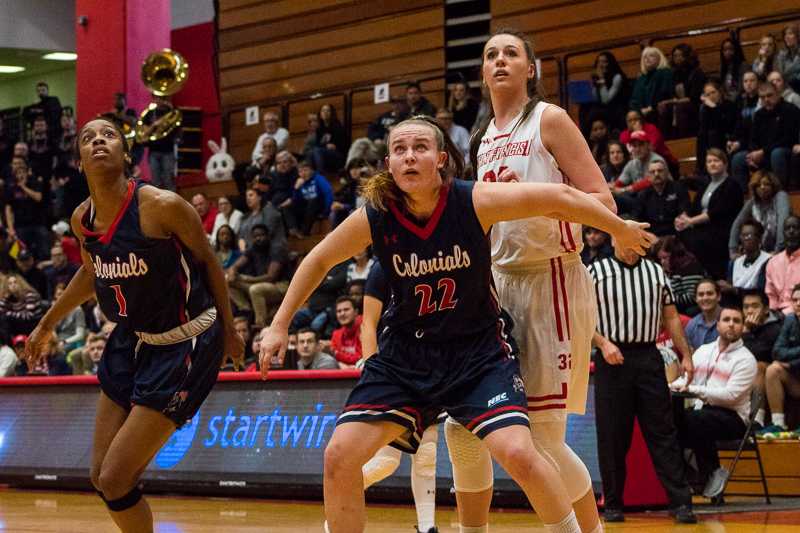 Colonial Talk: Dragon's high pressure defense burns the Colonials
The Robert Morris Colonials (25-8) took on the Drexel Dragons (27-7) Friday night at the Daskalakis Athletic Center in Philadelphia in the Women's National Invitation Tournament (WNIT). Drexel defeated Robert Morris 57-44. The loss ends the Colonials' season with the most wins program history with 25 wins.
Megan Smith led the Colonials with 9 points.
Here are a few takeaways from today's game against Drexel.
Turnover after turnover: The Colonials turned the ball over 15 times in the first half and were unable to beat the press and tough defense Drexel had. A lot of the Colonials' problems stemmed from Drexel's freshman guard Hannah Nihill. Nihill, who won Colonial Athletic Conference's (CAA) Rookie of the Year, had three steals in the game. The Colonials ended the game with 22 turnovers. Five players for the Colonials had over three turnovers. The Colonials were only able to lead in the game for a little less than two minutes.
The Dragons also were able to score 25 points off of Colonial turnovers.
No Jocelynne Jones: The Colonials played without senior guard Jocelynne Jones Friday night. After scoring a career-high 21 points in the Northeast Conference (NEC) Championship game on Sunday, Jocelynne Jones was out due to a thumb injury. Without Jones' experience, Robert Morris was unable to find their groove offensively.
"It was tough … We didn't have any experience out on the perimeter, said head coach Charlie Buscaglia. "Having that one player that has that experience is so important for you."
No offensive flow: Before Friday night's game, Robert Morris had only been held to less than 50 points five times all season. Of those five games, the Colonials lost four of those games. With a Robert Morris team that scores over 62 points a game, it was unusual to see the team unable to get anything going offensively. Nneka Ezeigbo, the Colonials' leading scorer with 10.5 points-per-game was only able to score seven points.
No player for Robert Morris scored double-digit points.
The Colonials shot 2-for-14 from behind-the-arc during the game. Freshman guard Honoka Ikematsu shot 1-for-7 from 3-point range.
Freshmen played like freshmen: The freshmen for Robert Morris combined for 14 turnovers. Megan Callahan and Honoka Ikematsu each had five turnovers for the Colonials. The freshmen look to build off of a great freshman year and come back next year for the Colonials.
The Colonials end their season in the WNIT and seniors Jocelynne Jones, Megan Smith, Mikalah Mulrain finish off their fantastic career at Robert Morris. Drexel will host Fordham in the second round of the WNIT.
Skip to content