Facing a friend
Pryor reunites with old friend at NCAA Tournament
March 21, 2015
CHARLOTTE, N.C. – A lot of what Rodney Pryor knows about shooting a basketball came from Jon Scheyer.
When the Duke assistant coach was a high school junior leading Chicago's Glenbrook North to an Illinois Class AA state championship, a young Pryor meticulously monitored his playing style and tried to mimic it on the hardwood.
Nearly seven years later during a pickup basketball game in the summer of 2013, the two first met and became fast friends.
So Pryor's second round NCAA Tournament matchup against the Blue Devils had a special meaning for the Evanston, Ill. native.
Perhaps it was because he was playing on the biggest stage of his collegiate career, or maybe he just wanted to impress an old pal, but whatever the case, one thing is certain.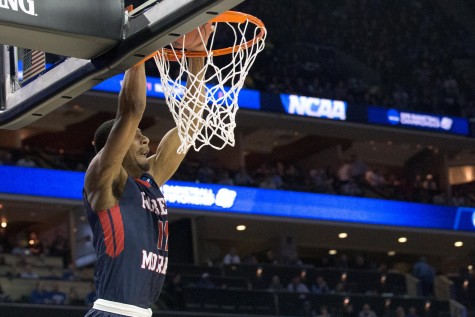 Pryor came to play.
Despite recording 23 points and five rebounds against Duke, Pryor and Robert Morris (20-15) could not rewrite history by being the first No. 16 seed to take down a No. 1 seed, being blown out by the Blue Devils (30-4), 85-56, Friday night at Time Warner Cable Arena.
"We were able to catch up with each other and talk about a lot of things," Pryor said following the 29 point loss. "They [Duke] just congratulated us on a great season, congratulated me on my season and with my story of my injuries and stuff like that so that's encouraging going into next year."
Moments after freshman Elijah Minnie came away with the opening tip off from ACC Player of the Year Jahlil Okafor, Robert Morris struck first, courtesy of a Marcquise Reed jump shot from just inside the arc.
Reed then drained a three pointer, and an Aaron Tate tip-in three minutes in gave the Colonials a 7-5 lead.
But the defensive energy couldn't last forever, hence the 21-2 Duke run over the next seven minutes.
"What I tried to explain to them was one of the reasons that we push so hard and we demand so much and hold you to such a high standard is because these are the games we want to compete in, these are the games we want to play better than we played tonight," head coach Andy Toole said. "And sometimes players want to practice like you're preparing for the worst team on your schedule and coaches want to practice like you're playing Duke."
Lacking depth down low, the Colonials were unable to contain Okafor, as well as seven-foot-center Marshall Plumlee, who recorded a double-double in 19 minutes off the bench.
The Blue Devils effortlessly broke down RMU's 2-3 zone with excellent ball movement and created mismatches in the paint, allowing them to exploit their height advantage.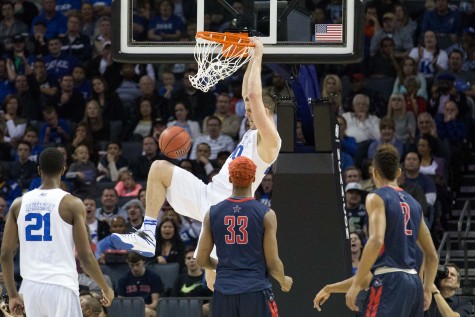 On defense, Mike Krzyzewski told his team to make Robert Morris score in transition rather than in the half court, which is where the trio of Pryor, Lucky Jones and Reed are the most effective.
"… What we tried to do was not let them walk into their offense," said Krzyzewski, the winningest college basketball coach of all-time. "Whey they walk into their offense, they have more energy. You have three explosive players."
Robert Morris would come within 10 at the 11:55 mark of the final frame, but was unable to sustain the energy for long.
After the Colonials closed the gap, Duke decided to put the game out of reach.
"I thought we really came together and responded. I think there was a time out, they got a little emotional, and every team here is capable of winning, they wouldn't be here if they weren't," Plumlee said. "So it can turn around just like that and we've got to be ready and be able to respond."
Even though his collegiate career is officially over, Jones said he's content that he accomplished his goal of going to the Big Dance.
"That we got to the NCAA Tournament, especially going the route we took this year. Regardless of that, I'm proud of my team, it was a tremendous, tremendous experience," the senior said. "I'll never forget coming to the NCAA Tournament with these guys."