Following God's plan
February 7, 2018
The journey of former RMU linebacker coach, all-time great linebacker and newest member of the athletics hall of fame Alex DiMichele has been anything but simple.
His successes have been attested from his drive, constant motivation and his trust in God that if he does good, good things will happen to him.
Born into a football family, DiMichele has the game of football in his veins.
Alex DiMichele and his two brothers, Anthony and Adam, all grew up playing football, pursued football during their college careers and are now all football coaches at their respective universities.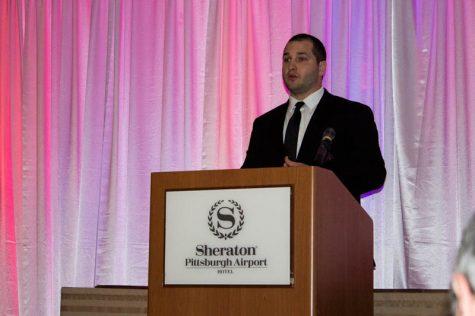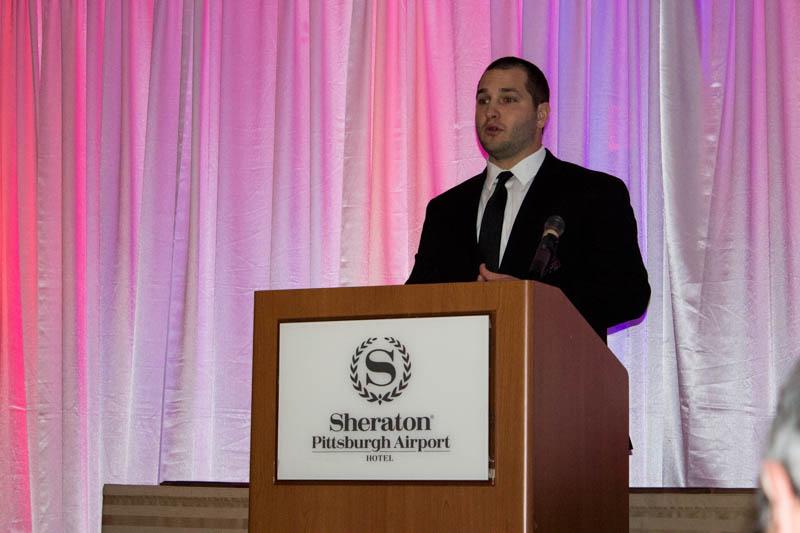 "It's amazing, I mean every week as soon as I get off the field I'm checking to see how Temple did, I'm checking to see how Holy Cross did. If I need advice on how to deal with something or how to approach a certain player, we can shoot ideas off of each other," said DiMichele.
Adam is currently an offensive assistant coach at Temple University, while Anthony DiMichele is a defensive backs coach at the College of Holy Cross.
But before Alex and his brothers shared the coaching profession, Alex and Adam played together at Temple University.
There, Alex was the starting fullback while Adam was behind center as the starting quarterback. It was a rare occurrence and the only one in the NCAA that season.
"Temple was just God's plan I guess, I got an opportunity, they were looking for a fullback. I got opportunity to go there an walk-on, and I made the most of it," said DiMichele.
DiMichele played 12 games, including one start against the University of Minnesota in 2006. He accumulated three catches for 13 yards and four tackles on the season.
Despite being one of 10 true freshmen to start for Temple in 2006, complications led Alex into leaving Temple University in search of a new school to call his own.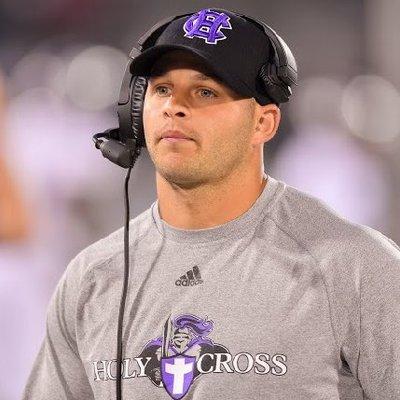 "Unfortunately things didn't work out there with scholarships, and I took a semester off. Then Coach Farison got in contact with me and the rest is history," said DiMichele.
It was there that Coach Scott Farison and the Robert Morris Colonials saw an incredible opportunity on not just an incredible player but a person with the willingness to work as hard as it takes for himself and for his teammates.
And just like that, Alex DiMichele was making his way into Moon Township, a team that had not won a conference championship since 2000, looking for the spark that could reenergize the program.
DiMichele made the switch to linebacker, a position that had earned him a Pennsylvania Football News second-team Class AA all-state selection, a Pittsburgh Tribune-Review all-class AA choice and a first-team all-century conference selection in high school.
DiMichele came back home to Pittsburgh and was an immediate impact on the field for the Colonials, stacking up a team-high 116 tackles during his first season at RMU.
"I'm a big family man and being a half an hour away from home, my family can come watch me play, nephews and nieces are important to me. I got to spend a lot of time with them and the school," said DiMichele.
The 2009 season was even better than the one before it, accumulating a team-high 109 but adding a forced fumble, two interceptions, three sacks and four fumble recoveries to go along with it.
But what DiMichele didn't know at the time, but he was the key piece in what would be one of the greatest RMU teams in a combined two decades.
It started with all-time great running back Myles Russ coming in during the 2007 season from Boca Raton, Fla. It continued with DiMichele's arrival in 2008 and was finally complete when the team found their quarterback in Jeff Sinclair, whose ability to run and pass created a dynamic that allowed Robert Morris to end their 2009 campaign 5-2 after a 0-4 start under the previous starters Desmond Brentley and Camdin Crouse.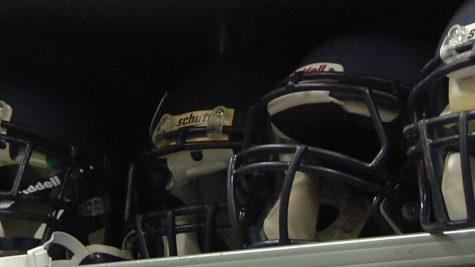 This built up to the 2010 season where all the stars aligned in Moon and the Colonials did something that hadn't come close to in the previous 10 seasons, winning an NEC championship.
"I don't know how to explain it. All the stars just aligned. All 22 starters started the whole entire year. We had good leadership, everybody bought in," said DiMichele.
The Colonials had done what for a long time had seemed impossible and climbed the mountain to conference glory. But just as DiMichele had reached the tip of the iceberg, his time at Robert Morris had come to an end.
It was time for the next part of the journey.
Football was in DiMichele's blood, and he wasn't ready to give it up, but the odds were not in his favor.
A shoulder injury right at the end of his career effectively terminated any thoughts of an NFL career. But DiMichele held out hope that football was still in the cards and continued to work.
And finally, one day, DiMichele received a phone call.
"One day we got a message from a guy named Tonto from Italy. And he said, 'I want you and your brothers to come to Italy and play for us,'" said DiMichele. "And Anthony said, 'Let's take a chance,' so January 2012, we moved to Italy."
It was an unexpected direction for DiMichele but one that he would certainly cherish his entire life and one that would teach him lessons of humility and gratitude that he would one day teach to his players.
"We played in Italy for six months, met a wonderful people and it taught us the notion that it's more than football because these guys are so grateful for everything," said DiMichele. "But realistically they changed our lives and every time I got over there, I never pay for meals, I never pay for housing."
After a year of playing for the Milano Seaman, DiMichele was training for another year overseas when Robert Morris came calling once again.
DiMichele was originally brought on to coach defensive lineman in 2012, and he stayed there for two seasons until he made the decision to step away from the team and his legacy at Robert Morris to start something new at Kentucky Christian University.
There for a year, DiMichele worked close with KCU linebacker Aaron Cooper who received first-team All-America honors at the NAIA level. His season included 160 tackles and 15.5 TFL in 11 games.
But DiMichele would only make Kentucky a brief stop as he soon made his way back home.
"I got a voicemail from Coach Farison … he said something happened with one of the assistant coaches. We're looking for a guy that knows our defense, that's motivated, that's local and can come in and coach," said DiMichele. "I prayed about it and an hour later I was on the field at practice."
And just like that, DiMichele was back and here to stay. A constant motivator and source of inspiration for his players of what you are able to do with hard work and determination. Coaching players like Zach Cooper, a player many deemed as too small for Division I football, soon a constant force and leader on the RMU defense. And Marcelis Branch, a player who looks to be one of the few RMU players to reach the ranks of the National Football League.
"At the end of the day, I know what my why is," said DiMichele. "I got eight nephews and nieces and one on the way and everything I do affects them. I want them to see me as a role model and I want them to know that this is a guy I want to look up to. He's making all the right choices, he works hard, he does all the right things, he's disciplined, he's prepared and at the end of the day when I look up that's who I'm doing it for."
DiMichele, along with the rest of the Robert Morris defensive staff, departed their roles on the team at the beginning of January, but that has not deterred DiMichele that his role in life is to be a inspiration and a leader on the football field. It is unknown where his journey will take him next. But DiMichele knows that his faith in god will guide him exactly where he is supposed to be, and that his endless drive will take him there.