Making an IMPACT
RMU lacrosse partners with non-profit to draft honorary teammate
February 9, 2015
As Mikey Dugan trotted up to the media table to sign his National Letter of Intent – signifying his membership into the Robert Morris men's lacrosse family – applause echoed throughout the second floor classroom in Joe Walton Stadium.
When pen met paper and the West Mifflin resident inked his John Hancock onto the 8.5 x 11 in. contract, it became official.
Although Dugan had formally been introduced as RMU's newest player during a press conference on Feb. 6, to his 44 other brothers in the room, it was a long time coming.
"Having met Mikey previously and having him be a part of the team a little bit already, today is the official day to add him to our roster," head coach Drew McMinn said while announcing the signing of Dugan. "… Moving forward, we expect that to continually grow with all the guys in this room now, who are all your brothers."
For a 13-year-old battling Cystic Fibrosis (CF), diabetes, an enlarged spleen and cirrhosis of the liver, being drafted by the Colonials put him at a loss for words.
"I can't explain it because it's the best feeling I've ever had before," said Dugan, shortly after putting on his #46 jersey, the same number worn by former Robert Morris and current Minnesota Swarm defenseman Kiel Matisz.
Fulfilling Character Goals
Even though he's had such a monumental impact on the team in a relatively short amount of time, having Dugan become an honorary teammate is something that didn't come to fruition until McMinn hired Travis Harrington as an assistant in August.
Searching for a service project for the squad to undertake, Harrington – a former Bryant University attackman – suggested partnering with Team IMPACT, a New England-based charity that pairs college athletic teams with children fighting life-threatening illnesses.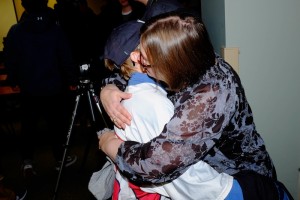 Since the notion was well-received, McMinn & Company reached out to the charitable organization, which has helped over 600 children since its inception in 2011, and were quickly matched with Dugan.
"… One of our character goals was to do some sort of a service project and obviously this was a good opportunity to do that," said Justin Mayfield, a sophomore from St. Louis. "Second of all, I think it's less to get our name out and more just to get someone who doesn't have the opportunity to do what we get to do every day and just to help them. Whatever we can do to help, even if it's the smallest thing, it's what we need to do."
Learning Lacrosse
Prior to his draft day, Dugan wasn't at all familiar with lacrosse, but since attending select practices, he has grown to love the game.
"I think he's had a lot of fun just getting to know a new game," said McMinn, who has been at the helm of the RMU program since 2010. "So I think as opposed to doing something that he's already familiar with, this has been pretty cool for him."
More than teaching him the sport, Mayfield believes that it is vital to get Dugan acclimated to the team and its culture before the start of the 2015 season.
"… I just want him to feel like he's part of the team," he said. "And I think today was a great step forward in doing that."
Mutualism
Since being diagnosed with CF – a genetic disorder causing mucus buildup in the lungs, ultimately making breathing a difficult task – during newborn screenings, Dugan is required to complete two chest physical therapy treatments per day and has to consume enzymes prior to every meal in order for his food to digest properly.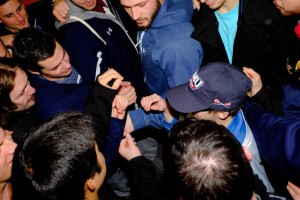 Though because he retains a positive outlook on life despite all he's been through, the lacrosse team won't be the only ones benefiting from the unique opportunity at hand.
"Stuff that we preach and want to do is to give back to the community and it's a pretty cool experience we have here with Mikey," defenseman Luc Magnan, a product of The Hill Academy, said. "It goes a lot more than bringing someone on the team. I'm sure that we'll be learning a lot from him and he's going to be learning from us as well. …"
McMinn concurs.
"It's definitely going to be the most valuable community service thing that we're taking part in as a team. We don't really look at it as a community service project, obviously, but more just an awesome relationship to be able to have," he said. "I think both sides benefit."