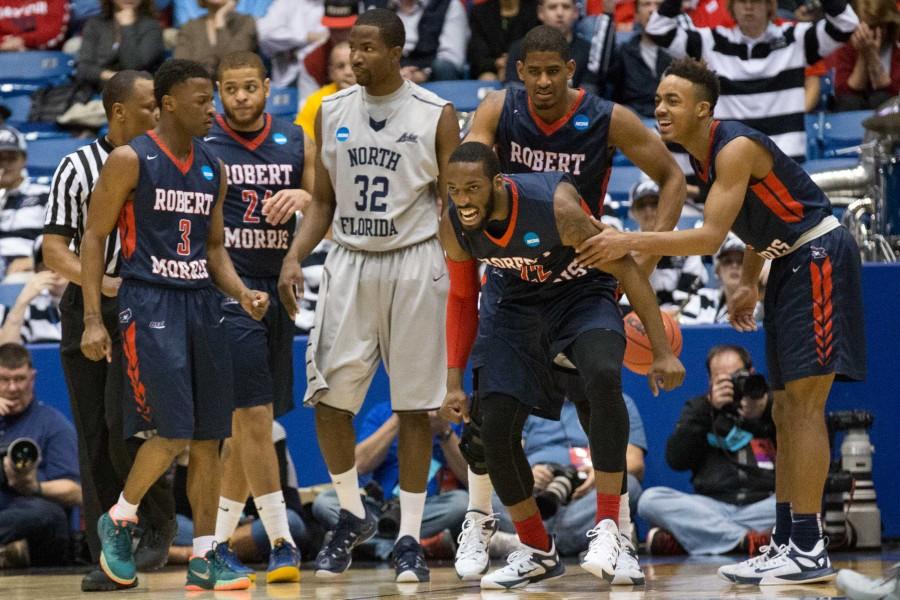 Oh, what fun it is
RMU clips North Florida in thrilling first round game
March 19, 2015
It all started with a simple step-back jumper from the foul line with 7:37 remaining. Once Lucky Jones sank his fifth bucket of the game, things got a little easier.
The shots began falling for a Robert Morris team that was 41 percent from the floor up until that point, and the momentum was beginning to turn.
The lead gradually grew from one, to four, to six points, and by the time North Florida was whistled for a shot clock violation a few minutes later, Jones began to feel energized, perhaps by the allure of the NCAA Tournament.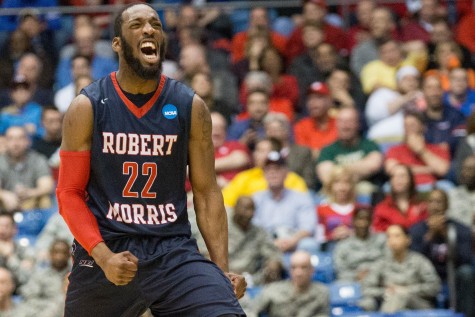 After RMU's match-up 2-3 zone forced yet another Ospreys' turnover, their 17th overall, the six-foot-six forward elatedly marched toward the television announcers, Ian Eagle and Doug Gottlieb, pounded his chest in a manner that would make Matthew McConaughey's character in The Wolf of Wall Street proud and let out an overbearing roar.
Although there was still 2:14 left in the game, it was all but over.
"I wasn't really feeling that lucky, but I just felt the game swing into our hands," Jones said. "We had been struggling the whole first half … but I felt once we got that stop that really turned around the game. I let all my anger and emotion and everything else that I had in my body I just let it free."
Trailing by as many as 13 early in the second half, RMU rallied behind its senior leader and soared to an 81-77 win over North Florida, its first NCAA Tournament victory in 32 years, Wednesday night in Dayton, Oh. in one of the four play-in games.
"I would never discredit what Robert Morris did," UNF head coach Matt Driscoll said. "But I will say this: Our turnovers were self-inflicted at some points and when you self-inflict and you allow them to get out and run, it's very difficult to get those key stops that you need."
Despite trailing moments after the opening tip-off thanks to three pointers by Dallas Moore and Beau Beech, the Colonials managed to effectively score in the paint and an early 17-4 run put them ahead by five.
But then the Ospreys had a breakthrough.
By successfully moving the ball around the arc and attacking the soft middle portion of RMU's zone, North Florida was once again on top, taking a 35-29 lead into the locker room, the same deficit Robert Morris faced in the Northeast Conference title game against St. Francis Brooklyn.
Whether it was a sign or pure coincidence is still to be determined; however, one thing that's for sure is the fact that it proved to be a spark for a lethargic looking bunch.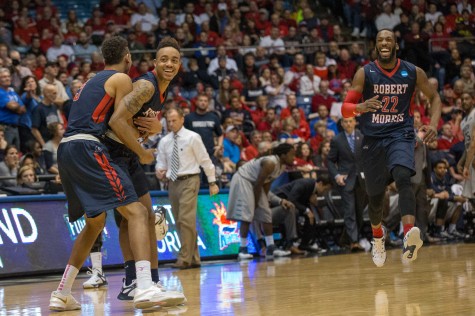 "We made sure coming into halftime that we still have to remember this is a blessing to be out here so we have to enjoy the moment," junior college transfer Rodney Pryor said. "And guys had their heads down and things like that, but we reiterated going out and having fun and enjoying it."
And apparently the notion of enjoying yourself while playing on one of the biggest stages in college basketball was enough incentive in itself.
Or maybe RMU coach Andy Toole simply wanted to do it for the NEC, which hadn't had a member institution win a tournament game since 2008.
"Noreen Morris, the commissioner, was hard on me about continuing to play," he said. "I relayed that to the guys and that's all it took."
But it wasn't solely Jones who had contributed to the comeback. Freshman Marcquise Reed netted 15 of his 19 tallies in the final frame, while Pryor was 4-of-8 from downtown.
Clinging to a 77-70 lead with 41.3 remaining, the Colonials were unable to put the game out of reach due to ill-advised defensive fouls late in possession, ultimately enabling NFU to make up ground at the foul line.
That's when it all came down to Kavon Stewart.
Despite the fact that the sophomore point guard had been 3-of-7 from the charity stripe on the night, his two clutch free throws preserved a four point upset for a program that had been labeled a two and a half point underdog.
However the journey is far from over. If anything, it will officially commence Friday evening against the No. 1 seed Duke Blue Devils in Charlotte, N.C.
"I like our chances. At the end of the day, it's a team game, no matter who [Duke] has on its team, no matter how many T.V. games they have," Jones said. "I love Robert Morris. … So we just got to come out there and believe in ourselves, have confidence, have fun and see what happens."