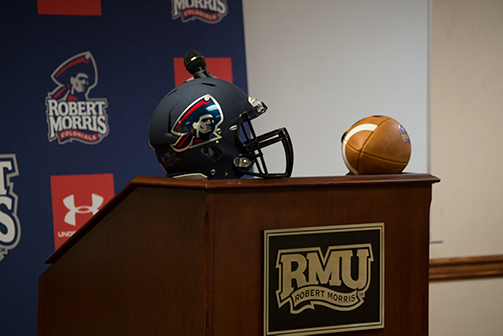 RMU hires Tolentino and Tyler as defensive line coaches
After the departure of defensive line coach Cornelius Coleman at the beginning of January, the Robert Morris have finally found his replacements in Rafael Tolontino and Delbert Tyler as announced by the team on Wednesday.
Tolentino has been named as the assistant head coach and defensive line coach while Delbert will serve as assistant defensive line coach and recruiting coordinator.
Tolentino is making the jump from the high school ranks to college as he was previously the head coach at King High School in Tampa, Fla. Tolentino coach there during the 2016 and 2017 seasons.
He has been coaching since 2003 where he got his start at Glendale Community College. His most notable accomplishment there was being the running backs and outside linebackers coach at the to 2005 NJCAA national championship game.
"I met Rafael on the recruiting trail many years ago," said RMU head coach Bernard Clark in a press release sent out by team officials. "The thing that stands out to me about him is how organized and structured he is and how on top of things he is,"
Before beginning his coaching career, Tolentino also served in the United States Air Force. There he earned the Good Conduct Medal and the Air Force Commendation Medal.
Before coming to RMU, Delbert Tyler spent the 2017 season as a graduate assistant defensive line coach at Eastern Michigan University. While there he worked with lineman Maxx Crosby and Jeremiah Harris who ended up becoming All-Mid-American Conference players.
Tyler was a four-year starter at Hampton University where he played under current RMU head coach Bernard Clark. Tyler finished as the teams second all-time leading tackler and was a three-time All-Mid-Eastern Athletic conference player.
This marks the fifth and sixth hiring in the past month to the RMU coaching staff after the departure of all but wide receivers coach Nick McVay and running backs coach Larod Stephens-Howling after the hiring of Clark at the end of December.
Skip to content