WATCH: RMU officially introduces Bernard Clark as head coach
As Bernard Clark stepped up to the podium, signifying the official beginning to his tenure as head coach of the Robert Morris football team, Clark made it clear that there were going to be some immediate and important changes to the Robert Morris football culture.
"The first thing I want to tell you is this, what I'm here to do is to build a foundation based on trust, honesty, discipline, integrity and character," said Clark.
Clark wants to build this character by implementing more accountability in his players, not just to help them as a team, but as people too.
"There are three things that I won't tolerate … The first thing is this, you must be on time for everything. If you're not on time for everything, there are consequences when you're not on time," said Clark.
Coach Clark's second rule discussed when and where a cell phone was to be used during meetings.
"If I see your cellphone once the meeting starts, you got three-hundred yards of up-downs," said Clark.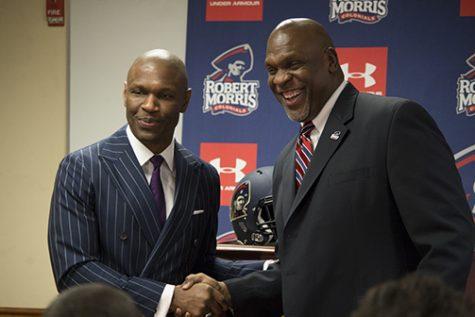 The last rule for Clark is one that he considers the most important.
"I don't want to hear the N-word," said Clark. "I don't want to hear it from black players, I don't want to hear it from white players. I think it's insignificant in our society and I think it's something we should not be calling each other. And I want guys to understand that more than anything,"
Coach Clark beyond his basic set of rules also intends to begin his time as head coach really going back to the basics of what it means to be a football player.
"We're going to teach these guys how to tie their shoes again," said Clark. "We're going to be teachers of the game. We are going to teach basic fundamentals more than anything else."
And for Clark, none of these basic fundamentals are going to be skipped over.
"We're going to teach them how to tackle properly, how to step with the right footwork. Everything is important, but it's more about technique. It's not about schemes, it's not about what we are going to do on offense, what we are going to do on defense. These things are important, but if we can't get the guys to do what we need them to do technically … we can't win football games," said Clark.
It looks as though in order to rebuild this program, Clark is going to take it one step at a time, making sure that there are no shortcuts along the way.
Even when it comes down to recruits and coaches, Clark said that he intends to watch film of each RMU recruit before signing them in order to determine whether these players are the right fit for this team. And to discuss philosophy with each current Robert Morris football coach to ensure that everybody knows what the goals and expectations are.
In the coming days, the pieces will begin to fall into place as new coaches are hired to replace offensive coordinator Mike Miller and offensive line coach Andrew Richardson while recruits begin to get brought in and spring ball preparation begins.
Spring practice will be the first checkpoint for Clark on recreating the culture at Robert Morris University. From there begins the countdown to the team's very first game of the season where the Bernard Clark Robert Morris Colonials will make their true debut.