Second half meltdown dooms RMU
Colonials surrender 15 point lead to Long Island Brooklyn
February 13, 2015
After the final buzzer sounded Thursday night, signifying the end of Robert Morris' 63-62 loss to Long Island Brooklyn, Andy Toole quickly trotted into the locker room, forgoing his usual radio appearance with Chris Shovlin and Jim Elias.
Despite the fact that the Colonials dropped a game they should have easily won, reporters in the Charles L. Sewall Center press room expected the 34 year to make the trek to the media room 15 minutes after the game ended, like he typically does.
However, the press waited – and waited – to hear Toole's post-game thoughts. 15 minutes turned into 30, which turned into 60, and so on and so forth. And after an hour and a half, he appeared.
Though Toole was in the locker room with the players for nearly 90 minutes following the end of the game, he barely had anything to say.
"They did most of the talking, to be honest. I just tried to ask them questions about why and not sure we came to any resolution, but a lot of the guys are frustrated, the coaches are frustrated, but we're the only ones who can make it better," he said. "I hope when we walked out of the locker room guys feel like they want to try to make it better."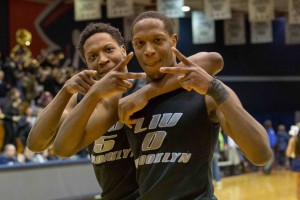 Watching his team drain 65.4 percent of its shots in the first half compared to shooting a diminutive 25 percent from the floor during the final 20 minutes of play was disheartening for a coach who still, 25 games into the season, is trying to figure out how to make his players exert effort for a full 40 minute game.
"Pretty pathetic [first half vs. second half performance], huh? I don't know why that is," Toole said. "I wish I could give you an answer on why that is or how we could correct it or promise you it will change on Saturday, but I can't do that."
In typical fashion, Robert Morris began the game on an offensive surge due, in large part, to Aaron Tate, who netted eight of the Colonials' first 10 tallies.
After using a 14-6 run midway through the first to give itself a 15 point cushion, RMU cruised into halftime, holding a 40-30 advantage at the break courtesy of freshman Marcquise Reed's 12 point performance.
The final frame, however, turned out a little different than expected since the Blackbirds slowly began chipping away at the lead by finding and exploiting mismatches in RMU's zone.
The deficit was cut to three at the 11:44 mark after Martin Hermannsson drained a mid-range jump shot and, three minutes later, Long Island took its first lead of the contest.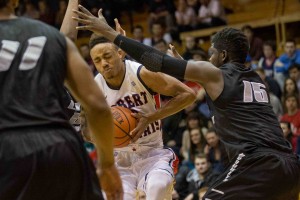 Trailing by one with seven seconds remaining, Reed drove the length of the court, fumbling the ball out of bounds off an LIU defender with 0.07 remaining before he could get a shot off.
So with not enough time to catch and shoot, Toole devised a tip-in play during the ensuing timeout in which Kavon Stewart would lob the inbounds pass to a cutting Rodney Pryor, who would then gently graze the ball with his fingertips, pushing it into the basket.
It was drawn up to a T, but wasn't executed accordingly. Stewart's toss was too strong, sailing over the head of Pryor, inevitably resulting in the Colonials' second straight loss to Long Island.
"When I saw it wasn't open initially I was trying to see if I could get another timeout, but we weren't able to do that, so that's how the game ended," the fifth year head coach said.
Although he is perplexed at the current moment, Toole is hoping that he can find some sort of remedy to cure the program's energy woes.
"I don't know, to be honest with you. It's something that we've discussed at great length. We've tried to use film, we've tried to use statistics, we've tried to do group therapy, individual therapy, I don't know, I really don't," he said. "If I had the answer it wouldn't continue to happen."