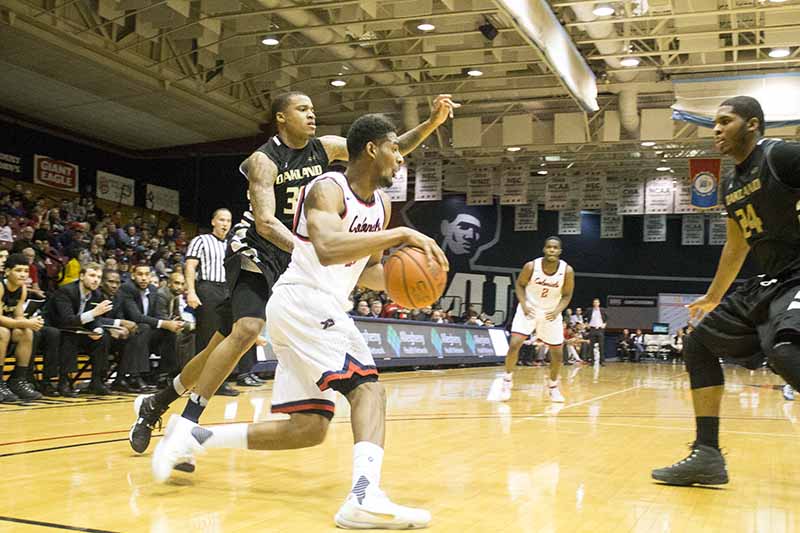 Short bench, poor shooting buries Colonials
December 6, 2015
The Robert Morris crowd came ready to bring the Charles L. Sewall Center's roof down, and with 3:20 left in the first half, it was looking like it very well could happen — the Colonials led, 37-30. But by the time 3:20 showed on the clock in the second half, the Colonial Crazies, Colonial Elite, and all the other fan groups on RMU's campus had begun storming… the exits.
Who could blame them? Aside from some miraculous moments in the first half,  where transition basketball from both squads produced a few nice plays at the rim, the Colonials did not give the fans much to cheer about — especially in the second half.
Going back to when the Chuck was literally shaking after a Matty McConnell steal and a ferocious Rodney Pryor throw-down in the first half, it was the little things that Robert Morris was doing right: active hands, rebounding, contesting shots, hustle. Notice how none of these have anything to do with shooting.
The team fed off of the ruckus crowd and appeared to have the Oakland Golden Grizzlies (4-3) rattled.
Then the energy seemed to just vanish from RMU's side, and Oakland took full advantage of it. A 10-2 run to end the first half put the Golden Grizzlies up, 40-39. Permanently.
The Colonials never were able to take another lead in the game, and head coach Andy Toole had a few possible reasons why.
"You have to get used to playing that hard for that long," Toole said. "So we got some guys who really emptied their tank in 18 minutes in the first half. Well now, you got to be capable mentally and physically to come on the floor and do that same exact thing again in the second half. And I think if you're not making shots, it gets a little difficult."
Robert Morris' bench was abnormally small, even for its standards thus far in the season. Forward Aaron Tate is still recovering from an injury suffered in the off-season, sophomore forward Elijah Minnie did not play due to an illness, and freshman guard Jordan Lester did not play the second half after, according to Toole, getting very sick in the locker room during halftime.
That meant guys that were not used to playing as substantial of minutes were left in the game, which most likely was the biggest factor in the disappointing second half. Not to mention, three other RMU forwards were in foul trouble: Andre Frederick (5), Billy Giles (4) and Steven Whitley (4).
These players picking up fouls almost forced Toole to leave his starters out there longer than he wanted to, each one of them playing over 30 minutes.
Overall, the Colonials shot a mediocre 30 percent from the floor in the final period (10-33), including a 2-of-12 clip from beyond the arc. No players were available for interviews after the 92-74 loss, but it is certain who would have been prime candidates to speak — Pryor and Giles.
Pryor, the senior JUCO transfer from a season ago, continued to carry the offensive load for Robert Morris, recording a double-double with 35 points and 12 total rebounds. The majority of the exciting moments were created from him, as his ability to create shots and elevate at the rim was on full display.
Giles took Pryor's route to get to Moon Township, Pa., transferring from junior college to join the Division I ranks. He has definitely had his fair share of growing pains, but his showing Saturday proved why he averaged a double-double last season. He finished with 16 points on 7-of-10 shooting and pulled down 10 boards.
"I think, for him, it's just a matter of being comfortable," said Toole. "He's really putting in the work in practice, where he's going at that game speed that we talk about all the time. You can see him becoming more comfortable, more confident in where he gets the ability to score from. I think he's going to continue to excel if he continues to work."
With all of the injuries, illnesses and fouls, it is hard to create smooth chemistry among players on the floor, especially starters. Once non-conference play begins to wind down, and the Colonials regain their health and normal starters, this team should be able to sustain the energy that all the RMU fans came to see. And maybe, just maybe, make another run for the NCAA Tournament.
Robert Morris (1-8) is back in action Dec. 14 when it travels to New York, NY, to face the University of Columbia in a 2 p.m. non-conference match-up.