Stamolamprou making her mark in the NEC
The freshman guard is thriving under Head Coach Sal Buscaglia and the coaching staff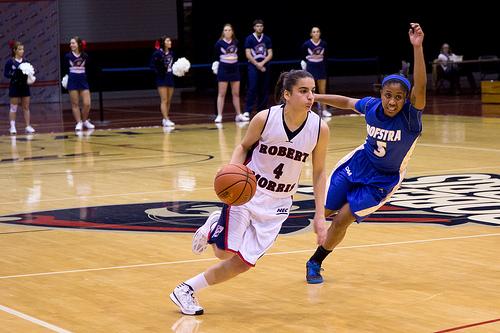 Anna Niki Stamolamprou has been more than just an average freshman in her first year at Robert Morris. Through 21 games this season, the guard has played beyond her years, and her team is reaping the benefits.
"She's having a nice first year as expected when she signed to come here," said associate head coach Charlie Buscaglia. "We knew she had the ability to come in and be an immediate impact right away. She's lived up to that."
Robert Morris is currently in sole possession of first place in the Northeast Conference at 8-2 and has won seven of its last eight games, which Stamolamprou played an integral part in.
She's averaging 12 points a contest, and has developed herself as the second primary scoring option for the Colonials behind senior Artemis Spanou.
"Obviously as a freshman, she has a lot to learn," said Buscaglia. "As for our second scorer, consistency is what coaches look for, and we're looking for her to be a consistent shooter, ball-handler, and defender. I think she's making great strides to being that player and embraced her freshman year really well."
Her offensive skills have flourished since arriving in Moon Township, but the Greek native's toughest challenge thus far has been adapting to the other side of American basketball, the defensive style.
"I think the biggest adjustment has been the defense and the intensity of the defensive strategy," Stamolamprou said. "In Europe, we used to play more with our minds on defense and not as physical with contact."
Stamolamprou is making a serious case for NEC Rookie of the Year honors. If she were to haul in the hardware, it'd be the second consecutive year a Colonial took home the award, following the footsteps of sophomore guard Ashley Ravelli.
"She's an important tool for the team this year, even as a freshman," said Ravelli. "She's helping the team a lot to win games. She reads the floor well and I think if she keeps playing like that, it's going to help the team even more to succeed."
Her versatility stands out among others, allowing head coach Sal Buscaglia and his staff to use her as the primary ball-handler on the floor, or at the two-spot because of her scoring ability, which paves the way for freshman guard Janee Brown to be used more frequently.
The dual-freshmen backcourt has created quite the tandem.
"I think we complete each other," said Stamolamprou. "During practice and drills, we go against each other. We spend so much time together and discuss about everything since we're both freshman. We live at the same dorm and are so close. We're both point guards and help each other."
It's essential that Stamolamprou keeps up her consistent play for the team and its NEC title hopes, but as for her future here at Robert Morris, it seems to be brighter than the Mediterranean Sea.
About the Contributor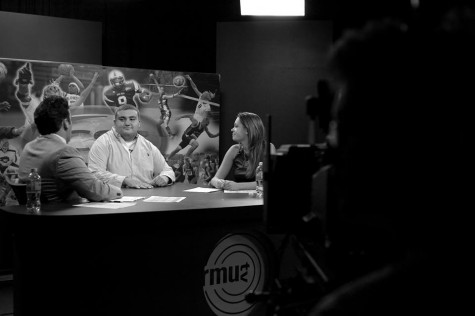 Chris Mueller, Sports Reporter
Chris is a junior Communications major at RMU with an applied concentration in journalism. He is Sports Editor for RMU Sentry Media.  As current Sports...