On point
Stewart leads push to NEC title game
March 7, 2015
Kavon Stewart admits it was the best game he's ever played. Andy Toole believes it was the most important performance of his career. Lucky Jones agrees with both statements.
In a game in which Robert Morris' three offensive juggernauts – Rodney Pryor, Jones and freshman sensation Marcquise Reed – were held to 12, 11 and eight points, respectively, the Colonials didn't have to fret.
Stewart had their backs.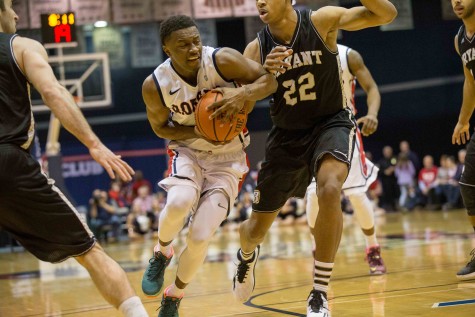 The sophomore point guard scored a career high 19 points, dished out eight assists and came up with seven steals – all but one of them in the second half – as RMU (18-14) rolled past Bryant (16-15), 66-53, in the Northeast Conference semifinals.
"Give him [Stewart] credit because when we played them the first time here … he was the guy that they didn't guard," said head coach Andy Toole. "… He made not only big shots, he made the right decisions, he finished strong, he made free throws and he was one of the main guys defensively that was really urgent and alert and active as possible in that guard position of our zone."
After Pryor's three pointer at the top of the key three seconds following the opening tip-off rimmed out, the junior college transfer redeemed himself by hitting a jumper at the foul line on the ensuing possession. He then followed it with a trey from the corner moments later, giving RMU an early 5-0 advantage.
Even though Dyami Starks countered with a three pointer of his own, a 9-0 Robert Morris run put the Colonials ahead by 11, their largest lead of the first half.
However in the final frame, Bryant altered its defensive scheme, constantly toggling between man-to-man and a 2-3 zone, which forced Robert Morris to settle for contested jump shots and allowed the Bulldogs to take a three point lead at the 12:14 mark.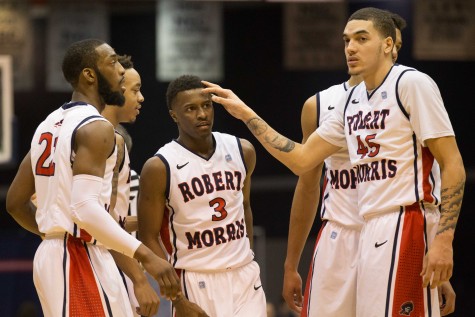 Nonetheless, once RMU made adjustments on the offensive end and after BU senior Joe O'Shea fouled out with five minutes remaining, the game was out of reach as the Colonials held the Bulldogs to five points during the final eight minutes of play.
Despite the loss, Bryant head coach Tim O'Shea was pleased with his program's third season at the Division I level.
"It was important for us to advance in the tournament this year. Obviously if we had the tie breaker, things would have been different, we would have been able to play this game in Smithfield [Rhode Island]," he said. "Home court is a big deal in college basketball. We probably are not here had we not earned a home game in the previous game against Sacred Heart. But to advance in the postseason this year was a big deal for us."
Although Jones is grateful to be able to have the opportunity to play in his third league championship game in his four year career with RMU, there is still a lot of work that has to be done to get ready for St. Francis Brooklyn.
"At the end of the day, our most important thing was getting to the championship and we get to celebrate this one, but for the next 24 hours, but then we need to make sure we understand what's about to happen next week," the senior said. "We just got to prepare and make sure we stay detailed."