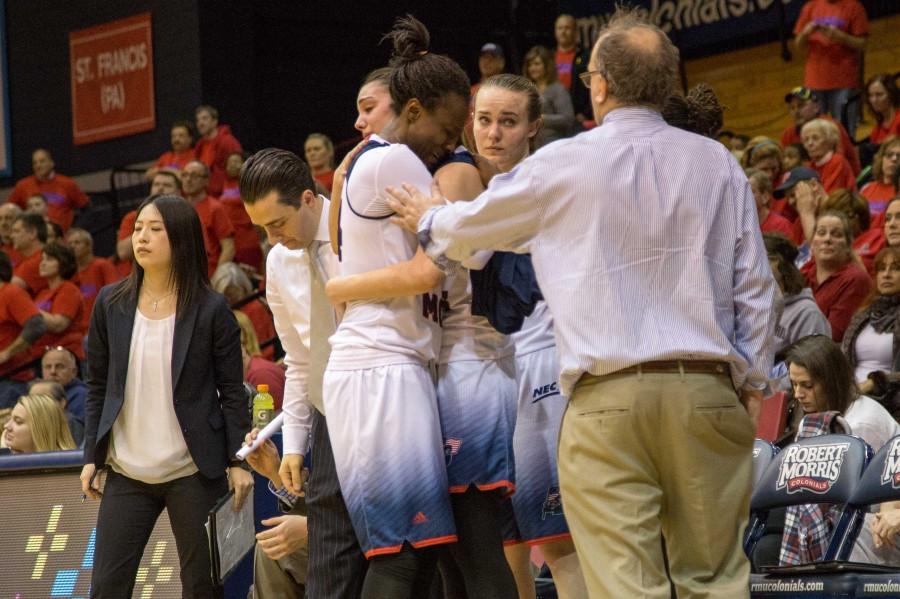 Terriers' stellar shooting ends RMU's season
March 15, 2015
Behind senior forward Sarah Benedetti's 29 points and 9 rebounds, along with an incredible second-half shooting performance by the entire team, the St. Francis Brooklyn Terriers defeated the Robert Morris Colonials, 77-62, to claim the Northeast Conference Tournament championship.
The victory sends the Terriers (15-18) to the NCAA Tournament and ends the Colonials' (17-15) season and their bid to repeat as NEC champions.
"I want to congratulate St. Francis of New York. They deserved it, they really did… they went through the whole top seeds in four straight games on the road," said RMU head coach Sal Buscaglia. "I mean how could you not give them credit? They deserved it."
The Terriers played the underdog role to perfection in the upset, playing incredibly loose and confident. They shot 14-of-24 from the field in the second half, including 7-of-9 from behind the three point arch. Along with Benedetti's 29 points, Jaymee Veney (14), Eilidh Simpson (14), and Leah Fechko (13) all reached double figures for the Terriers.
The Colonials, on the other hand, began to tense up more and more as the game went on. Despite shooting the ball well, 26-of-52, Robert Morris was out-rebounded 34-24, allowing an overwhelming 14 offensive boards to the Terriers. As the contest went on, and their deficit to the Terriers grew, the Colonials started taking desperation shots and forcing cross-court passes that were routinely intercepted.
"I think experience played a big role in the second half. We're a young team, they had four seniors and a junior," said junior guard Ashley Ravelli. "I felt like we played with a lot of intensity and most of the teams go down at that point. But we played with a lot of energy and they have experience, so they didn't bend down at all. Actually, they came at us even stronger, so I think experience was the bigger factor."
Only Ravelli and sophomore guard Anna Niki Stamolamprou registered double figures on the day, with 17 and 12 points respectively.
Stamolamprou left for a period of time during the second period due to what Coach Buscaglia disclosed as what is in all probability a "meniscus sprain." She returned late but was not her usual self.
The loss marks the end of Jolie Olegande's career at RMU. The lone senior on this year's squad played in 61 games throughout her Colonial career, averaging 3.2 points and 3.3 rebounds per game.
"At this point I'm just looking ahead. I think we have a great team, and we're all coming back except for Jolie," said Ravelli. "At this point I'm just focused on next year and am even more hungry and at this point we know what we need to do next year."