Twice as nice
Jones ignites another blowout win over Wagner
March 5, 2015
Lucky Jones remembers it vividly.
With his team's nine point lead slowly evaporating and the remainder of his college career hanging in the balance, he locked eyes with Andy Toole while quietly seated on the Robert Morris bench.
But this look wasn't just a signifier designating Jones' return to the floor.
It was so much more, a nonverbal form of communication between a head coach and his star player, indicating the need for a spark to put the game out of reach.
And once he received the message, Jones delivered, just like he always does, netting 14 consecutive points during a 6:19 stretch en route to RMU's (17-14) 91-68 thrashing of Wagner (10-20) in the first round of the Northeast Conference Tournament at the Charles L. Sewall Center.
"Through that spurt I was just trying to find ways and make sure I was being available for my team, getting out in the break. That was one of our main things, get ahead in transition because when we score in transition, that's where we get a lot of points at," said Jones, who went 8-of-12 from the floor. "So that was just my goal and obviously I was feeling it, so no matter if there was a hand up or if somebody was in the area, I just rose up and knocked it down."
Despite surrendering a three-point play to Stedman Allen 19 seconds in, Robert Morris began its offensive tear two minutes later and never looked back, accumulating an 11 point lead at the break.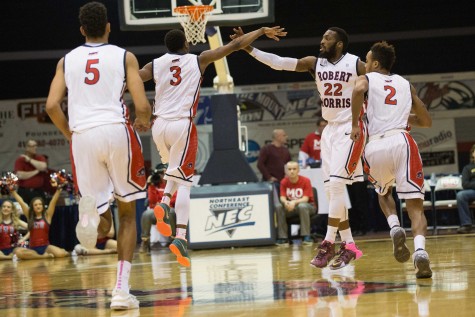 The shots kept falling for the Colonials in the second half, only this time, they were from downtown.
Robert Morris more than doubled its three point shooting percentage in the final frame – with the help of Jones, of course – sinking 7-of-8 treys, four of which were courtesy of the six-foot-six forward.
In Wagner coach Bashir Mason's mind, the difference in the contest came down to one thing.
"Those guys just stepped up and really made shots," he said. "Tonight they made 12 three pointers and it's that tough to beat a team that shoots that well from the field."
In these two programs' previous meeting, which occurred six days earlier, the Colonials demolished the Seahawks by 32 points, which would normally make a coach thrilled to play the same team twice in one week.
However, Toole viewed this matchup in a different manner
"I was concerned about the maturity of our team. We've had a little bit of a thought process where if we do something well once then that should just carry us through the rest of the time and at this point in time, every game is a single entity and you have to go out and prove it each time you step on the floor," the fifth year bench boss said. "… When you do beat a team by a decent margin that tends to motivate them in a major way. I was happy with the way that we handled it and the energy that we played with to be able to move on."
Although he tied his career scoring mark with 27 points in 24 minutes of action, personal stats don't mean much to Jones. At this point, he just wants to be able to prolong his time as a Colonial, if only for one more game.
"… This is my last postseason as a collegiate player and I just want to go out with a bang. I want to continue to have fun, I want to continue to smile and help my teammates, nothing out the norm," the senior said. "I just continue to play my game and that's leading us to victory after victory."