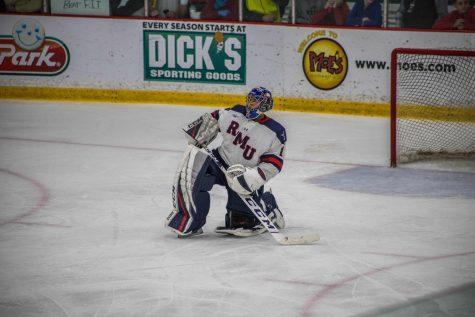 Michael Sciulli, Sports Copy Manager

March 9, 2019
PITTSBURGH- The Robert Morris University men's hockey team (13-20-2, 11-15-2 AHA) was able to pick up the first of two victories needed to move forward in the Atlantic Hockey playoffs on Friday night with a 1-0 victory of the Holy Cross Crusaders (10-20-5, 10-14-4 AHA). The lone tally on the night came from the on...
Haley Sawyer, Assistant Sports Editor

March 23, 2014
The RMU men's hockey team had the chance to become conference champions twice.  This year, no one expected them to have a third chance. Were they ever wrong. The RMU men's hockey team managed to stomp out the Canisius Golden Griffins 7-4 in a pressure- and aggression-filled game. The Colonials kept it real from the jump.  Grace under pressure was the phrase...