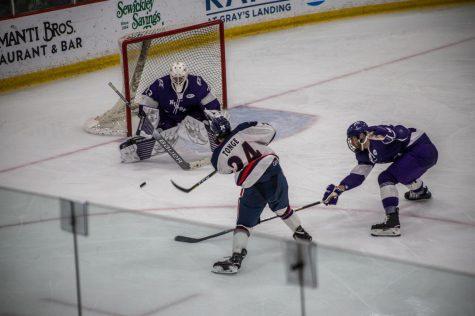 Jonathan Hanna, Assistant Sports Editor

July 22, 2019
PITTSBURGH -- On Monday, July 22, Atlantic Hockey announced that for the 2019-20 season, a 3-on-3 overtime, then a shootout will be the way to decide regular season conference games. This method is also used by the Big 10, National Collegiate Hockey Conference (NCHC) and the Western Collegiate Hocke...
Haley Sawyer, Assistant Sports Editor

March 23, 2014
The RMU men's hockey team had the chance to become conference champions twice.  This year, no one expected them to have a third chance. Were they ever wrong. The RMU men's hockey team managed to stomp out the Canisius Golden Griffins 7-4 in a pressure- and aggression-filled game. The Colonials kept it real from the jump.  Grace under pressure was the phrase...