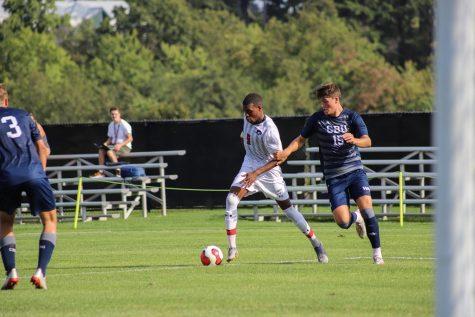 Evan Basista, Contributor

October 11, 2019
MOON TOWNSHIP -- RMU Men's Soccer (3-8-2, 2-2-1 NEC) lost in overtime on Friday against the Bryant Bulldogs (6-3, 3-0 NEC) by a final score of 2-1. The two halves were very different stories for RMU and goaltender Michael Zolnierczyk kept the Colonials in the game. The first half was the better h...
Nathan Breisinger, Contributor

October 11, 2019
MOON TOWNSHIP-- The Robert Morris men's soccer team (3-7-2, 2-1-1 NEC) looks to maintain its conference lead when the Bryant University Bulldogs (5-3, 2-0 NEC) visit the North Athletic Complex. The match is set for 3:30 p.m. on Friday afternoon as the Colonials look to improve their 2-4-2 home recor...