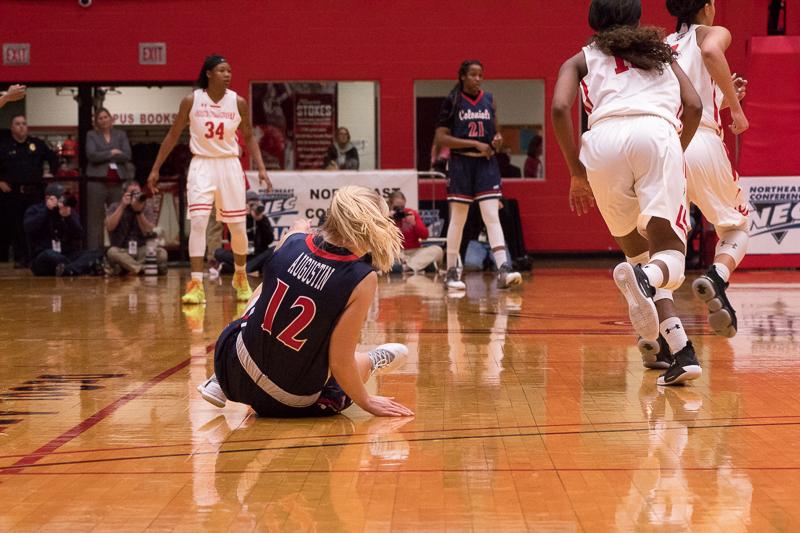 Everything you need to know: NEC Championship game
The Colonials and the Red Flash clashed in the battle for NEC supremacy and a trip to the NCAA Tournament at DeGol Arena at Saint Francis University in Loretto, Pa.
Led by Jessica Kovatch's 29 points, the Red Flash downed the Colonials 66-56 to claim the NEC title.
Here is everything you need to know from this conference championship game.
Why It Happened:
Saint Francis got off to a quick start on both ends of the ball as the Colonials looked to struggle once again against the Red Flash's full-court press. This looked to also make the Colonials rattled when they did get the ball in their front-court early. However, as the first half went on, the Colonials defense that has been seen all season kicked in and Kovatch cooled off shooting.
The Colonials looked to have won the second quarter outscoring the Red Flash 14-11. The Colonials would eventually take their first lead of the game early in the third quarter. Much like the second quarter, the second half was competitive as both teams shared multiple different leads until the final buzzer sounded.
Saint Francis took a 10-point lead with less than eight minutes remaining in the fourth quarter, and the Colonials couldn't fight their way back to take another lead and win the game.
What it Means:
The Colonials were unable to three-peat and win their third straight NEC Championship. Saint Francis punched their ticket to the NCAA Tournament.
Who Starred:
For Saint Francis, Jessica Kovatch shot fast and accurate early hitting two 3-pointers and led the Red Flash at the first media timeout with 9 points. Kovatch would go on to lead all scorers with 29 total points.  
For Robert Morris, Jocelynne Jones, a player more known for her defensive ability hit two crucial 3-point shots in the first half, helping RMU maintain a tight game in the score column. Jones's hot hand from beyond the 3-point arc continued in the second half and shot 5-of-7 from downtown and 7-of-11 from the field, finishing with 21 points.
Who is next:
The Colonials will take their 25-win season and co-championship regular into the WNIT. They will have to wait and see where they get placed and who they will battle against.