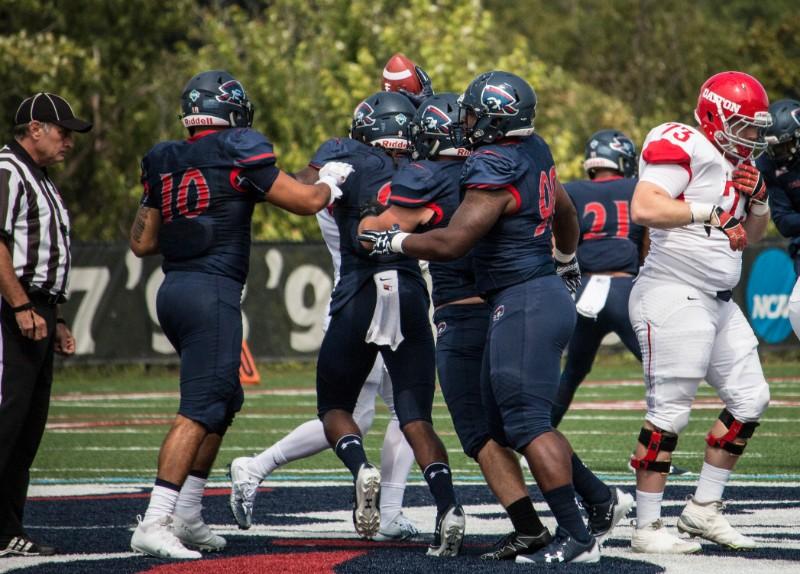 Who will be the next head football coach of RMU?
Keep up to date with everyone Robert Morris football may be considering to be their next head coach with all the candidates RMU Sentry Media thinks the team may consider. This article will be updated live as more candidates are considered
November 28, 2017
Candidate #1: West Allegheny's Bob Palko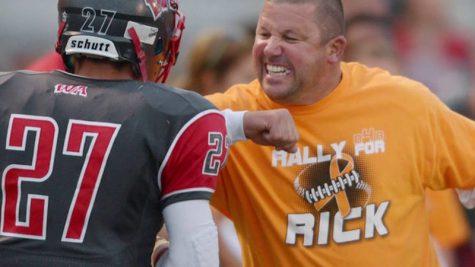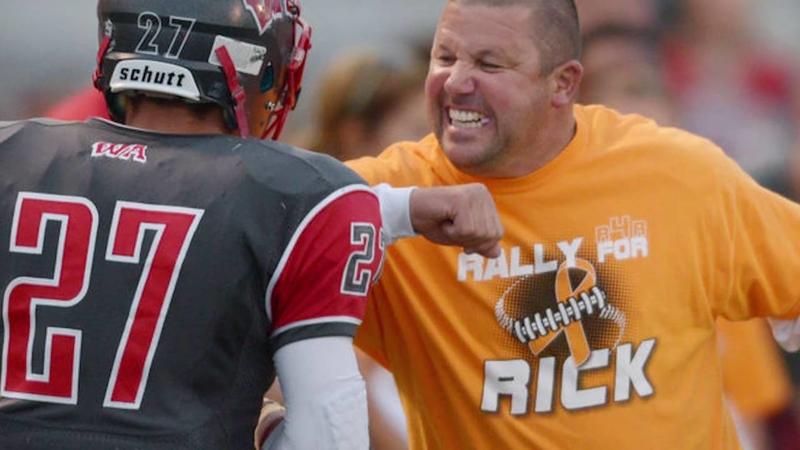 For those who love WPIAL football, Bob Palko's name is one of legend. The West A. coach started coaching the Indians way back in 1995. At the time of President Bill Clinton and the infamous OJ Simpson trial, there was a football program in Western Pennsylvania that was about to go from a laughingstock to a dynasty in a matter of a couple years.
Before Palko, West Allegheny had won exactly one playoff game in their entire 45 years of football existence. That first and only win didn't come till 1993. Two years later Palko took over but only went 9-11 in his first two seasons. The next year, however, he won twelve games and capped off a magical season with West Allegheny's first ever WPIAL title in 3A.
Since that first title, Bob Palko has made 19 playoff appearances. He also has eight WPIAL titles, a WPIAL record and has been to nine total championships. He has over 200 wins in his 22 years and has shown no signs of slowing down.
However, his coaching career did not begin at his high school alma mater. Bob Palko started coaching as a graduate assistant at IUP. After that, he would start his WPIAL career as the offensive coordinator for Jeannette from 1985-1990 before taking an assistant coaching position at Seton La-Salle high school for two years. A couple years later he would wind up at West Allegheny, and the rest is cemented in history.
It's easy to see how impressive Palko has been on a winning front, but how has he been on the developing side of the ball? High school football is different from college in the sense that you really don't get to pick your own players. You can recruit in college, but in high school, you're essentially stuck with what you get. That means you have to develop your own talent.
Candidate #2: Defensive coordinator Scott Farison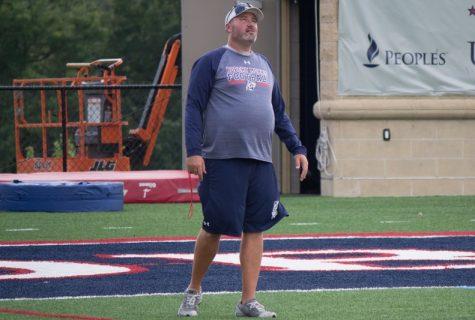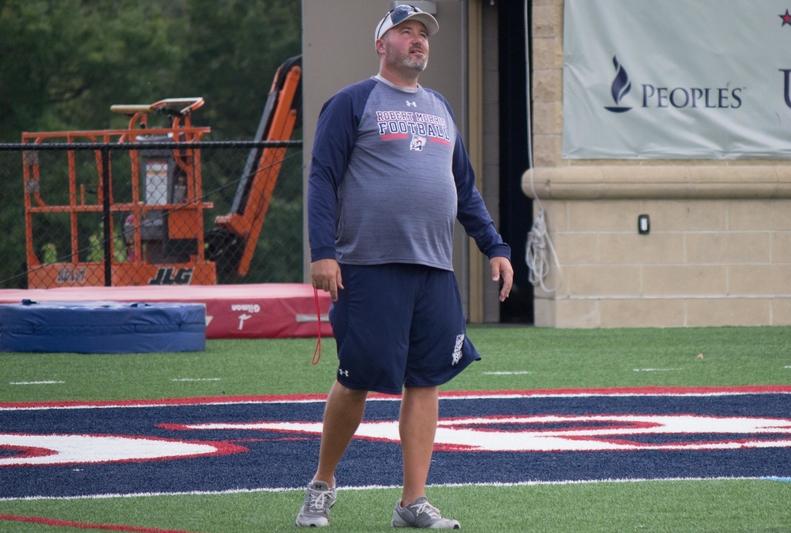 One name that comes to mind when thinking about who could take over the Robert Morris football program, and an option that athletic director Dr. Craig Coleman won't have to go far to get, is current defensive coordinator Scott Farison. Farison has been with the Robert Morris football program for some time now, as the 2017 season marked his 16th with the program. Farison has been at the helm of the program's defense for 11 seasons, served as the recruiting coordinator for 10 seasons and was rightfully promoted to assistant head coach by John Banaszak four years ago when Banaszak took over as head coach in 2014 after the Joe Walton Era came to an end. To go along with all of his titles and duties he has had while at Robert Morris, Farison is the longest-tenured coach on the current staff.
Many people believed that Farison was a good fit for the job back in 2014 to replace Joe Walton, but Banaszak was offered the job instead. However, Farison has bolstered his resume since 2014 throughout the John Banaszak Era at RMU and seems to be the clear front-runner to take over the deteriorating football program at Robert Morris. If Dr. Coleman is willing to hire in-house for the position.
While the team struggled offensively throughout the Banaszak Era, there always seemed to be a bright spot on the field each game and that was the defense.
All of the rankings I am using to justify my reasoning as to why Fairson is a logical replacement for Banaszak are NEC rankings. Robert Morris Football's focus should be on winning in the NEC, because only the winner of the Northeast Conference receives a bid to the FCS playoffs.
Let us start with the 2014 season. It was not the greatest of years for the defense, but it was not terrible either. The Colonials did only beat one team that season, which within itself displays the entire team's struggles that season. During the 2014 campaign, the Colonials defense finished fifth in pass defense, giving up 189.2 yards per game as well as having the worst total defense allowing 420 total yards per game. The Colonials defense that year was the fifth-worst in opponent fourth-down conversion percentage with 42.9 percent. The defense four seasons ago did finish fourth in the NEC with an opponent third-down conversion percentage of 33.1 percent. However, thwo names on the team's defense stick out as Jake Tkatch and Mike Stojkovic finished fourth and fifth in total tackles with 84 and 82 tackles respectively.
Read more on Scott Farison here
Candidate #3: UCLA's Hank Fraley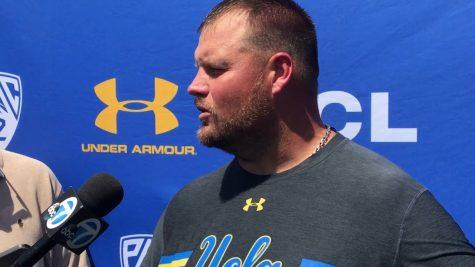 More of a wild card option for Dr. Craig Coleman in his search for a new head coach for the RMU football program, but one that should be considered, is RMU alumnus Hank Fraley.
Fraley finished up his collegiate playing career during the 2000 season at Robert Morris as a non-scholarship offensive lineman. However, he would go on to be one of the best players Joe Walton and the RMU football program has ever seen.
Fraley was a member of the All-NEC team from 1997 to 1999 and had his number 75 jersey retired from the program in 2001, just one year removed from his playing days at RMU. In 2006, Fraley was recognized once again for his career at Robert Morris as he was inducted into the RMU Athletic Hall of Fame and in 2007, was inducted into the Northeast Conference Hall of Fame.
Post-RMU, Fraley went to play professional football in the NFL. His first stop in his professional 15 games his second season with the team and went on to play every game until the 2009 season with the Eagles. Fraley then went on to play four seasons with the Cleveland Browns and finished his NFL career with the St. Louis Rams.
After his playing days, Fraley went on to coach at the level of football in which he succeeded at, the college level. Fraley was a member of the 2012 San Diego University coaching staff serving as the offensive line Coach. Fraley then moved to San Jose State University the very next season to be the offensive line coach on that staff.
However, Fraley's coaching career was similar to his playing career as he went from college to the NFL. Fraley served as the Assistant offensive line Coach with the Minnesota Vikings from the 2014 season until the 2016 season.
Fraley then moved back to coaching collegiate football when he was hired to join Jim Mora's staff at UCLA as an offensive line coach. This where Fraley's name comes into play in the hiring options for Dr. Coleman.
One may ask, even though he is only an offensive line coach at UCLA, why would he move to coach an FCS team. Well, it is uncertain Fraley's state at UCLA's due to Jim Mora being fired from his duties as the head football coach at UCLA.
It seems like the right opportunity for Fraley to start a new coaching capacity in college football, a head coaching position.
Candidate #4: Former Montana head coach Bob Stitt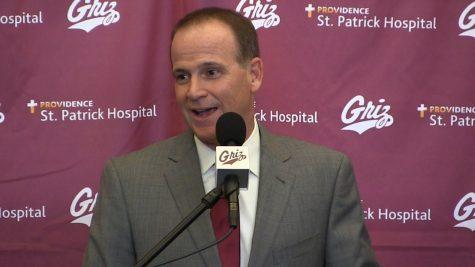 If the Robert Morris coaching search truly is a national search, then the team needs to consider recently let go Montana head coach Bob Stitt.
Stitt was brought in as the third head coach in six seasons for the Grizzlies. He was brought in to revive a program that back in 2009 was competing for national championships, but has recently fallen into tougher times as a program.
In his first year with the team, Stitt led his squad to an FCS playoff appearance with an 8-5 record where they were knocked off in the second round after a 24-17 victory over South Dakota State in the first round.
Beyond his playoff success, Stitt also coached the upset victory over the four-time defending national champion and number one ranked North Dakota State Bison 38-35 during that successful 2015 season. And keep note that this North Dakota State team was led by current Eagles quarterback and second overall draft pick Carson Wentz. Showing that Stitt has experience competing against some truly elite talent through the FCS.
And while his final two seasons with the Grizzlies did not result in playoff berths. The team was in the playoff hunt until the final game of the season. In both cases, Stitt saw his team fall to hated rival Montana State.
His failure to make the playoffs and to defeat MSU were the reasons that the University ultimately made the controversial decision to find another head coach for the 2018 season.
But for the Robert Morris Colonials, there is a lot to like about Bob Stitt.
In his three seasons at Montana, Stitt posted a 21-14 career record and more importantly a winning record in each of his three seasons.
And for a team like Robert Morris, that has not had a winning season since 2010, it is definitely something to take note of.
Stitt also coaching the FCS defensive player of the year in Tyrone Holmes during his first season at the helm. It is clear Stitt knows what to do with defensive talent, something that the Colonials are stocked full of.
Read more about Bob Stitt here
Candidate #5: Washington and Jefferson's Mike Sirianni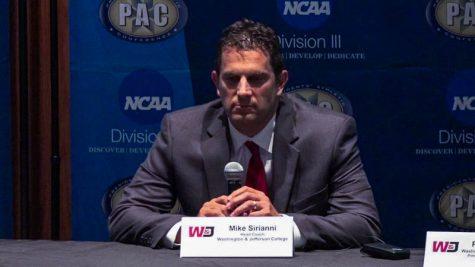 Before heading to Robert Morris University as an assistant coach, former head coach John Banaszak made his mark coaching the Washington and Jefferson Presidents. The Colonials could again see their next head coach have their roots in Washington, Pennsylvania if the team considers current W&J head coach Mike Sirianni.
In his 15th season as the head coach of the Presidents, Sirianni has masterfully completed the team's third undefeated regular season during his time as head coach.
Unfortunately, the team fell to Frostburg State 46-23 in the second round of the NCAA Division III playoffs but it was still an impressive year for a team which took down two top 25 opponents on their way to an 11-1 finish on the season.
In his 15 seasons, Sirianni has accumulated a 128-30 coaching record, only finishing one season with more than three losses.
Sirianni has established a perennial powerhouse in the President's Athletic Conference but after 15 years in Division III and at only 45 years old, Sirianni may just be the perfect candidate to create a new legacy for himself at Robert Morris.
Sirianni started his coaching career as an assistant at Mount Union, arguably one of the most successful Division III school's in the country with 780 victories, 12 national championships and 27 conference titles in their school's history. Sirianni has since taken that winning mentality and proven he can build a winner himself here in Pennsylvania.
Read more about Mike Sirianni here
Candidate #6: Slippery Rock's Shawn Lutz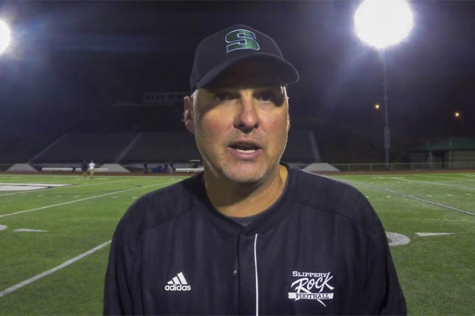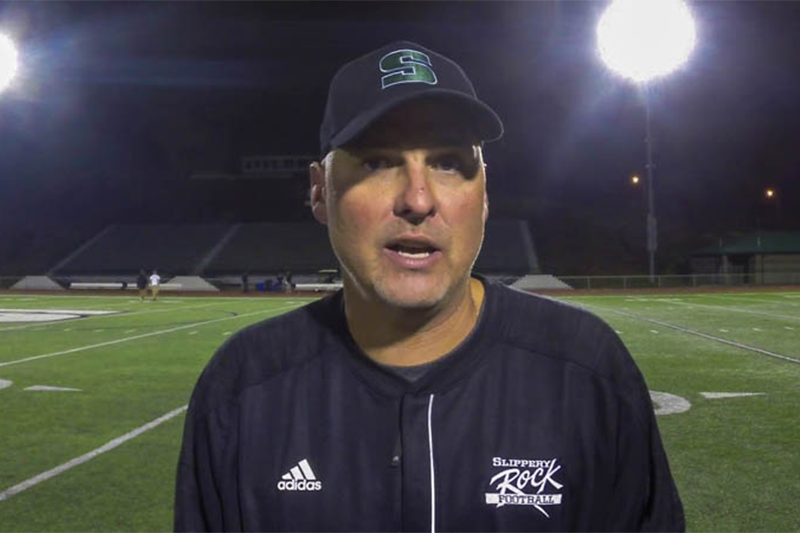 If the Colonials look local for their next head coach, then one possible candidate could be current Slippery Rock head coach Shawn Lutz.
Shawn Lutz has spent the past 22 seasons coaching The Rock. He spent his first 20 years as an assistant coach under George Mihalik, spending four years as associate head coach and eight years as defensive coordinator. During that time frame, Slippery Rock has won eight PSAC-W titles and, since the PSAC started a conference championship game in 2008, have won two conference championships in back-to-back seasons in 2014-2015. They also had a .638 winning percentage, which was the best mark under one head coach in school history. The team has had a winning record in 11 of their last 12 seasons, including doing that each of the last eight years.
Coach Lutz was handed the job of head coach when George Mihalik retired following the 2015 season. Since then, Slippery Rock has gone 7-4 (2016) and 8-3 (2017) giving coach Lutz a career record of 15-7 and a .682 winning percentage in his two years as head coach.
In his first season, The Rock featured one of the nation's top defenses as they finished sixth in rushing yards allowed (82.5), ninth in interceptions (21) and 27th in sacks (32). They led their conference in rushing yards allowed and finished third in interceptions, fifth in sacks and fourth in total yards allowed per game (360.3).
This past season, however, the defense lost a little bit of their muster. They finished 152nd out of 165 D-II teams in yards allowed per game (457.3) and 126th in points allowed per game (32.6).
But Robert Morris has always featured a great defense and still, they have struggled. How can we expect Shawn Lutz to improve the team? And didn't his defense fall off significantly from one year to the next? How can we expect that to not happen here?