Every Body Rocks at the Delta Phi Epsilon Fashion Show
Participants from a multitude of organizations across campus came together on Thursday night for the ANAD Fashion Show. The event was hosted by sorority Delta Phi Epsilon to raise money and awareness for their philanthropy, Anorexia Nervosa and Associated Disorders.
Their headline for the event, "Every Body Rocks", aimed to show inclusivity for everyone involved and to positively recognize everybody's individuality.
"The whole point is to be all-inclusive," said Becca Chattaway, coordinator of the event. "To show everybody that everyone's a little bit different and we just want to celebrate that at Delta Phi Epsilon."
Various on campus organizations participated, from fraternities and sororities to athletic teams such as Football and DI Club Hockey. The program kicked off with a campaign video promoting the philanthropy and then members from each organization were introduced, escorted out by a member of DPhie.
Following the introduction round, everyone changed out of their clothing representing their organizations into formal attire. For this segment, each participant informed the audience of facts about anorexia and associated disorders.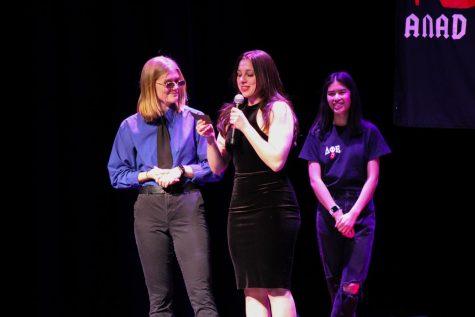 Then there was an intermission, where hosts Madison Kerrigan and Sean Nolan asked the audience trivia questions and threw out candy prizes. After the break, the talent round commenced where all participants showed off a wide variety of entertainment acts.
The entertainment round kicked off with Andrew Smida and Ben Herman strumming some guitars, showing that every body truly does "rock". Acts following this included a sign language lesson by sisters of Delta Zeta, and Hannah Lacek and Nicole Hostler representing the hosting sorority Delta Phi Epsilon showcasing their skills in couples yoga.
Bringing the audience back to elementary school music class, Liz Edic and Mackenna Dragojevich played several songs on the recorder. Two acts had the trash can brought out for them, Nick Catanzero of Delta Tau Delta drank through a half gallon of milk, and Chris Mertz of the football team drank two dozen eggs (still convinced he's the real-life Gaston).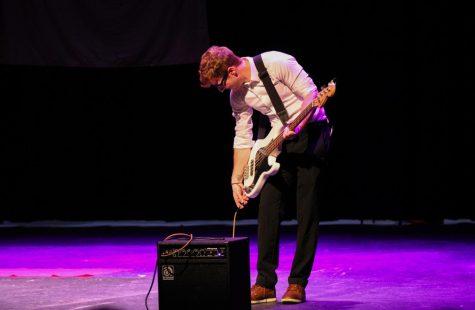 Phi Mu Delta member Trey Reichenfeld, who played piano and sang "Golden Hour" by JVKE. Just a week prior, he was on the same stage playing lead Bobby Strong in the RMU Theatre production of Urinetown.
"It feels great," said Reichenfeld. "I'm a little nervous because this will be the first time I'm playing the piano and singing in a performance, but I'm really excited."
Though each act was entertaining, there had to be a winner. All audience members voted via Google Forms on their favorite act of the evening.
"We always do a People's Choice," said Chattaway. "To congratulate the people that were in the performance and give recognition to everyone."
After all of the performances, the particpants joined together on stage. The people selected as the best of the night by the audience were Jaden Richards and Andrew Cerciello of Alpha Chi Rho, who participated in a ventriloquism act.
The event wrapped up with all of the sisters of Delta Phi Epsilon joining all the participants on stage, thanking everyone in the show and those who came to watch.
"I want people to take away that everyone is unique in their own way," said Chattaway following the event. "ANAD is supposed to be an all-inclusive thing shining about different body types, whether that is cognitive or physical, we just want to celebrate as a campus and show everyone that everyone's unique and that they're special in their own way."