Celebrating Pigskins and Ribs
Pittsburgh launched Labor Day weekend with the Kickoff and Rib Festival lasting from Sept. 1, 2016 until Sept. 5, 2016 that celebrated the return of football season. There were 14 different rib vendors and plenty of other vendors crowding the street near Heinz Field.
This wasn't Pittsburgh's first go-round for this event. It began in 1990 at Three Rivers Stadium, which is no longer standing. On the first four nights, free concerts were hosted inside the football field. This year's lineup included Thunderstruck: The Ultimate AC/DC Tribute, The Clarks, Travis Tritt and multiple others. On Labor Day, they commenced the 28th Steelers 5k Run and Walk. During this event, kids would get a chance to step on the field and enhance their football skills with professional players.
Most of the festival attendees were drawn to the many flavors of ribs that were cooked by spectacular grillmasters. Pig Foot, a vendor from Cleveland, had plenty of barbecue sauces to choose from, but one was quite different from the rest. It was a unique "Applelicious" sauce that could be drizzled over their nicely charred ribs. This sauce was sweet but still had its barbecue taste–just the right amount of fruitiness to make its unique flavor.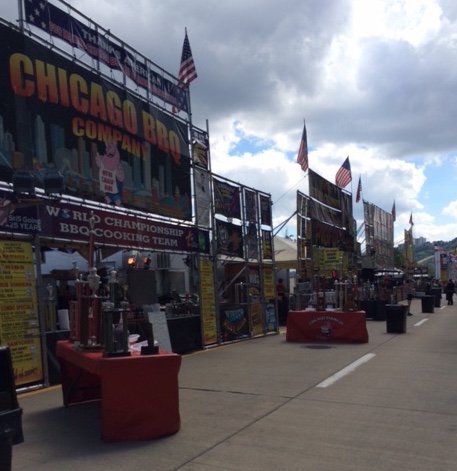 Carolina Rib King had classic barbecue flavorings and was a vendor all the way from Georgetown, South Carolina. Their meat was tender and fell off of the bone beautifully. There was no need to decide on a sauce because the rack has already been flavored to perfection.
Bad Azz BBQ, from Pittsburgh, has been voted "Pittsburgh's #1 BBQ." The sauce here was tangy with a little kick to it. They also offered mac and cheese as a side dish, which was rich in flavor and complimented the ribs delightfully.
Apart from the food and music, this was a place to come together and mingle with people having a great time. It was an all-around welcoming feeling at this festival that is right in the heart of Pittsburgh. It brought together people enjoying the delicious food and also the vendors who put their all into cooking these items. Walking down the street, you would see men and women in suits and men and women in leather jackets. All of these people are there for the same reason–to enjoy the lemonade, mac and cheese, corn dogs and fantastic ribs.