Country music star Eric Church doubles down in Pittsburgh
PITTSBURGH – Country music icon Eric Church brought his Double Down Tour to PPG Paints Arena this past weekend for two epic shows on Friday, May 3, and Saturday, May 4.
When Church announced the Double Down Tour back in September 2018, he told his fans that he wanted to top his 2017 Holding' My Own Tour. Instead of one night, he wanted to do two. Instead of just three hours, he wanted to do six. He wanted to bring two unique shows to cities such as Omaha, Nebraska, where the tour kicked off back in January, as well as Cleveland, Ohio and Pittsburgh. These shows all lead up to one big stadium show in Nashville, Tennessee, during Memorial Day weekend.
Opening his first night with full energy, he started with a performance of "That's Damn Rock & Roll," with the crowd singing back with the same intensity. Energy remained high for the musician, who turned 42 years old the same day.
After Church played two songs, the entire crowd lit up their phones and sang "Happy Birthday" for the country star. He played one set of 14 songs. Then, after a brief intermission, he came back out and played another 19, with the show going until midnight.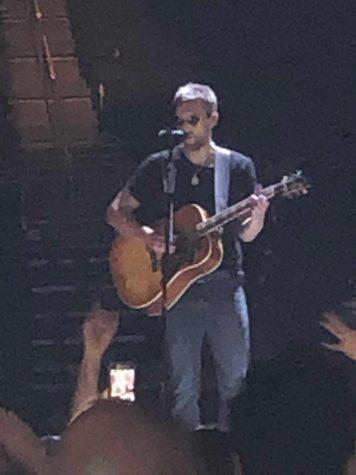 Saturday night, Church came out with a completely different set, opening with "Drowning Man." Protocol followed the previous night, with a brief intermission after 14 songs. He then performed 21 more songs, making the concert go until after midnight once again.
Eric Church definitely did not disappoint his fans. He brought two unique shows to Pittsburgh. He brought so much energy both nights, which can be tough to do. He showed Pittsburgh that he truly cares about his fans and his music. Church is a down to earth person, showing everyone that he is a fantastic storyteller through his music.
Something unique that Church did both nights was his medley featuring "Mistress Named Music." He mixed several songs from other artists like Billy Joel and Bruce Springsteen with his own music, which gave fans an idea about some of Church's musical inspirations.
Church complimented Pittsburgh and stated how special he believes the city really is.
"We've been here a lot, we've played here a lot and I believe there are certain cities that capture your soul and Pittsburgh has always captured mine," Church told the crowd. "It's about the work ethic, it's about family, it's about the environment, it's about sports, and it's about passion."
Overall, Eric Church showed the people of Pittsburgh why he is as successful as he is and why he has the truly devoted fan base that he is.
Church hopes to win the Country Music Awards' Entertainer of the Year award when the event takes place in November.