Somma's Soundbites Returns!
Somma's Soundbites is back! After a much too long hiatus, this bi-weekly column will provide short and sweet reviews of new album releases and a roundup of new singles that dropped as well. From the mainstream to the underground, from pop to experimental; nothing is off the table here. To ease back into the swing of things, I figured that this first entry would take a look back at some of the major releases of the summer. While 2020 still saw some larger artists release projects, this year has seen many of the biggest artists in the industry right now drop projects that have likely been in the works for years now. To begin, let's look at two of the most anticipated releases of the year, that just so happened to be dropped in back to back weeks.
Kanye West – Donda
Kanye West's 10th studio album may have had one of the most frustrating release build-ups of all time. Ignoring most of the early rumors surrounding the album, the public got its first chance to hear Donda during West's three album listening events. Despite the contents of the record having been played publicly, the album was seemingly destined to never officially drop as Kanye kept making edits to the project, much to the chagrin of fans and his label alike. However, largely in part to the announcement of Drake's Certified Lover Boy, the album was finally released on streaming services.
In terms of the album's contents, Kanye puts forth a massive, nearly two hour epic that is somehow both extra polished in some areas and woefully underproduced in others. Donda takes inspiration from nearly every previous Kanye West album in some way or another. The overt religious themes and lack of cursing from Jesus Is King, songs like "Off The Grid" that would have fit perfectly onto Yeezus, rapping we have not heard since Life of Pablo, and the heartfelt and emotional feel of 808's and Heartbreak. The result of all of these styles coming together can admittedly be a bit jarring at first listen, and the album is not without its lowlights because of it. "Tell The Vision" featuring Pop Smoke is so underproduced that it is almost disrespectful to the late rapper. There's also the underwhelming "Ok Ok" and "Remote Control," which suffer from weak features and even weaker hooks.
Still, Donda has some of Kanye's best music he's released in years, thanks in large part to the unbelievable and star-studded feature list. "Off The Grid" sounds like Yeezus perfected, and both Playboi Carti and Fivio Foreign deliver fantastic feature performances. "Moon" contains an angelic feature from Don Toliver that catapults it into one of the top songs of the year in my opinion, and even the more religiously topical tracks such as "Come To Life" still feature fantastic production from West not seen on Jesus Is King.
Overall, Donda definitely has some rough patches and does come close to suffering from having too many tracks. However, there's more than enough great material on the project that makes up for the long run time. Overall, Donda ends up being Kanye's best project since Life of Pablo.
Score: 8/10
Favorite Tracks: Off The Grid, Believe What I Say, Moon, Come To Life
Drake – Certified Lover Boy
Less than a week after the release of West's Donda, the other biggest name in hip-hop, Drake, dropped his 7th studio album, Certified Lover Boy (CLB). Supposedly in the works for a few years now, Drake's teasing of CLB resulted in the project becoming the most streamed album in one day on both Spotify and Apple Music. Despite the gaudy numbers the record put up, the public reaction to it ended up being fairly mixed, and for good reason.
Certified Lover Boy is a Drake album through and through, which is either to its benefit or detriment depending on who you ask. Over its nearly hour and a half run time, Drake takes no risks, spitting many questionable and cringe-inducing bars over either overly produced beats or shallow attempts to be low-key and sensual. Tracks like "Papi's Home," "Girls Want Girls" and the horrendously uncomfortable "Way 2 Sexy" feature some of Drake's worst bars of his career. Other tracks fall flat in terms of having any weight behind their meanings, such as "No Friends In The Industry," which is quite ironic thanks to the large list of A-List features put together on CLB.
Drake does not miss on every track here, however. "Fair Trade" features a fiery Travis Scott verse that might be the best feature on the project, if not for the star-studded "You Only Live Twice" which has Drake along with Rick Ross and Lil Wayne having fantastic chemistry with each other. Drake also hits with a few more low-key tracks such as "7am on Bridle Path" and "F****g Fans."
Certified Lover Boy ends up being one of, if not, Drake's most mediocre album. There's just as many solid tracks as there are swings and misses. It is a frustrating album where every time you give up on it, Drakes pulls you back in with a witty bar or a great beat choice, and then loses you again over and over in a perpetual cycle. It's just Drake being Drake; which is just okay.
Score: 5/10
Favorite Tracks: Fair Trade, 7am On Bridle Path, You Only Live Twice
Baby Keem – The Melodic Blue
Shortly after the heat from the release of two of the biggest hip-hop records of the year, Baby Keem, one of the more hyped up "up and comers" of the past year or so dropped the track "family ties," which immediately generated buzz thanks to a very rare feature from Kendrick Lamar. Then came the release of The Melodic Blue, Keem's first mainstream album.
For me personally, The Melodic Blue is a tale of two halves. The first half of the album for me is a great example of what Baby Keem does right with his style of hip-hop. His delivery is very distinct, much like Kendrick himself, and his chosen beats usually have some sort of overall vibe to them, like the upbeat and sensual "pink panties," downtrodden and reflective on "issues," or downright odd and all over the place on "range brothers." That one in particular features some of the oddest flows from both Keem and Kendrick Lamar once again; from high-pitched and fast to slow, southern drawl.
However, the more generic the beat, the more Baby Keem's high-pitched vocals seem to fall flat. The track "gorgeous" is a perfect example of this, as Keem's rapping feels out of place on what's a very barebones trap instrumental. "Scars" is another odd moment on the record where an orchestral, epic backing track clashes quite poorly with Keem's autotuned crooning. The most disappointing track on the album has to be "durag activity" with Travis Scott. What could have been a perfect match of trippy styles ends up bombing. Despite an interesting beat choice, Keem and Travis show no chemistry with each other and Keem in particular disappoints with his intentionally simple and barren lyrics, taken right out of the Playboi Carti playbook of repetitiveness.
Overall, The Melodic Blue is an impressive showing of the potential of Baby Keem, but also displays a lot of the flaws and aspects that come with being a young, inexperienced artist. The fact that he has the Kendrick Lamar cosign should more than indicate the talent level of Keem, and I hope that his next release takes that next step even further than achieved here.
Score: 6/10
Favorite Tracks: trademark USA, range brothers, lost souls, 16
Tyler, The Creator – CALL ME IF YOU GET LOST
Quite possibly the pinnacle of summer albums released this year, Tyler, The Creator's follow-up to the award-winning IGOR came with very lofty expectations. While Tyler's first few releases such as WOLF and Cherry Bomb were solid projects, they never found the mainstream appeal that both IGOR and its predecessor, Flower Boy, had. On his newest album, CALL ME IF YOU GET LOST (CMIYGL), Tyler successfully blends the aggressiveness of those early albums, with the softer and more emotional aspects of his last two projects wonderfully.
CMIYGL ends up feeling like a large-scale victory lap for Tyler after his most recent successes. The entire album is filled to the brim with bombastic and intentionally over the top instrumentals and performances, none more than the role of DJ Drama over the duration of the album, who constantly butts into songs to literally shout praises about Tyler and the album. On paper, it sounds like an annoying addition to the project, but they fit perfectly with Tyler's lyrics of lavish experiences like on the tracks "CORSO" or "RUNITUP." Adding to all of this is Tyler's choices of features on the project, which fit together perfectly and feel extremely polished, none more so than YoungBoy Never Broke Again on "WUSYANAME" who delivers an extremely passionate performance. While the album is not perfect, the majority of tracks are some of Tyler's best work of his career so far.
Score: 8/10
Favorite Tracks: CORSO, WUSYANAME, RUNITUP, SWEET/I THOUGHT YOU WANTED TO DANCE
About the Contributor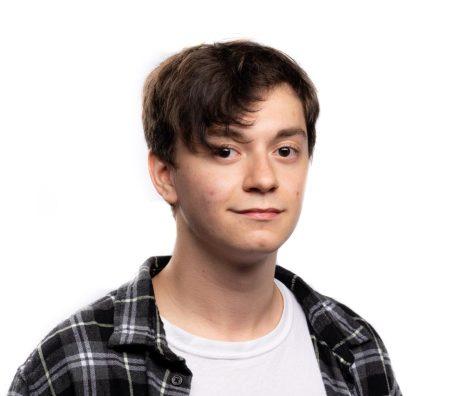 Zachary Somma, Contributor
Zach Somma is junior history major.