Taylor Swift releases "Red (Taylor's Version)," short film, music video
Taylor Swift has done it again. Swift released her second re-recorded album "Red (Taylor's Version)" on Nov. 12.
Swift is in the process of re-recording her first six albums due to her first recording label, Big Machine Records, selling her master recordings. Swift no longer owns the rights to her albums, but she still owns the songwriting credits. The master recordings are currently owned by Scooter Braun, record executive and manager for artists such as Justin Bieber and Ariana Grande, who Swift says has been bullying her for years.
"I made it very clear that I wanted to be able to buy my music. That opportunity wasn't given to me, and it was sold to somebody else. So I just figured, I was the one who made this music first, I can just make it again, so that's what we're doing," Swift said in an interview on Late Night with Seth Myers on Nov. 12. "So when something says in parentheses 'Taylor's Version' next to it, that means I own it, which is exciting."
The first re-recorded album, "Fearless (Taylor's Version)," was released in April. The original "Fearless" was released in 2008.
Swift released the original "Red" album in 2012, and it is (allegedly) influenced by her short-lived relationship with her ex-boyfriend, actor Jake Gyllenhaal.
The short film "All Too Well" was released later that Friday, and it stars actors Sadie Sink ("Stranger Things") and Dylan O'Brien ("Teen Wolf," "Maze Runner"). The film portrays Swift and (allegedly) Gyllenhaal. The relatable moments in the film and the acting by Sink and O'Brien make audiences feel sympathy and heartache for Swift.
On Nov. 14, Swift surprise-announced the release of another video to go along with a song from the album. On Nov. 15, the music video for the new unreleased (vault) track "I Bet You Think About Me" was released. The video was written by Swift and actress Blake Lively, and Lively made her directorial debut.
The video features Swift attending the wedding of one of her exes. Fans speculate she is paying homage to her 2010 song and album "Speak Now," where the title track is about interrupting an ex's wedding.
The re-recordings are a chance for Swift to return back to her roots while reinventing the songs fans have loved for years. Not only that, but she is taking the opportunity to release unheard songs such as "From The Vault." These songs were cut from the album during production, but Swift saw potential in them.
"Red (TV)" features nine of these new songs. While discussing vault tracks, I will be omitting "(Taylor's Version)(From the Vault)" from the titles.
The first vault track is "Better Man," a song that has been heard before. Swift gave the song to country band Little Big Town, and it is featured on their album "The Breaker." It won a Country Music Award for Song of the Year in 2017. Five years later, Swift took the opportunity to record her version of the song, and listeners can hear the raw emotion and power in her voice.
"Nothing New" is the second vault track, and it features Phoebe Bridgers. This is the first song Swift has recorded with a female artist where the other singer has a verse alone, and she does not just simply sing backup. (An example of this would be "Breathe" from Swift's "Fearless" album featuring backup vocals from Colbie Caillat.) Their voices pair perfectly together, and the softness of the song is both chilling and heartbreaking.
The next track, "Babe," is another song that Swift wrote and gave to another band. "Babe" was recorded in 2018 by Sugarland for their "Bigger" album. Swift is featured as a background voice in Sugarland's version, and I was obsessed with her tone. I was already excited for this track as I am a big fan of Sugarland's rendition, but Swift took it to another level. Now that she has the song all to herself, it is definitely one that I am playing on repeat.
"Message in a Bottle," the third vault track, is pop perfection. The next track, "I Bet You Think About Me (feat. Chris Stapleton)" is a stark contrast as Swift brought back her country twang.
"Forever Winter" touches on the emotions of loving someone who struggles with their mental health.
Ed Sheeran makes his second "Red (TV)" appearance on "Run," which was the first track they wrote together. "Everything Has Changed" was the second, and it ended up on the original album.
Another fun, danceable track is "The Very First Night."
"All Too Well (10 Minute Version)," the track that fans were highly anticipating, concludes the album. The original track runs about five and a half minutes long, and it is a breakup anthem. Swift calls out Gyllenhaal specifically throughout the track; she mentioned multiple times about their age difference (9 years, they dated at age 20 and 29). ("You said if we had been closer in age maybe it would have been fine", "I'll get older, but your lovers stay my age")
Fans also noted that the song is explicit, Swift mentions dropping a keychain and says "F*ck the patriarchy." Swift is now selling keychains saying exactly that. The 10 minute version lets out her specific emotions and angst surrounding that relationship and gives more insight as to what it was like.
Swift also took the opportunity to put a charity single on the album entitled "Ronan," named after a three-year-old boy who passed away from neuroblastoma.
Overall, "Red (TV)" has a track for everyone with its country-to-pop style — from fun, danceable tracks such as "22" to "Stay Stay Stay," to more acoustic, devastatingly gorgeous songs such as "Sad Beautiful Tragic" and "The Last Time."
It was nice to revisit songs I have loved for the past 9 years, and it was exciting to hear unheard songs. My personal favorite vault track is "Message in a Bottle."
As for the next re-recording, fans speculate it to be "Speak Now" or "1989." Swift surprise-released "Wildest Dreams (Taylor's Version)" from "1989" in September due to its popularity on TikTok and its usage in the "Spirit Untamed" movie trailer. It is rumored she may do the same with "Enchanted" from "Speak Now." Until then, fans will let their theories be known and Swift will be hard at work (and writing TikTok comments, apparently – just check out her liked videos on her profile).
About the Contributor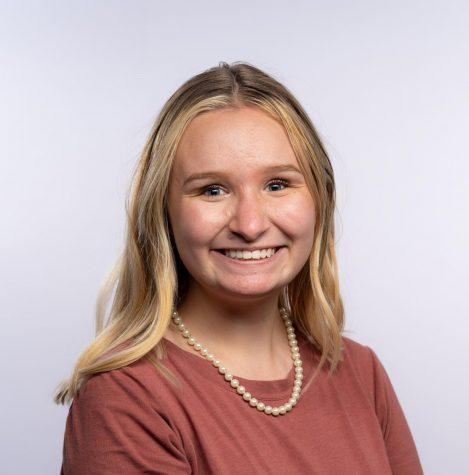 Kaelei Whitlatch, Copy Editor
Kaelei Whitlatch is a Communications and Public Relations major. She is a junior from Scottsdale. Kaelei can be found watching Big Brother or singing in...