Arby's "Meat Mountain" challenge
Food challenges have existed for years, ranging from wings to massive burgers, yet the most recent challenge to haunt the stomach's of Americans is none other than Arby's "Meat Mountain." Enticing challengers with the "Meat Sweats," a sweat suit with a meat pattern from top to bottom, the challenge is truly a test of intestinal fortitude.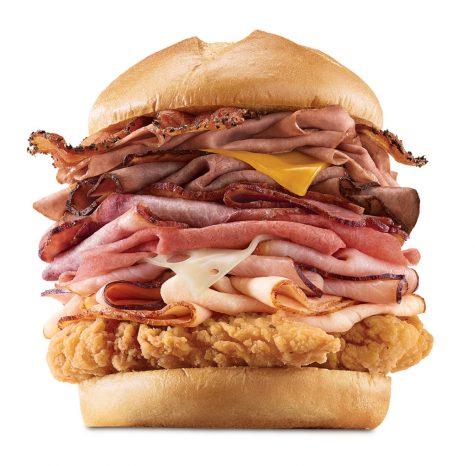 Currently, there is only a single set of the "Meat Sweats" in Pennsylvania. Tanner McMakin, a senior at Hopewell High School, completed the challenge in January and received his suit shortly after completion.
"I saw Arby's talking about the suit earlier in the year," McMakin said. "Of course, I had to find a way to get a pair. After a few months, I got the suit in the mail, and the rest is history."
The "Meat Mountain" features a variety of the restaurant's meats: bacon, brisket, chicken tenders, corned beef, ham, turkey, steak and roast beef. (For those who don't like chicken, you may substitute the tenders with fish.) To make the sandwich even larger, there is a multitude of cheeses between the buns. Larger than a pop can and hard to hold, the sandwich is easily the scariest monster on the menu.
Arby's is certainly proud of the sandwich, which originally entered their "secret menu" in 2014. The sandwich, which cost $10, also serves as the only way to gain the coveted "Meat Sweats." The "Meat Sweats" is a special sweat suit that originally began as a random promotion during the 2017 holiday season, but by finishing the sandwich (with evidence) and sending it to Arby's, you gain a chance to get the suit for yourself.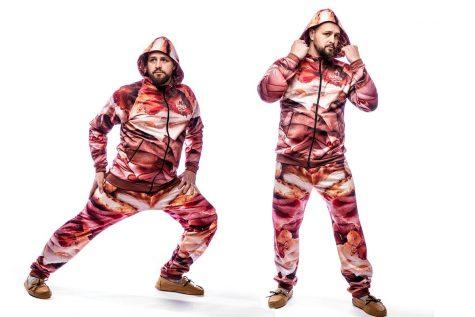 "I submitted pictures of me finishing the sandwich and posted them to Twitter," McMakin said. "I didn't get a response at first. Then two months later, Arby's followed me and we began DMing each other. I said to send me my meat sweats, and they asked me, 'What's the magic word?' After I said 'please,' they asked for my address and sent me the suit shortly after."
..@Arbys LOOK WHAT I GOT IN THE MAIL TODAY THANK YOU SOOO MUCH pic.twitter.com/h6Nyn90hbE

— Tanner McMackin (@arbyfreak666) January 27, 2018
These "Meat Sweats" are unique for each winner because only a small quantity are produced at a time. Buying the suit directly from Arby's isn't an option. Instead, you must display that you are a "carnivore" to own the suit.
"Arby's included a letter with the suit," McMakin said. "It basically said 'You're a carnivore. Thank you for eating our meat sandwiches.'"
The "Meat Sweats" are just one of Arby's recent marketing tactics. In addition to the sweat suit promotion, Arby's has seen fan acclaim for its pop-culture related posing to Twitter. Referencing the "nerd culture" with their post, they craft cardboard characters and iconic objects from games, movies, anime and more in hopes of drawing in new customers.
The "Meat Mountain" is available at Arby's, including the University Boulevard location near the Robert Morris campus. McMakin hopes that everyone will attempt the challenge for themselves and have fun while doing so.
"They've started calling me the 'Meat Man' at school," McMakin said. "The challenge is fun, and I want everyone to have as much fun as I do when in the suit."
About the Contributor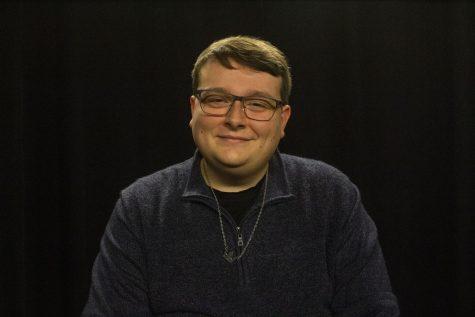 Garret Roberts, Editor in Chief
Garret Roberts is a Journalism Major with a double minor in Documentary Studies and Photography. He is in his senior year at Robert Morris. Garret has...