Gus Krop's time at RMU
You may call it the John Jay Gym, but the correct name is actually the Gus Krop Gym. Today, the gym is utilized for RMU intramural sports and other events but years ago; the gym was the site of numerous basketball games and RMU victories under the guidance of then head coach, Gus Krop.
Former RMU Men's Basketball Head Coach Gus Krop is known as the father of Robert Morris Basketball. Prior to his time at Robert Morris, Krop served as a coach at St. Casimir High School located on Pittsburgh's South Side. What started as an assistant coach role to new head coach Chick Davies in 1963, took a course change after Davies resigned early into the season due to failing health leaving Krop as head coach.
After Krop's first season, the Colonials finished with a 19-5 record and third place in the regional junior college tournament. In 1968-69, the Colonials finished with a perfect 30-0 record before losing in the junior college championship game to a team from Paducah, Kentucky. Krop, who was known for his on court personality and intensity, spent 13 seasons as the teams head coach and registered a record of 287-58 from 1963 to 1976.
During his tenure, Krop coached nine All-Americans, including Don Mackey, Perry Johnson, Cleveland Edwards, and Ron Hightower, who, along with Krop, are members of the RMU Athletic Hall of Fame. Gus Krop also had the distinct honor of being named to the inaugural class (1991) of the RMU Athletic Hall of Fame.
After his coaching years, Krop, who was a Pittsburgh park policeman for 28 years, became RMU's Director of Security and held the position until 1997.
When you are in the Gus Krop Gym, it is evident of the age due to the wooden rafters and size. Although the floor has been refinished and the old bleachers removed, the memories still lurk within the dome shaped structure that is named after the man who gave so much to the RMU Men's Basketball Program.
Here's to the future of the RMU Men's Basketball program and legacy. As we look back and look to the future, let us all remember the gentleman who brought attention to basketball here at Robert Morris.
About the Contributor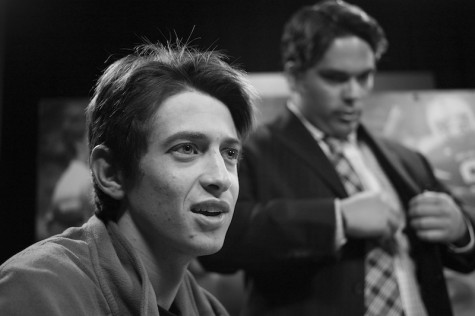 Mike Funyak, Staff Reporter
A Senior Business major with a concentration in Management at Robert Morris University, Mike is a Staff Writer and Blogger for "The Sentry."

In...