Humans of RMU: The Haunted Hall Organizer
Nightmares came to life on campus during Haunted Adams as students prepared for Halloween 2015. Friday, October 23 might have been a week before the holiday, but it gave students a chance for some scary activities as they saw the frightening side of Adams Hall. Emily Carney, a sophomore at RMU, organized the ghoulish process that brought out the fear and the fun at Robert Morris.
Carney got started scaring people at this spooky event last year. She served as one of the actors, which led her to get even more involved this year.
"Through [last year's] experience, I was inspired to keep up the tradition of Haunted Adams and took the reins for the event," Carney said. "I wanted others to experience scaring people—even their friends."
Three floors of Adams Hall became the backdrop for an asylum, a torture dungeon and the "masks" after a team of 30 volunteers decorated the building and the actors. For three hours that night, approximately 275 students took one of the 55 tours through the transformed building. While this is only the second year for the event, Carney is hoping it stays around for a long time.
"Haunted Adams is now, hopefully, going to be an annual event," Carney said. "That was my main goal from the very beginning. People knew to come back this year to attend because of the experience they had last year."
One thing that is unique about the experience—compared to the many haunted houses around the area—is that Haunted Adams is planned, built and performed solely by RMU students. The budget is low, but that means admission is free, which is a plus for those in college. Unlike other eerie events, this one gives you a chance to figure out if you know any of the spirits haunting the place.
"At most haunted houses, you probably don't know any of the actors in it; however, in Haunted Adams, you could know some of them," Carney said.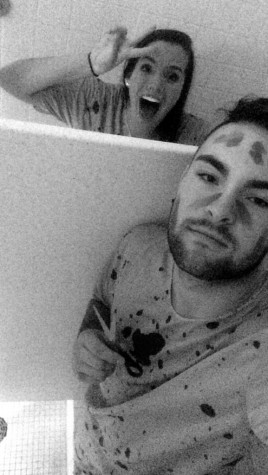 Carney planned the entire event this year with help from the RHA executive board members, her fellow CAs and student volunteers. It also gave her the opportunity to show that there are fun things to do on campus during the weekends, and that it is possible to keep a tradition like this one going with some time and effort.
For Carney, that effort paid off. The community came out to enjoy scaring each other and being scared themselves. It also provide her with memories that she will have for a long time to come; with her favorite being, the classic sound of Halloween.
"My best memory would have to be the overall screams I would hear from the very first couple seconds of when the tours would enter Haunted Adams."